Lakewood Distracted Driving Accident Attorney
If you've been injured by a distracted driver, contact the Lakewood distracted driving accident attorneys at The Fang Law Firm to discuss your case for free. Our lawyers can help you seek a fair financial recovery from a distracted driver's insurance provider in Colorado.
Motor vehicle drivers make many dangerous mistakes behind the wheel that result in car accidents. In recent years, however, one driver behavior has increased in frequency, causing more and more accidents each year – driver distraction.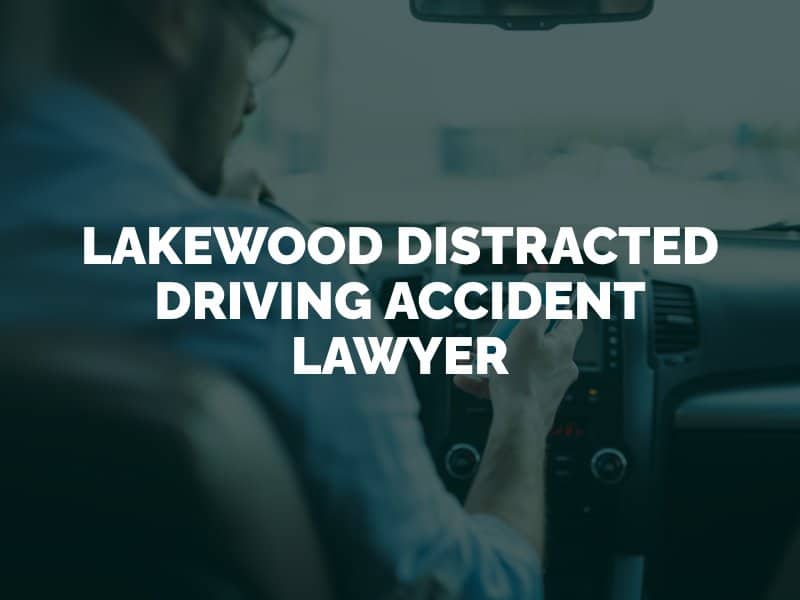 Navigate This Page
How The Fang Law Firm Can Help Your Distracted Driving Accident Claim
Hiring a Lakewood car accident attorney to represent you during a distracted driving car accident case can make things easier for you and your family. You can focus on your injuries and getting well while your lawyer handles difficult legal processes on your behalf, such as car accident investigation, evidence collection and eyewitness interviews.
A law firm will have everything that you need for a strong case against a distracted driver, including top-quality resources and experienced personnel. A lawyer will also have connections to experts and accident reconstructionists who can help you prove your distracted driving case. You won't have to worry about anything with a lawyer representing your best interests.
What Rights Do I Have After a Distracted Driving Accident?
If you fall victim to a distracted driver, you have the right to hold him or her legally and financially responsible for your related damages in Colorado. You may be entitled to financial compensation for your costs and losses suffered in the accident. The amount available will depend on your case and the insurance coverage involved. All drivers in Colorado must purchase minimum amounts of liability insurance to pay for the expenses caused by an accident. You must file your claim within three years, however, to maintain your right to file.
Many forms of distracted driving are illegal in Colorado, such as using a handheld phone to text and drive. If the other driver receives a ticket or criminal conviction connected to your accident, you have the right to use this as evidence during your civil case. This is part of the public record and can be admitted as evidence against the other driver in your car accident injury claim. You also have the right to use the driver's cell phone records and call history as evidence. This is not public information, however; you will need an attorney to subpoena these documents for you.
If you contributed to a distracted driving accident, you would still have the right to recover at least partial financial compensation under state law. Colorado's comparative negligence law states that an injured crash victim can still recover compensation, as long as he or she is less than 50 percent responsible. The amount recoverable, however, will be reduced by your percentage of fault. If you are found to be 10 percent at fault, for example, but the other driver is 90 percent responsible, you will receive 10 percent less in financial compensation.
What Damages Can I Recover?
At The Fang Law Firm, our car accident lawyers in Lakewood recognize that no dollar amount is enough to make up for serious and life-changing injuries. It is always better to prevent a distracted driving accident from happening than to try to make a victim whole again after the fact. However, we also know that the results we achieve for our clients have helped them put their lives back together and move forward with greater peace of mind.
We can help you seek fair financial compensation for all of the damages that you suffered in a distracted driving accident in Lakewood, including:
Present and future medical care. This can include doctor's appointments, tests, surgeries, treatments, therapies, medications and medical devices.
Lost wages. The immediate wages lost from time taken off of work, as well as long-term diminished capacity to earn due to a disability.
Property damage. Money granted for any vehicle damage or lost property caused by the accident, including the pre-crash value of your vehicle if it was totaled.
Out-of-pocket expenses. Any money that you had to spend because of the crash, such as rental car costs, travel expenses and legal fees.
Pain and suffering. Physical pain, emotional distress, inconvenience, psychological harm and loss of consortium connected to the distracted driving accident.
If the distracted driver is found to have been grossly negligent, wanton or reckless, you may also be eligible for punitive or exemplary damages. This is an additional amount awarded to some accident victims in Colorado to punish defendants for especially wrongful acts or behaviors. To discover how much your distracted driving accident case is worth in Lakewood, contact our attorneys for a free case evaluation.
Colorado Distracted Driving Laws
Although distracted driving itself is not specifically against the law in Colorado, the state does have related statutes. There is a ban on texting and driving, for example, which can reduce the number of cell-phone-related distracted driving accidents. While regular phone calls are permitted for adult drivers, minor drivers cannot use a cell phone to text or make phone calls while driving. The penalty is a fine of $50 to $300 – or up to $1,000 and one year in prison if the violation results in bodily injury or death. If a distraction causes a driver to drive recklessly, this is also against the law in Colorado.
Types of Distracted Driving
Distracted driving refers to operating a motor vehicle without concentrating 100 percent of the driver's attention on the driving task. Anything that detracts the driver's focus from the task at hand can constitute a distraction. Common driver distractions that are involved in car accidents include:
Texting and driving
Making a nonemergency phone call
Scrolling through social media
Checking emails
Chatting with passengers
Dealing with children or pets in the car
Eating or drinking
Personal grooming
Reading a map or looking at a GPS
Changing the radio station
Reading a billboard
Rubbernecking a car accident
Daydreaming/cognitive distractions
Texting and driving is an especially dangerous form of driver distraction, as it simultaneously removes the driver's mental focus from driving, hands from the wheel and eyes from the road. This is why in many states, bans against texting and driving are the only distracted driving laws in place. It is dangerous for a driver to engage in any type of activity behind the wheel, however.
Who Can Be Held Liable for a Distracted Driving Accident?
If a distracted driver causes a car crash in Lakewood, he or she is financially responsible (liable) for paying for the wreck. Colorado is a tort-based car insurance state, meaning the person or party guilty of causing a car crash will pay for related medical bills and property repairs using his or her auto insurance policy. It is necessary, however, for the victim to prove that the other driver is at fault before he or she can receive financial benefits. Holding a distracted driver liable for a car accident may require evidence such as eyewitness statements and the driver's cell phone records.
Common Injuries in Distracted Driving Accidents
Distracted driving accidents often inflict serious injuries on victims, as a distracted driver is likely to not notice a stopped vehicle until it is too late to hit the brakes. This can result in high-speed collisions. Since these accidents often involve vulnerable road users, as well – including children – this often increases the severity of related injuries. Common injuries complained of in distracted driving accidents in Lakewood are:
Broken bones
Broken ribs
Soft-tissue injuries
Whiplash
Muscle, tendon and ligament damage
Lacerations and road rash
Burn injuries
Internal organ damage or bleeding
Traumatic brain injuries, such as concussions
Back, neck and spinal cord injuries
Permanent paralysis
Lost limbs
If you suffer an injury because of a distracted driver in Lakewood, call the police to report the accident and remain where you are until an officer arrives. Give the police officer your side of the story. Then, go to a hospital right away for professional medical treatment. Follow your treatment plan and take all prescribed medications. These steps will help you recover from your injuries, as well as protect your right to obtain financial compensation through an insurance claim or lawsuit in Colorado.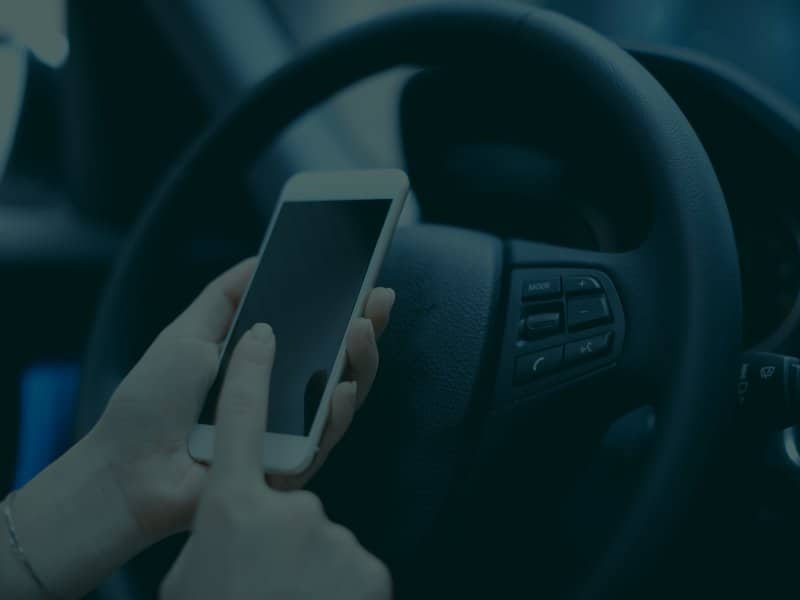 Distracted Driving Statistics
Distracted driving is nationally recognized as one of the deadliest types of driver errors. It causes thousands of serious injuries and deaths every year. Keeping up with the latest available distracted driving accident statistics, both in Colorado and nationwide, can help spread awareness about this significant risk and prevent such accidents in the future. Here are some recent crash facts:
In 2020, 3,142 victims died in distracted driving accidents in the United States. This accounted for 8 percent of all fatal car accidents. (Source: The National Highway Traffic Safety Administration.)
From 2012 to 2020, more than 29,000 people died in accidents involving distracted drivers.
In 2017, 61 fatal car accidents in Colorado involved distracted drivers. This was a 21 percent decrease from 77 in 2016. (Source: The Colorado Department of Transportation.)
Every day, an average of nine people are killed in accidents with distracted drivers. (Source: The Centers for Disease Control and Prevention.)
About one in five people who lose their lives in distracted driving accidents are pedestrians or bicyclists.
When traveling at 55 miles per hour, reading a single text message is similar to driving across a football field while blindfolded.
At The Fang Law Firm, we stay up to date on distracted driving facts to better serve and protect our community. We know that those who are most at risk of suffering injuries or losing their lives in distracted driving accidents aren't the distracted drivers, but those outside of the vehicle – such as vulnerable pedestrians and cyclists. We are passionate about spreading awareness and implementing changes on a larger level to prevent this type of wrongdoing.
Recovering fair financial compensation for a distracted driving accident in Lakewood, Colorado may require assistance from a Lakewood distracted driving accident lawyer. The Fang Law Firm can help you collect evidence against a distracted driver and negotiate for the financial outcome that you and your family need. To learn more about how we can help you, request a free consultation today.