Denver Pedestrian Accident Lawyer
Walking is a healthy, eco-friendly activity that is becoming riskier every year. According to the National Highway Traffic Safety Administration (NHTSA), 5,987 pedestrians were killed in traffic accidents in 2016, as compared to 5,495 in 2015 and 4,910 in 2014.
If you have been injured as a pedestrian, your best course of action is to consult with an experienced Denver pedestrian accident lawyer as soon as possible. Our Denver accident lawyers at The Fang Law Firm are dedicated advocates for injured pedestrians.

Why Choose Us as Your Attorneys?
Our Denver pedestrian accident attorneys have been litigating and winning cases for more than a decade.
We have a success rate of 98%.
All our cases are handled directly by attorneys.
We do not employ legal assistants or paralegals.
We give you our undivided attention, maintain a direct line of communication, and remain available to our clients for questions or concerns at any time of the day.
Pedestrian Accident Statistics
NHTSA reports that:
On average, a pedestrian was killed every 1.5 hours in 2016.
In 2015, the most recent year for which injury statistics are available, 70,000 pedestrians were injured in the U.S.
Of the 5,987 pedestrians killed in 2016, 39% had a blood alcohol concentration (BAC) of .01 or higher.
As stated by the Governors Highway Safety Association (GHSA):
23 states in the U.S. and DC had increases in pedestrian fatalities in the first half of 2017 compared with the same period in 2016.
20 states had decreases in pedestrian fatalities.
7 states remained the same.
The seven states and DC that legalized recreational marijuana between 2012 and 2016 (including Colorado) reported a collective 16.4% increase in pedestrian fatalities for the first six months of 2017.
All other states collectively reported a 5.8% decrease in pedestrian deaths.
Colorado had 1.52 pedestrian fatalities per 100,000 population in 2016.
Types of Pedestrian Injuries
Pedestrian accidents are some of the most damaging traffic collisions on the road. When a motor vehicle strikes a pedestrian, the latter always sustains the worst of the damage. A pedestrian can suffer injuries in the initial impact with the motor vehicle, as well as the second impact with the hood or windshield of the car or the asphalt. With no metal shell or even a helmet for protection, a pedestrian can suffer a wide variety of serious injuries, including:
Cuts, scrapes and lacerations
Soft-tissue injuries
Multiple bone fractures
Head trauma and skull fractures
Chest injuries and rib fractures
Back and spinal cord injuries
Neck injuries
Permanent paralysis
Internal injuries
Injuries from a pedestrian accident can affect a victim for weeks, months or life. Many pedestrian accident survivors also experience psychological or emotional trauma, such as post-traumatic stress disorder or emotional distress, on top of lost quality or enjoyment of life due to permanent disability or disfigurement.
What are the Common Causes of Pedestrian Accidents?
Drivers have a duty to exercise the level of care that a reasonable person would use under the circumstances. Breach of that duty is considered negligence. Some of the most common factors contributing to pedestrian accidents caused by negligent drivers include:
Distracted driving
Failure to yield the right-of-way to pedestrians at crosswalks
Speeding
Failure to signal when turning
Driving under the influence of alcohol or drugs
Drivers have a special duty of care to children, as they are smaller, less visible, and less predictable than adults. Drivers must exercise greater care when children are present, for example, in school zones or driving by parks and residential areas.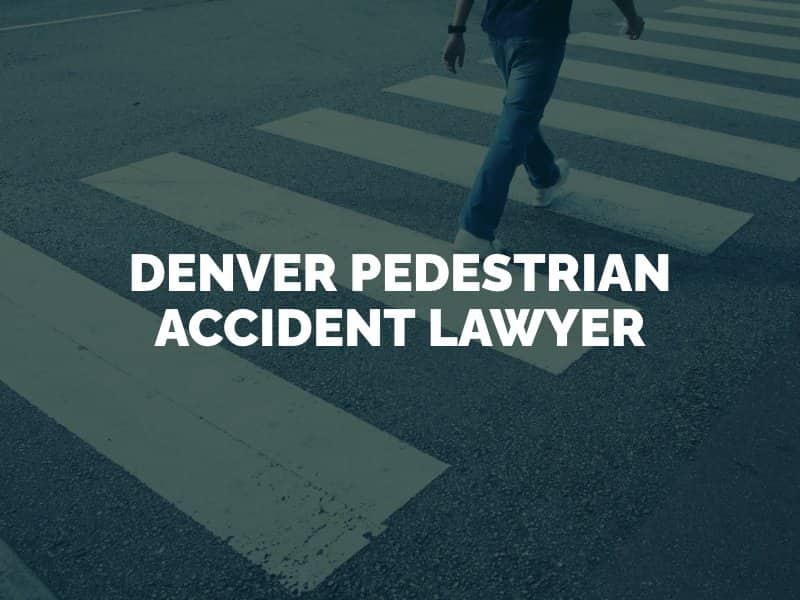 Who Is Liable?
A driver who breaches the duty of care may be held liable for pedestrian accidents and injuries. Drivers should operate with extra caution when pedestrians are nearby. Even if a driver is traveling at or below the speed limit, he or she should slow down or stop to avoid hitting a pedestrian in the road. A pedestrian can be held liable if the driver is going the speed limit and the pedestrian behaves in a careless way that makes it impossible for the driver to avoid hitting the pedestrian – for example, jumping out in front of the vehicle or walking in the street at night wearing dark clothing.
What Is the Comparative Negligence Defense?
The comparative negligence defense is an allegation from the defendant stating that you caused or contributed to the accident. In Colorado, the law states that even if you are partially at fault for the accident, you can recover financial compensation for your losses. However, your amount of fault must be less than the combined fault of the defendant(s), or else the courts will bar you from financial recovery entirely.
Do I Have a Pedestrian Accident Case?
Not every vehicle-pedestrian collision will give the pedestrian the right to file a personal injury lawsuit or insurance claim. If the driver was at fault for causing the crash, however, his or her insurance company will be liable for damages. If a driver was careless or reckless, for example, and crashed into you, you would have grounds to bring a claim against the driver.
Obtaining financial compensation in a pedestrian accident case generally requires evidence of negligence. Negligence is a lack of appropriate care, resulting in harm to someone else. Proving negligence, recklessness or intent to harm takes evidence that the driver owed you a duty to exercise proper care, breached or violated this duty, and caused your pedestrian accident. An attorney can help you gather and present evidence to support your personal injury lawsuit.
In any personal injury case, the burden of proof rests with the injured party or plaintiff. This means it is your responsibility as an injured pedestrian to prove your case against a driver or another defendant. Proving a civil case requires a preponderance of the evidence: enough clear evidence to convince an insurer, judge or jury that the defendant is more likely than not responsible for the accident.
What Damages Can I Recover for My Pedestrian Injuries?
If you or your lawyer succeed in proving fault for a pedestrian accident in Colorado, the defendant's insurance company will give you a settlement check to cover your injuries and related losses. You may also recover financial compensation through a positive jury verdict if your case has to go to court. The damages you could recover a monetary award for after suffering a pedestrian injury include:
Past and future medical bills
Medications, medical devices or physical therapies
Lost wages and employment benefits
Lost capacity to earn due to a disability
Bicycle repairs or replacement
Diminished quality of life
Pain and suffering
Emotional distress
You can list many different losses on your personal injury insurance claim in Colorado. This includes anything you spent out of pocket because of the accident, such as travel costs and legal fees. For an in-depth analysis of the potential value of your pedestrian accident claim, contact a pedestrian accident attorney. An attorney can give you an accurate evaluation, unlike an insurance company that will want to undervalue your losses. This is why it is important to speak to an attorney before you settle with an insurer.
What to Do After a Pedestrian Accident
If you get hit by a car while walking or running in Denver, do your best to take certain steps to protect yourself physically and financially. There are things you can do to make an insurance company take you more seriously as a claimant, such as obtaining medical attention immediately and filing a claim promptly. Take the following actions after a pedestrian accident, if possible:
Call 911. Use your cell phone or ask someone nearby to call the police while still at the scene of the accident. Request an ambulance if you're injured.
Check yourself for injuries. Restrict your movements if you feel pain, tingling or numbness in your back or limbs. Keep in mind that your adrenaline may be masking pain.
Get the driver's information. This includes his or her name, phone number, address, a description of the vehicle and insurance information.
Take pictures. If you can, take pictures of the damaged vehicle and the exact location where the collision took place, for your records.
Talk to eyewitnesses. Write down the names and contact numbers of anyone who witnessed the pedestrian collision. That way, you can obtain statements later.
Talk to the police. When the police arrive, give the officer your side of the story so it gets recorded. However, do not admit fault for the accident.
Go to the hospital. Go to Denver Health or another emergency room immediately for professional medical care. Request copies of your medical records afterward.
Call the driver's insurance company. As soon as you can, call the driver's car insurance company to file an initial crash report.
Do not sign anything. Do not give a recorded statement, accept an initial settlement offer or sign anything given to you by the insurance company before talking to a lawyer.
Contact a pedestrian accident attorney. Call (303) 710-8621 without delay to discuss your rights with an experienced attorney in Denver at The Fang Law Firm.
Our lawyers can help you take these steps and complete other tasks that will be necessary to recover from your pedestrian accident. We can revisit the scene of the crash, request copies of important records, connect you to top doctors in Denver and take many other steps to improve your case. Start the claims process by requesting a free case evaluation.
Contact The Fang Law Firm
Our experienced Denver pedestrian accident attorneys at The Fang Law Firm can investigate your accident and collect evidence to show that the at-fault driver was negligent. Call us to schedule a consultation after a serious pedestrian accident in Colorado.