Denver Underinsured Driver Accident Lawyer
If you or your loved one has been seriously injured by an underinsured driver, contact The Fang Law Firm. Our experienced Denver underinsured driver accident lawyers will pursue every possibility to recover full and fair compensation for your losses.
Like most states, Colorado requires automobile owners to carry liability insurance. This insurance is designed to cover bodily injury and property damage suffered by others in an accident caused by the insured. Unfortunately, the minimum liability insurance required by law is not always sufficient. Liability insurance may not fully cover extensive medical treatment and other losses caused by serious or catastrophic accidents.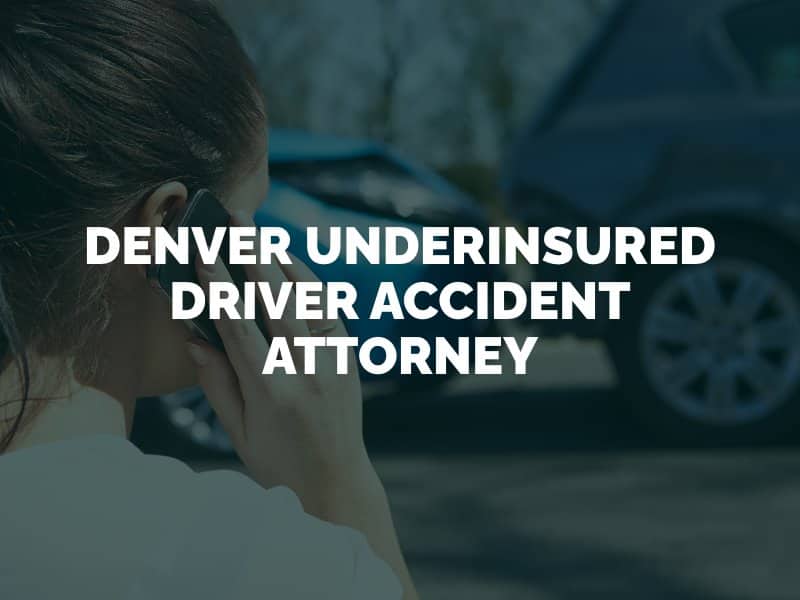 Why Choose Us?
Our trial lawyers have over 10 years of experience litigating more than 10,000 combined cases.
We get proven results, with a success rate of 98%.
Our Denver personal injury lawyers do not employ legal assistants or paralegals, but handle all our cases directly, giving our undivided attention to our clients.
We maintain a direct line of communication and are available for questions or concerns any time of the day.
Why You Need a Denver Underinsured Driver Accident Attorney
Insurance companies make a profit by minimizing the amounts they pay out in claims. It is unlikely that the insurance company will voluntarily pay for the full amount of your damages. Tactics may involve denying your claim or pressuring you to accept a settlement for less than what it is worth. You may need an attorney to help you negotiate with an insurance company during an uninsured or underinsured driver claim. An attorney can help you by providing the following services:
Investigating the car accident and collecting available evidence.
Reviewing the language and fine print of your car insurance policy.
Determining if you have uninsured/underinsured motorist insurance.
Filing an insurance claim on your behalf.
Negotiating a fair and full settlement with a car insurance company.
Hiring qualified car accident and traffic experts.
Taking your underinsured driver case to trial in Denver, if necessary.
Guiding you through the legal process and answering your questions.
Giving you greater peace of mind in the difficult aftermath of a car accident
Whether you are filing a claim with your own car insurance provider or against another party, an attorney can be of significant help. Our experienced Denver underinsured driver accident attorneys can investigate your accident, review current and future medical needs related to your injuries, and fully assess the value of your case. Our car accident attorneys can protect your rights, negotiate skillfully with insurance companies on your behalf, and fight for the compensation you deserve in court, if necessary.
Recovering Compensation for Injuries Caused by an Underinsured Driver
If you have been hurt by an underinsured driver, our Denver underinsured driver accident attorneys will pursue every avenue for recovering compensation. Drivers are well advised to carry uninsured and underinsured motorist coverage to protect themselves and their families.
If your injuries are serious and the at-fault driver is carrying only the mandatory liability insurance, you may be able to file a claim with your own insurance company for compensation related to your injuries. Your underinsured motorist insurance should cover the difference between the at-fault driver's bodily injury policy limits and your underinsured motorist policy limits.
To file a claim with your own insurance company, start by contacting your representative. You can typically find the phone number for your agent or the customer service line on your insurance card. Many car insurance companies have options for digital claims filing, as well. Follow the instructions on how to file a claim, which typically requires giving information about your crash. You may also be instructed to submit photos of your vehicle damage.
Your car insurance company will let you know if you have uninsured/underinsured motorist insurance to make up the difference between what the other driver can pay and the actual cost of your medical bills and property damage. If you have first-party coverage, you will not have to prove fault to receive a payout. If you do not have UM/UIM insurance, an attorney can help you search for other possibilities.
Colorado Mandatory Insurance Requirements
Liability insurance is the standard requirement in a fault-based state such as Colorado. This type of coverage pays for the medical bills and property damage of people other than the policyholder after an accident. As stated by the Colorado General Assembly, automobile owners in the state are required to carry the following liability insurance coverage:
$25,000 for bodily injury or death of any one person in an accident;
$50,000 for bodily injury or death or all persons in a single accident; and
$15,000 for property damage in any one accident.
This coverage may be enough to cover the costs involved in traffic crashes causing minor injuries. For accidents that cause catastrophic injuries, it may fall far short of covering medical expenses alone. Although it is illegal to drive without the required amounts of insurance in Colorado, hundreds of drivers do it every day. If you happen to get into an accident with an uninsured or underinsured driver, you will need more than the minimum amount of coverage to pay for your own losses.
Optional Auto Insurance Coverage in Colorado
The smartest thing to do as a driver in Denver is to purchase optional types of auto insurance coverage in addition to the legally required minimum amounts. While the minimum amount will protect you from having to pay out of pocket for someone else's damages after a car accident that is your fault, it will not contribute anything toward your own medical bills or vehicle repairs. For this type of first-party coverage, you will need one or more of the following types of optional insurance coverage:
Collision Coverage
This insurance pays to repair any damage caused to your own vehicle in a car accident. Depending on your level of coverage, this can pay for part or all of your repair costs. If your vehicle gets totaled in an accident, you will need enough coverage to pay for the full pre-crash value of your vehicle. However, collision coverage will only apply to damage caused by a motor vehicle collision.
Comprehensive Coverage
If you want to ensure that your vehicle is covered no matter what type of harm befalls it, consider comprehensive car insurance coverage. Comprehensive coverage will repair your vehicle if it is damaged in something other than a car accident. Examples include theft, vandalism, falling objects, natural disasters, storms, fire and animals.
Medical Payment (med pay) Insurance
As the name implies, med pay car insurance coverage will pay for your medical bills after a car accident, regardless of fault. You can use this coverage to supplement your health insurance policy if you need to go to a hospital or see a doctor for medical treatment after an auto accident.
Uninsured/Underinsured Motorist (UM/UIM) Insurance
To protect yourself against drivers who unlawfully drive without insurance, or to supplement a liability insurance policy that does not have a high enough limit to fully pay for your losses, you will need UM or UIM insurance. This type of coverage will also pay for your losses if you are involved in a hit-and-run crash.
Purchasing optional types of auto insurance coverage can help make sure you are financially covered after a car accident, regardless of fault for the crash or the other driver's insurance limits. If you end up in an accident with an underinsured motorist in Denver, having optional coverage can give you greater peace of mind.
Who Will Pay for My Car to Be Fixed and My Medical Bills?
Learning that the other driver does not have enough insurance to pay the full cost of your bills after a car accident can be disheartening. However, this does not mean hope for your financial recovery is lost. Depending on the circumstances of the crash, you may be able to seek additional financial compensation from one or more sources to supplement the at-fault driver's insurance plan. Potential options include:
The At-Fault Driver
Even if the driver who caused your crash does not have enough car insurance to pay, he or she may have other financial assets or resources to cover the remainder of what is owed. You may be able to hold the driver personally liable for your losses, which could result in a payment plan or wage garnishment until the driver's debt is paid.
The Driver's Employer
If the driver who caused your crash was on the clock at the time of the accident, his or her employer may be vicariously liable for your losses. You may be able to file a claim against a delivery company, trucking company, Uber or Lyft, government agency, or another company for the negligence of its on-duty driver. Companies typically carry much more insurance than individual drivers.
A Car Manufacturer
If an investigation determines that the crash or your injuries involved a defective vehicle part, such as bad brakes, a tire blowout, a broken seat belt or defective airbag, you may have grounds to file a product liability claim against the vehicle or part manufacturer. This type of claim typically does not require you to prove negligence as long as you can show that the auto part had a defect and caused your injury.
The Government
A car accident that involves a driver who was employed by the government, such as a law enforcement officer, could allow you to file a claim against the government agency. The city or state government may also be responsible for a crash caused by a road hazard or defect, such as a pothole, missing guardrail or traffic light malfunction.
Your Own Insurance
Finally, you may be able to recover compensation from your own car insurance policy if the other driver does not have adequate insurance. However, you will need to have purchased optional forms of insurance for first-party coverage in Colorado, not just the minimum required types of liability insurance.
Colorado law requires the driver, person or party that caused the crash to pay for subsequent damage. This is not always an option, however. An underinsured or uninsured driver may force you to seek coverage elsewhere, from a third party or your own insurance policy. You may need assistance from a uninsured accident attorney in Denver to fully explore all of your financial recovery options.
Proving Liability in a Car Collision
Colorado's insurance law requires you to prove that the other driver is at fault for your accident to qualify for compensation from his or her car insurance provider. You or your lawyer must show, based on a preponderance of the evidence, that the other driver was negligent or reckless and that this caused your crash.
A preponderance of the evidence means clear and convincing evidence, or proof that the other driver is more likely to be at fault than not for your collision. Proving liability starts with notifying the police that a crash took place. This can result in a police report, which will contain important information about the crash that you can use to prove your case. For example, the report may state whether the police believe the other driver is to blame.
Document the crash yourself by taking photographs and videos while you are still at the scene. Request copies of your medical records, police report and any other relevant documents. Then, hire an attorney to help you prove liability during an insurance claim or personal injury lawsuit. An attorney will have resources such as crash reconstruction experts and investigators to help you collect evidence of fault.
Contact Our Denver Law Firm
It is bad enough being injured in a traffic accident caused by the negligence of another driver. It is even worse when the at-fault driver does not have adequate insurance to cover your losses. At The Fang Law Firm, our Denver underinsured driver accident lawyers are tough advocates for injured people. Contact us if you have been hurt in a crash caused by an underinsured driver.