Denver Head-On Collision Attorney
If you have been injured or lost a loved in a head-on crash, our Denver head-on collision attorneys can help. We have dedicated our practice to holding responsible parties accountable and recovering compensation for injured people. Contact The Fang Law Firm in Denver, Colorado today.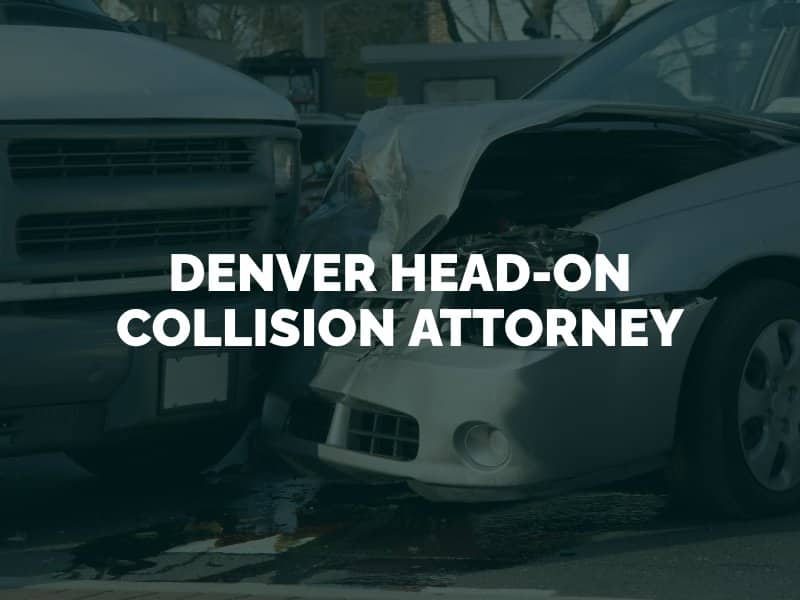 Why Choose Us?
Our Denver personal injury lawyers have more than 10 years of experience litigating over 10,000 combined cases with proven results.
We have a success rate of 98%.
We do not employ legal assistants or paralegals.
All our cases are handled by attorneys who will give you their undivided attention.
Why You Need a Lawyer
Damage can be devastating with a serious head-on crash. Unfortunately, car insurance companies want to pay claimants as little as possible, even for catastrophic and life-changing injuries. You may need a Denver car accident attorney  to represent you during insurance settlement negotiations to achieve a fair payout. It is especially important to hire an attorney for serious injuries, as you may be paying for a lifetime of necessary medical care.
Our experienced Denver head-on collision attorneys can quickly evaluate your case and launch a thorough investigation to determine who is liable for your injuries. Once we have identified the defendant(s) we can fill out and submit the required paperwork to bring a claim or lawsuit for your injuries. We can negotiate skillfully on your behalf and fight aggressively for the full and fair compensation you need to recover and move forward in life. We have connections to resources, experts and information that can help you during this difficult time.
What Is a Head-On Collision?
A head-on collision is a crash involving two vehicles moving directly toward each other. It describes an impact between the fronts of both vehicles, also known as a frontal collision. Head-on collisions are an especially harmful type of car accident, as the impact occurs at the combined speeds of both vehicles. If one car is moving at 40 miles per hour and the other is traveling at 60 miles per hour, for example, the collision takes place at 100 miles per hour.
A head-on collision is also dangerous because the point of impact is close to where both drivers are seated in the vehicle. This can enhance the severity of the injuries suffered by the drivers involved. Finally, head-on collisions are often caused by reckless driving behaviors, such as speeding or driving in the opposite direction of traffic. These behaviors can lead to more intense and high-severity collisions.
Recoverable Damages in a Head-On Collision
Head-on car accidents can cause major injuries that lead to tens of thousands of dollars in medical expenses alone. In addition to hospital bills, a victim may have to take time off of work and lose wages for many weeks or months due to a long-term injury. Obtaining fair and full compensation from the at-fault driver can enable your family to pay related bills and move forward with financial stability.
In Colorado, a crash victim can seek financial compensation for the following types of damages:
Economic Damages
The monetary or financial losses suffered in the head-on collision, such as past and future medical bills, lost wages, lost future capacity to earn, vehicle repairs or replacement, legal fees, and transportation costs. In a wrongful death claim, they can also include reasonable funeral and burial costs for the decedent.
Noneconomic Damages
The intangible losses suffered by a crash victim, also known as pain and suffering. They can include physical pain, chronic pain, inconvenience, emotional distress, mental anguish, grief, psychological trauma, post-traumatic stress disorder, lost quality or enjoyment of life, and loss of consortium.
Punitive Damages
An amount sometimes awarded in a case involving gross negligence, recklessness or a wanton disregard for the safety of others. They are given to punish the defendant and set an example for the community rather than reimburse the victim. In Colorado, punitive damages cannot exceed the amount of actual damages.
It is important to understand the potential value of your car accident case before accepting a settlement from an insurance company. Insurance companies are notorious for undervaluing claims and offering inadequate settlements. You may need to hire a Denver head-on collision attorney to support you during settlement negotiations. An attorney will fight for maximum financial compensation based on the extent of your injuries and how much they have and will continue to impact your life.
Can I Still Recover Compensation if I Was Partly At-Fault?
Yes. Do not assume that you have lost the right to recover financial compensation if you were partially at fault for your head-on collision in Denver. Colorado has something called the comparative negligence law, which allows victims to recover financial compensation for an accident even with up to 50 percent of fault for an accident. This means that if an injured victim is found to be 50 percent or less at fault for the accident, he or she can receive compensation for the crash.
With more than the majority share of fault, however, the victim is barred from making a financial recovery. This is why it is important to hire an attorney to argue against the comparative negligence defense if it is raised during your case. Under this law, if a percentage of fault is allocated to you for the head-on collision, your compensatory award will be reduced by a corresponding amount. With 20 percent of fault allocated to you, for example, you would receive $80,000 of a $100,000 verdict.
How Long Do I Have to File an Accident Claim?
A law known as the statute of limitations in Colorado limits the amount of time that you have to file a claim after a head-on collision in Denver. This time limit exists to encourage accident victims to file claims in a timely manner. Without a deadline, victims could foreseeably wait as long as they wanted to file – such as after important evidence for the defense was no longer available. The courts in Colorado take the statutes of limitations seriously; if you wait too long and miss your deadline, you will most likely lose the right to recover financial compensation forever.
You have no more than three years from the date of the head-on accident to file an injury or property damage claim in Colorado. This is a year longer than the general statute of limitations for personal injury claims (two years). The time limit is extended in Colorado for automobile accidents. If you are filing a claim after the death of a loved one for a fatal head-on collision, your family only has two years from the date of the decedent's death. However, wrongful death claims arising from hit-and-run accidents come with a four-year statute of limitations beginning on the date of the accident.
There are some exceptions to the general statute of limitations in Colorado. For example, if a head-on collision injures a child passenger who is under the age of 18, the statute of limitations does not start until the child's 18th birthday. This means the child has until age 21 to file a claim. There is also an exception known as the discovery rule, which can extend the deadline to three years from the date of discovery rather than the date of the car accident if the victim does not discover his or her injuries right away. However, acting sooner rather than later can make for a stronger case. Do not wait to contact a Denver head-on collision attorney.
Who Is Liable?
In a fault state, an individual who gets injured in a car accident must prove or establish that someone else was at fault to qualify for insurance coverage. It is typically necessary to prove negligence with clear and convincing evidence. Liability for head-on collision injuries will depend on what caused the accident and who was driving negligently when it occurred. Driver negligence causing a head-on crash may involve:
Fatigued driving (falling asleep at the wheel)
Failure to obey traffic signals and signs
Speeding and aggressive driving (weaving in and out of traffic, tailgating, failure to yield the right-of-way)
If another driver is at fault, his or her car insurance will cover a victim's medical bills and property damage. If that driver was working at the time of the crash, however, the victim may be able to file a claim against the employer or company. If an investigation determines that a third party is to blame, such as the manufacturer of a defective vehicle part, this party may also be held liable.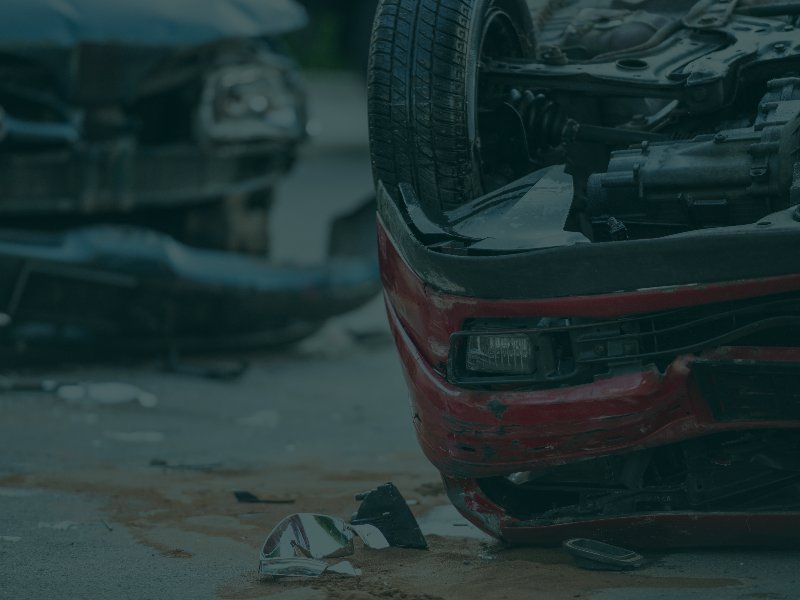 Common Injuries in Head-on Collisions
Frontal-impact collisions are some of the deadliest car crashes. The severity of injuries can depend on the speed at which the colliding vehicles are traveling. Injuries commonly sustained in head-on collisions include:
Head injuries: Sudden impact to the front of the vehicle in a head-on crash can cause the driver's head to slam against the steering wheel. This can cause traumatic brain injury with long-term debilitating effects for the victim.
Spinal cord injuries: This type of injury can occur in any kind of traffic crash, including head-on collisions. An accident victim may suffer herniated disc, fractured vertebrae, or damage to the spinal cord causing paralysis.
Blunt trauma injuries: Vehicle occupants in a front-end collision often suffer blunt trauma injuries to various parts of the body. Internal injuries of the chest and abdomen are common because of airbags and seatbelt restraints. Accident victims may suffer cracked ribs, damaged lungs, shoulder joint injuries, or internal organ damage.
At the Fang Law Firm, we can help clients with any type of injury after a head-on vehicle collision in Denver. We have experience handling catastrophic injury cases as well as wrongful death claims on behalf of surviving loved ones. We know what you and your family need during this difficult time while you heal from your injuries.
Common Causes of Head-On Collisions
Many head-on collisions are caused by the negligence of the at-fault driver. Negligence is the failure to use the right amount of care, resulting in harm to others. It can refer to a careless act or omission by a motor vehicle driver in a car accident case. It can also refer to reckless driving behaviors, such as driving under the influence or excessive speeding.
A head-on collision can occur due to many examples of driver negligence, such as:
A driver failing to remain in his or her own lane and proceeding into oncoming traffic.
A distracted or intoxicated driver drifting across the center line.
A driver falling asleep behind the wheel and drifting into the opposite lane.
A driver making an illegal turn onto a one-way street or entering an expressway via an exit off-ramp instead of an entrance on-ramp.
A driver dangerously passing another car on a two-lane road without enough time to get back over.
A driver speeding around curves and leaving the correct lane.
A driver failing to properly adjust to poor weather conditions or low visibility.
Determining the cause of your head-on collision is a requirement before you can file a car insurance claim. This is because Colorado uses a fault-based insurance rule, where the driver or party at fault for causing the car accident must pay for the damage. If you are not sure what caused your head-on collision, our attorneys can conduct a comprehensive crash investigation for you.
Contact Us Today
Contact The Fang Law Firm as soon as possible after you have been seriously injured or lost a loved one in a head-on collision caused by a negligent driver. Our attorneys are tough advocates for injured people. Our Denver head-on collision lawyers operate on a contingency-fee basis, which means you pay us no legal fees until we settle or win your case.