Denver Head-On Collision Attorney
Head-on collisions are considered more dangerous than any other type of traffic crash. They can cause fatal or catastrophic injuries, including head trauma, spinal cord injury, and paralysis. If you have been injured or lost a loved in a head-on crash, our Denver head-on collision attorneys can help. We have dedicated our practice to holding responsible parties accountable and recovering compensation for injured people. Contact The Fang Law Firm in Denver, Colorado today.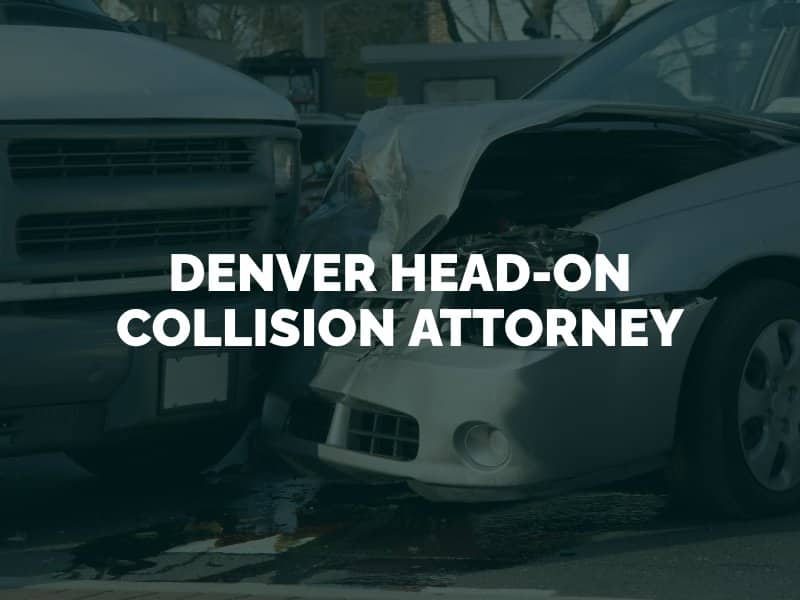 Why Choose Us?
Our Denver personal injury lawyers have more than 10 years of experience litigating over 10,000 combined cases with proven results.
We have a success rate of 98%.
We do not employ legal assistants or paralegals.
All our cases are handled by attorneys who will give you their undivided attention.
Why You Need a Lawyer
Damage can be devastating with a serious head-on crash. Our experienced Denver head-on collision attorneys can quickly evaluate your case and launch a thorough investigation to determine who is liable for your injuries. We can negotiate skillfully on your behalf and fight aggressively for the full and fair compensation you need to recover and move forward in life.
What Is a Head-On Collision?
A head-on collision is a crash involving two vehicles moving directly toward each other. Many are caused by the negligence of the at-fault driver. This type of crash can occur when a driver fails to remain in his or her own lane and proceeds into oncoming traffic. It can also happen with wrong-way driving when a driver makes an illegal turn onto a one-way street or enters an expressway via an exit off-ramp instead of an entrance on-ramp.
Common Injuries in Head-on Collisions
Frontal-impact collisions are some of the deadliest car crashes. The severity of injuries can depend on the speed at which the colliding vehicles are traveling. Injuries commonly sustained in head-on collisions include:
Head injuries: Sudden impact to the front of the vehicle in a head-on crash can cause the driver's head to slam against the steering wheel. This can cause traumatic brain injury with long-term debilitating effects for the victim.
Spinal cord injuries: This type of injury can occur in any kind of traffic crash, including head-on collisions. An accident victim may suffer herniated disc, fractured vertebrae, or damage to the spinal cord causing paralysis.
Blunt trauma injuries: Vehicle occupants in a front-end collision often suffer blunt trauma injuries to various parts of the body. Internal injuries of the chest and abdomen are common because of airbags and seatbelt restraints. Accident victims may suffer cracked ribs, damaged lungs, shoulder joint injuries, or internal organ damage.
Who Is Liable
Liability for head-on collision injuries will depend on what caused the accident and who was driving negligently when it occurred. Driver negligence causing a head-on crash may involve:
Distracted driving
Driving under the influence of alcohol or drugs
Fatigued driving (falling asleep at the wheel)
Failure to obey traffic signals and signs
Speeding and aggressive driving (weaving in and out of traffic, tailgating, failure to yield the right-of-way)
Contact Us Today
Contact The Fang Law Firm as soon as possible after you have been seriously injured or lost a loved one in a head-on collision caused by a negligent driver. Our Denver car accident attorneys are tough advocates for injured people. Our Denver head-on collision lawyers operate on a contingency-fee basis, which means you pay us no legal fees until we settle or win your case.