Denver Eye Injury Attorney
If you have suffered eye injury through the negligence of another, contact The Fang Law Firm in Denver. Our Denver eye injury lawyer can tell you if you have a case and what damages you may be entitled to claim. The human eye is an organ that is fragile and essential for everyday function. Sadly, thousands of eye injuries occur every year in the workplace alone.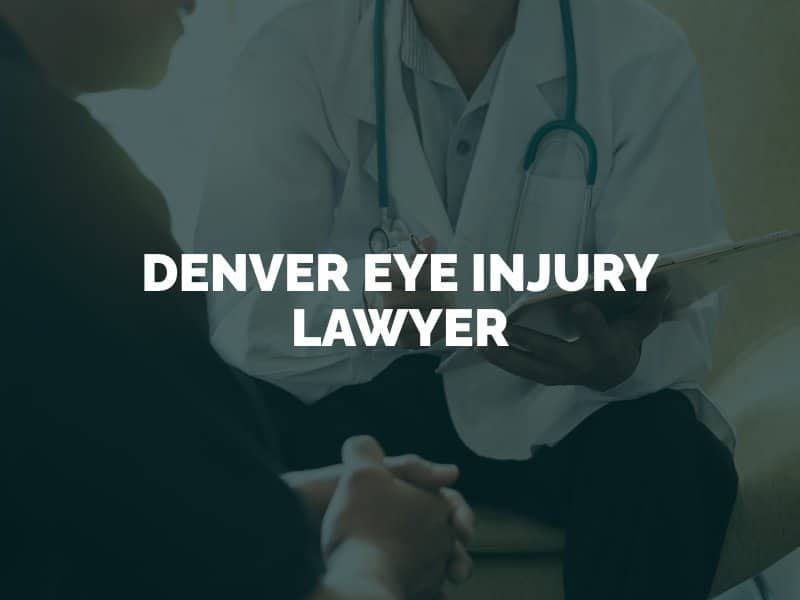 Why Choose Our Firm?
Our Denver eye injury attorneys operate on a contingency-fee basis.
This means you pay us no legal fees until we reach a settlement or win your case.
Our firm has more than a decade of experience litigating over 10,000 collective cases, with a success rate of 98%.
We do not employ paralegals or legal assistants.
All our cases are handled directly by experienced Denver personal injury lawyers.
Why You Need a Denver Eye Injury Lawyer
After an accident causing eye injuries, the responsible party's insurance company may try to deny liability or reduce the amount of your claim. Insurance companies are for-profit corporations motivated to reduce their payouts and increase profits for shareholders. You may be offered a settlement that does not cover the damages you have suffered. An experienced Denver eye injury attorney can help pursue the damages you deserve after an accident.
Common Causes of Eye Injuries
The tissues of the eye are delicate and susceptible to injury. Common causes of eye injuries include:
Trauma: A blow to eye with a hard object can damage the eye, eyelids, and surrounding muscles and bones. Motor vehicle accidents are a common cause of traumatic eye injuries.
Cuts and scratches: A stick, fingernail, or another sharp object may scratch the eye and the cornea (the clear, dome-like cover).
Objects in the eye: Metal shavings, wood chips, grains of sand, and slivers of glass can get into the eye and scratch or cut the cornea.
Chemical burns: Certain chemicals can cause serious burns inside the eye. Alkalis, such as drain cleaners, oven cleaners, and fertilizers, are among the most dangerous.
Eye Injury Statistics
Motor vehicle crashes are a leading cause of eye injuries in the U.S. Auto accidents present unique eye injury risk factors, including:
Rapid changes in velocity
Broken glass exposure
Airbag deployment
Lack of restraint use
Exposure to foreign bodies
In a study published by the National Institutes of Health in 2014, researchers found the following facts about eye injuries caused by motor vehicle accidents:
An estimated 75,028 eye injuries caused by motor vehicle crashes were treated in U.S. emergency departments in a seven-year period.
Males accounted for 59.6% of motor vehicle accident eye injuries.
Motor vehicle crash eye injury rates were highest among teens ages 15 to 19.
Drivers accounted for 62.2% of auto accident eye injuries treated in emergency rooms.
Contusion/abrasion was the most common diagnosis.
If you suffered an injury to your eye due to negligence in a car accident, our auto collision lawyers in Denver can help.
Who Can Be Held Liable for an Eye Injury?
Liability for eye injuries depends on what caused the accident and the surrounding circumstances. The at-fault driver may be liable if eye injuries are sustained in a motor vehicle accident. If your eye injuries were caused by someone else's negligence, our experienced Denver eye injury lawyers can investigate the accident to determine liability.
Contact a Denver Eye Injury Attorney Today
Our Denver trial lawyers at The Fang Law Firm can provide sound legal counsel and negotiate with insurance companies on your behalf. Contact us as soon as possible if you have sustained eye injuries in an accident that was someone else's fault.