Denver Distracted Driving Accident Attorney
With advancing technology, distracted drivers have become a menace on America's roadways. According to the National Highway Traffic Safety Administration (NHTSA) approximately 481,000 drivers are using cell phones while driving at any time during daylight hours in the U.S.
If you have been injured by a distracted driver, contact The Fang Law Firm today. You may have a personal injury claim for compensation. Our Denver distracted driving accident lawyers are dedicated advocates for people injured by distracted drivers.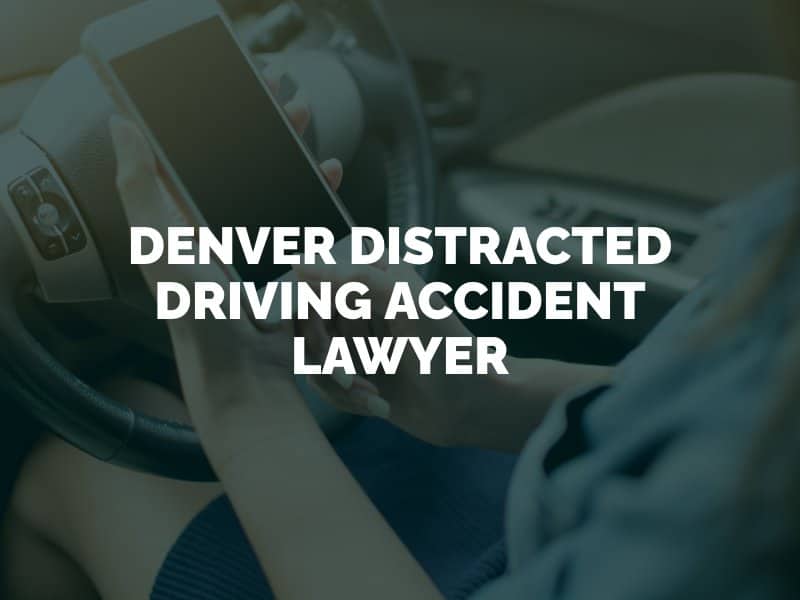 Why Choose Our Firm?
At The Fang Law Firm in Denver, we believe in hands-on case management.
Our firm was founded on one guiding principle: people deserve personal representation and a direct line of communication throughout a personal injury claim.
Instead of using paralegals or legal assistants, our Denver car accident lawyers give their undivided attention to the clients we represent.
We have a 98% success rate in more than 10 years of litigation experience.
Why You Need an Attorney
If you have been seriously injured in a traffic crash and suspect the other driver was distracted at the time of the accident, your best course of action is to hire an experienced Denver personal injury attorney to represent you. Our Denver distracted driving accident attorneys can:
Investigate your accident
Obtain and preserve evidence
Assess the full extent of your losses
Build a strong case based on the facts
Negotiate skillfully with insurance companies on your behalf
Fight for your rights in court, if necessary
What Is Distracted Driving?
In 2016 alone, 3,540 people were killed and 391,000 were injured in distracted driving traffic crashes. As defined by NHTSA, distracted driving is any activity that diverts the driver's attention away from driving. It may involve:
Texting
Talking on a cell phone
Operating a navigation system
Adjusting the radio or entertainment system
Talking with passengers
Dealing with children
Reaching for objects in the vehicle
Eating or drinking
Grooming or applying makeup
Texting is the most alarming form of distracted driving because it requires visual, manual, and cognitive attention. NHTSA reports that sending or reading a text message takes the driver's attention off the road for five seconds. At 55 mph, this is comparable to driving with your eyes closed for the length of a football field.
Determining Liability
All drivers have a legal duty to drive in a reasonable manner to protect pedestrians and other motorists on the roadways. This includes the duty to be alert and aware of the environment. Distracted drivers breach that duty when they take their attention off the road to text or engage in another distracting activity.
When our firm represents you, our Denver distracted driving accident lawyers can subpoena the other driver's cell phone records, identify all factors contributing to the accident, and determine liability. We will work had to hold the responsible party accountable and recover full compensation for the injuries and losses you sustained in the accident.
Contact Us Today
Our distracted driving accident attorneys at The Fang Law Firm in Denver, Colorado are dedicated to helping our clients in the best way possible by tailoring each case to fit the client's unique needs. We have more than a decade of experience litigating over 10,000 combined cases. We operate on a contingency-fee basis, meaning you pay us no fees until we recover compensation for you. Contact us today if you have been hurt in a distracted driving accident.