Denver Spinal Cord Injury Attorney
Spinal cord injuries can have life-changing consequences for victims. If you have suffered spinal cord injury through the negligence or wrongdoing of another, contact The Fang Law Firm in Denver. Our experienced Denver spinal cord injury lawyers can assist you in holding responsible parties accountable and pursuing fair compensation for your losses.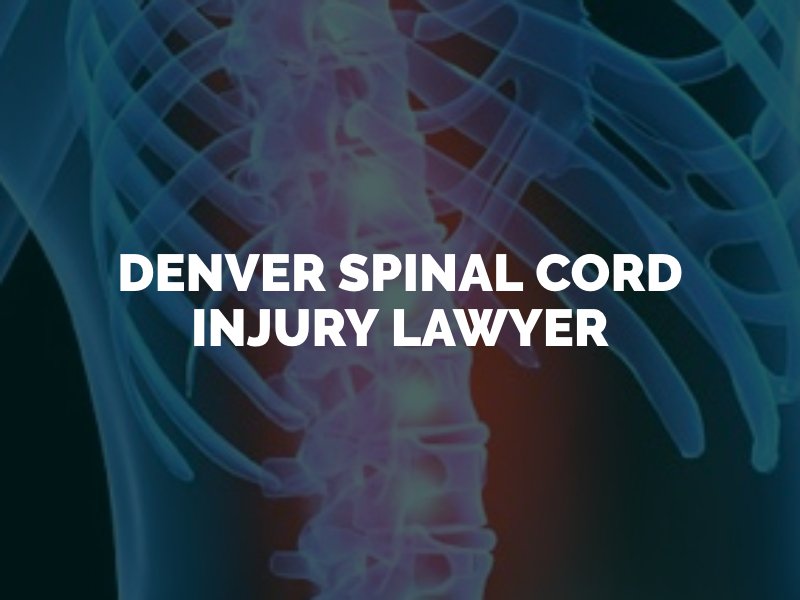 If you or a loved one sustained a spinal cord injury in any type of accident, contact Fang Law Firm for a free case review. Our Denver spinal cord injury lawyers can determine whether someone else caused your injury and therefore may be liable for your damages. If so, we can help you recover compensation.
Why Choose Us for Your Spinal Cord Injury Attorneys?
We aggressively represent clients during catastrophic injury claims, never allowing the defendant or an insurance company to take advantage.
Our Denver injury lawyers have more than 10 years of experience litigating over 10,000 collective cases.
We get proven results – our success rate is 98%.
We do not employ legal assistants or paralegals.
All our spinal injury cases are handled directly by experienced spinal cord injury attorneys in Denver. They will give you their undivided attention.
Our Denver spinal cord injury lawyers operate on a contingency-fee basis. You do not pay our law office any legal fees until we reach a settlement with the individual or insurance company or win your personal injury case.
What Is the Spinal Cord?
The spinal cord is the cylindrical bundle of nerve fibers and tissue enclosed in the spine. It connects nearly every part of the body to the brain, with which it forms the central nervous system.
What are the Different Types of Spinal Cord Injuries?
Damage to the spinal cord can be life-threatening. Any injury to the spinal cord or its surrounding elements could lead to catastrophic injuries such as paralysis. The spine is the body's support beam. It also houses a bundle of critical nerves that sends signals from the brain to the body. Damage to any part of the spinal cord can cause loss of strength, sensation, and body functions below the site of the injury. Spinal cord injury can be complete or incomplete.
Complete: All feeling and ability to control movement are lost below the site of the injury.
Incomplete: Some motor or sensory function remains below the site of the injury. Incomplete spinal cord injury occurs in varying degrees.
The lowest normal part of the spinal cord is called the neurological level of the injury. Depending on the location of the injury on the spinal cord, paralysis may be referred to as:
Tetraplegia: Also known as quadriplegia, this type of paralysis affects the arms, hands, trunk, legs, and pelvic organs.
Paraplegia: Paralysis affects the legs and pelvic organs and all or part of the trunk.
How Much Is My Spinal Cord Injury Case Worth?
Once you are on a treatment plan for your spinal cord injury, contact a spine injury lawyer to discuss a potential personal injury claim in Denver. Pursuing an insurance claim or a personal injury lawsuit could lead to compensation for your damages. Spine injury claims can be worth a significant amount depending on how greatly they impact victims' lives. For instance, paralyzing spine injuries can garner awards of $1 million or more for the victim's lifetime disability and related losses. People living with spine injuries often require significant disability accommodations or around-the-clock care. Each spine injury case is different, however. The only way to find out what your case could be worth in Colorado is by contacting a spinal cord injury attorney.
What Damages Can I Recover After Sustaining a Spinal Cord Injury?
A successful insurance settlement or spinal cord injury lawsuit in Denver could lead to financial compensation for many different damages. Damages refer to the physical, emotional and financial losses you incurred due to your injury. You could receive an award to cover your past and future medical bills, surgeries, rehabilitation, 24/7 care, home or vehicle modifications, lost wages, lost capacity to earn due to a disability, pain and suffering, property damages, lost quality of life, loss of consortium, and wrongful death damages if a loved one died.
What are the Common Causes of Spinal Cord Injuries?
Spinal injuries are caused by damage to the vertebrae, disks, or ligaments of the spine, or to the spinal cord itself. Traumatic spinal cord injury can occur with a traumatic blow to the spine that crushes, compresses, fractures, or dislocates one or more vertebrae. It may also be caused by a penetrating injury, such as a gunshot or knife wound.
Bleeding, swelling, inflammation, and accumulated fluid in and around the spinal cord usually cause additional damage for days or weeks following the injury. In some cases, an injured person may also experience brain damage or chronic pain in conjunction with a spinal cord injury.
As stated by the Mayo Clinic, the most common causes of spinal cord injury in the U.S. are:
Motor vehicle accidents: Car accidents and motorcycle collisions are the number one cause of spinal cord injuries, accounting for nearly half of all new spinal cord injuries every year.
Falls: More than 15% of spinal injuries are caused by falls. Among people over the age of 65, falls are the cause of most spinal cord injuries.
Acts of violence: Approximately 12% of all spinal cord injuries are caused by violence, often involving knife and gunshot wounds.
Sports and recreation injuries: Impact sports, diving in shallow water, and other athletic activities cause approximately 10% of all spinal injuries.
Additional causes of spinal cord injuries can include:
Medical malpractice
Pedestrian accidents
Recreational accidents
Rollover accidents

What are the Symptoms of a Spinal Cord Injury?
After an incident that impacts your spine, such as a fall, motor vehicle collision, diving accident gunshot wound or medical malpractice, you may notice signs of something amiss right away. It could also take a few hours or even days to notice the symptoms of a spine or back injury. Every patient and injury is unique.
Oddly positioned back or neck after an accident
Pain or stinging sensations
Extreme back pain or pressure
Numbness or tingling
Trouble walking or balancing
Trouble breathing
Altered sensations, such as to heat and cold
Loss of feeling and the ability to control movement
Loss of bowel and/or bladder control
Reflex spasms
Sexual dysfunction
If you notice any potential signs of a spinal cord injury after an accident, limit your movements. Remain where you are until paramedics arrive. Twisting or moving the wrong way could exacerbate your spine injury. Go to the hospital immediately for a diagnosis and treatment. Keep copies of all your medical records to use during your case later.
Talk to a Denver Spinal Cord Injury Attorney Today
Our Denver spinal cord injury attorneys know damages are high in spinal cord cases. Medical bills, rehabilitation costs, lost wages and lost earning capacity are just a few of the tangible losses you may have experienced. It is essential to hold responsible parties accountable and recover the compensation you deserve.
Our attorneys can assess your case and damages during a free consultation at our local law firm. We have the experience to understand how significantly a spinal cord injury can impact the survivor and his or her loved ones. Our lawyers can present your damages to an insurer, judge or jury in a way that will maximize the odds of obtaining fair and full compensation. Discuss your spinal cord injury case in more detail with a Denver spinal cord injury lawyer today.
Initial consultations at The Fang Law Firm are free and confidential. Call or contact us online today to schedule a meeting in Denver.