Denver Rear-End Accident Attorney
In a rear-end collision, one vehicle crashes into the vehicle in front of it. Rear-end accidents can cause injuries ranging from minor to fatal. If you have been hurt in a rear-end crash caused by a negligent driver, call The Fang Law Firm to schedule a consultation. Our experienced Denver rear-end accident attorneys can tell you if you have a case and what damages you may be entitled to claim.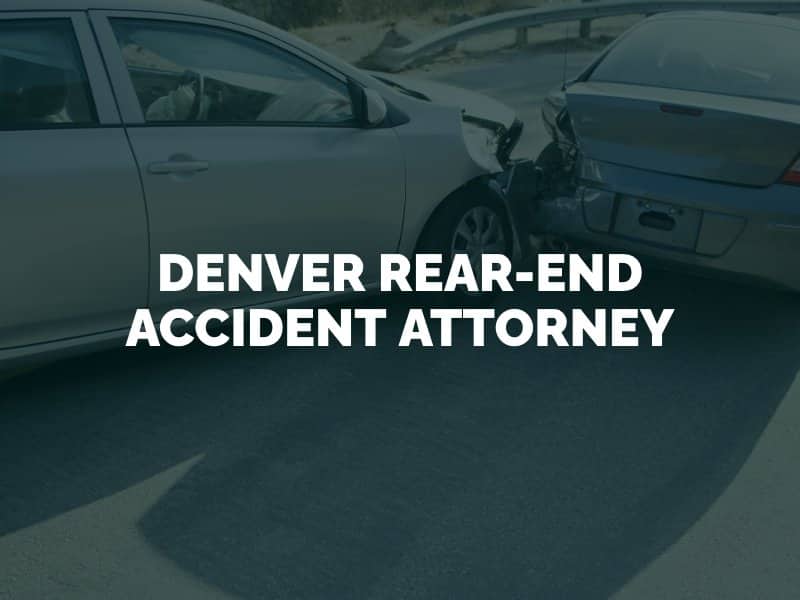 Why Choose Us as Your Lawyers?
Our Denver personal injury attorneys have over a decade of experienced litigating more than 10,000 combined cases.
Our success rate is 98%.
We take a hands-on approach to our cases, working directly with our clients instead of delegating to legal assistants or paralegals.
We take the time to meet with you, personally or over the phone, gather every detail of your case, and fight hard to recover the compensation you deserve.
Why You Need an Attorney
Proving liability is not always easy after a rear-end crash. If you have been rear-ended, it is not a given that the driver who hit you was at fault for the accident. Under Colorado comparative negligence laws, the other side will attempt to assign a degree of fault for the accident to you. You may recover damages if the other party is found to have been more at fault than you were, but your recovery will be reduced by the percentage of fault you are assigned.
Our experienced Denver car accident lawyers can:
Investigate your accident
Collect and preserve evidence
Determine liability
Fight for full and fair compensation, in negotiations or in court
How Do Rear-End Collisions Occur?
The Insurance Information Institute (III) reports that in a recent year, there were 2,203 fatal rear-end accidents in the U.S. and 556,000 causing injuries. As determined in a study published by the National Highway Traffic Safety Administration (NHTSA), common causes of rear-end crashes include:
Distracted driving: Researchers found that driver distraction was the leading causes of rear-end accidents. Distraction includes texting and talking on cell phones, distraction caused by passengers, eating and drinking, and daydreaming.
Tailgating: Following too closely can contribute to rear-end collisions. When the driver in front stops is forced by traffic conditions to stop or decelerate suddenly, a tailgating driver behind has little time to react.
Improper lane changing and merging: Drivers who change lanes or merge with traffic without allowing enough distance for an oncoming vehicle can cause rear-end accidents.
Speeding: The faster a vehicle is traveling, the more distance it needs to stop. Speeding can contribute to both the incidence of rear-end collisions and the severity of the injuries they cause.
Common Injuries in a Rear-End Accident
Rear-end collisions are among the most frequently occurring accidents in the U.S. They can cause a variety of injuries, ranging widely in severity, depending on the circumstances surrounding the crash. Common rear-end accident injuries include:
Whiplash
Back and spine injuries
Head and brain injuries
Seatbelt injuries
Facial injuries and disfigurement
Contact Our Firm
If you have been injured in a rear-end accident, contact The Fang Law Firm today. Our Denver rear-end accident attorneys operate on a contingency-fee basis. This means you pay us no legal fees until we win your case for you. We are dedicated to helping our clients in the best way possible.