Denver Truck Accident Lawyer
If you have been injured or lost a loved one in a collision with a truck, contact the Denver truck accident attorneys at The Fang Law Firm as soon as possible. Our Denver truck collision lawyers have dedicated our practice to holding responsible parties accountable. We recover full and fair compensation for injured people.
Navigate This Page
How Can Our Denver Truck Accident Lawyers Help?
Our trial lawyers have been litigating accident cases with a successful track record for more than a decade.
Our personal injury law firm has a success rate of 98%.
We maintain a direct line of communication with our clients throughout the whole process. Our accident attorneys are available for questions or concerns any time of the day.
Our Denver truck accident attorneys operate on a contingency-fee basis. This means you pay us no legal fees until we reach a fair settlement or win your truck accident case.
Why You Need a Denver Truck Accident Lawyer
Occupants of passenger vehicles often suffer serious injuries in a collision with a large commercial truck. Truck accidents are high-value claims and complex cases involving multiple potentially responsible parties and federal regulations.
Trucking companies and their insurers have teams of lawyers standing by, ready to fight your truck accident claim so they can deny liability or reduce the amount they pay out.
Our experienced truck collision lawyers in Denver can thoroughly investigate the accident to identify all responsible parties. We may work with accident reconstruction and other experts to show how the crash occurred and who is liable. We can obtain and preserve evidence, assess the full extent of your losses, and fight for the compensation you deserve, in or out of court.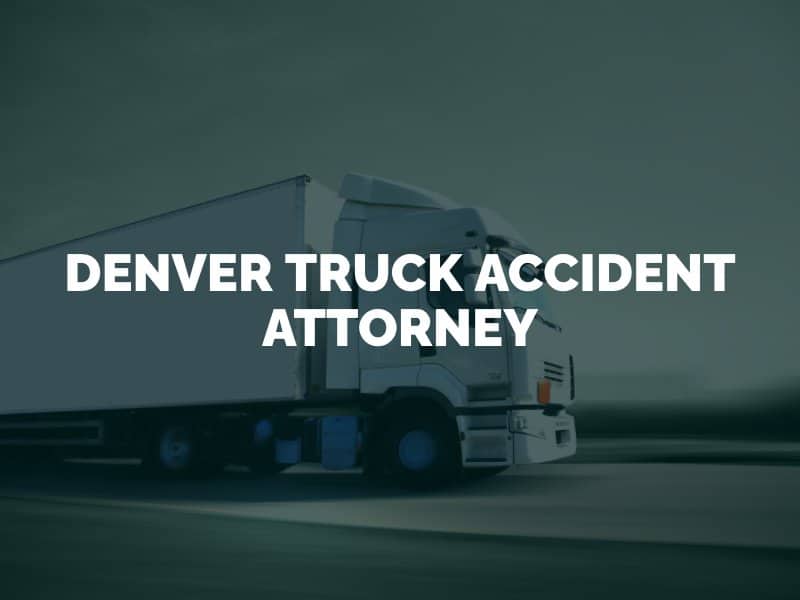 What Damages Can You Recover in Truck Accident Cases?
Our Denver truck accident lawyers are passionate about helping injury victims recover maximum compensation after a truck collision. We can help you secure financial compensation for all of the past and future losses that you suffered because of a truck accident. The types of damages, or financial compensation, that are recoverable in a truck accident case may include:
Medical bills and future medical expenses – compensation to cover all necessary medical care, including future procedures, appointments, medications, rehabilitation and therapies.
Lost wages – an amount to cover a victim's lost wages from the date of the accident to the date that the claim was filed. If a truck accident resulted in a long-term disability, future lost capacity to earn may also be recoverable.
Property damage – the cost to repair the damage to your vehicle caused by the trucking accident or, more often in truck accident cases, the pre-crash value of a totaled vehicle.
Pain and suffering – damages for the intangible losses suffered, such as physical pain, emotional distress, mental anguish, psychological trauma and lost quality of life.
In some cases, punitive damages may also be available. Each truck accident case is unique. To learn more about what avenues are available for compensation, contact us to schedule a free consultation.
Who is Liable for a Trucking Accident?
One of the most challenging aspects of a truck collision case is that one may easily involve multiple defendants. A truck accident could implicate the driver, the trucking company, a distributor, a maintenance technician, or a combination of these parties.
Trucking accidents often result from driver negligence, but there may be other elements beyond the driver's control that contribute to an accident.
The parties involved in a trucking accident will want to conduct a thorough investigation of the event, but physical evidence may not last long at the accident scene once the police and emergency crews start clearing the site and restoring the flow of traffic.
Vehicle computer data from all vehicles involved, such as a black box in the commercial truck, can help pinpoint crash times and driver actions leading up to the crash, and this evidence may help establish liability for the accident. Ultimately, the accident victim, another driver, any entity in the supply chain of the truck and its shipment, or a combination of these parties could bear liability for a trucking accident in Colorado.
The Manufacturer
When a defective motor vehicle or motor vehicle part causes an accident, the manufacturer of the defective item will be liable for any resulting claims from the victims. In a product liability claim, the plaintiff must prove the product in question was defective and the sole cause of the plaintiff's claimed damages.
The Truck's Maintenance Provider
If poor maintenance resulted in an equipment failure, the organization responsible for the truck's maintenance can be liable. The technician who performed the faulty maintenance can also face liability for the resulting damages.
The Trucking Company
A trucking company will bear liability for a truck accident if the company failed to properly vet and train the driver, or if the company hired a driver without conducting appropriate background checks.
The Truck Driver
A truck driver will face liability if the accident occurred while the driver was off-duty or using the truck for purposes other than job duties. The driver will also face liability if the driver was driving under the influence of drugs or alcohol at the time of the crash in Colorado.
The Private Driver
A third party, such as another private driver, could cause a trucking accident that injures other drivers. Those drivers would have grounds for personal injury claims against the negligent third party.
The Distributor or Shipping Service Provider
A distributor or shipping service provider may face liability if they improperly pack a trailer for transport. A poorly balanced load can cause a big rig to tip over around a curve. Special types of truck cargo require specific safety equipment. For example, car-carriers, logging trucks, dump trucks, and flatbed trucks for transporting building materials all have specific safety requirements loaders must meet.
The Government
If road damage or poor road maintenance causes an accident, the local, state, or federal government agency responsible for the road could absorb liability. However, taking legal action against any government entity is more difficult than pursuing legal action against another private party; some of these entities have immunity from civil liability.
One of the most important documents a driver can secure after a trucking accident is the police report. Because physical evidence may not last long after the police arrive, having an account of their initial findings in an official report can be very valuable to a future truck accident lawsuit.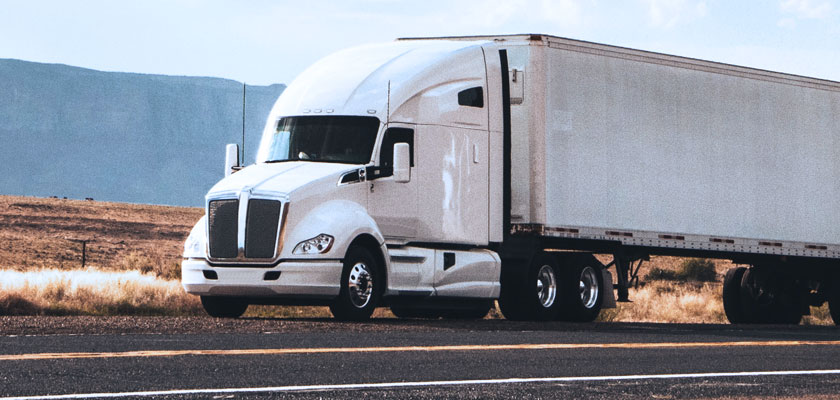 Why are Truck Accidents Different From Other Types of Accidents?
Private vehicle drivers are responsible for their vehicles and their conduct on the road, but commercial truck drivers face a higher duty of care due to the nature of their work and the inherently more dangerous nature of their vehicles.
Tractor-trailers spend much more time on the road than average passenger vehicles and generally drive for much longer periods at a time. This creates tremendous strain on the mechanical structures of trucks, and therefore multiple parties are responsible for the safe operation of these commercial vehicles.
Commercial trucking companies must also follow federal regulations. The FMCSA upholds strict regulations concerning hours of service for drivers, required training and certifications, and proper vehicle maintenance schedules.
Violations of any applicable regulations can not only help prove liability in a trucking accident case, but the resulting investigations may also help expose unethical or illegal practices in a trucking company or other organization, hopefully preventing future accidents from the same cause.
The other major factor that sets trucking accidents apart from accidents with smaller passenger vehicles is the potential damage these accidents can entail. A fully-loaded tractor-trailer is exponentially larger and heavier than the average passenger car and has a higher center of gravity.
This makes a large truck more vulnerable to forces from the sides and more susceptible to tip-overs and rollovers. It is common for a tractor-trailer to get into an accident that damages multiple other vehicles and injures multiple drivers.
What are Common Causes of Truck Accidents in Denver?
Although other drivers sometimes cause truck accidents, a large percentage of these serious crashes are the fault of the truck driver or trucking company.
NHTSA reports that driver distraction was a factor in six percent of fatal large truck crashes from 2014 to 2016, 16% of which was related to cell phone use. Other major factors associated with commercial trucks and their drivers found in a large study conducted by FMCSA and NHTSA include:
Brake problems
Traffic congestion
Prescription drug use
Traveling too fast for conditions
Unfamiliarity with roadway
Roadway problems
Truck required to stop before a crash (for example, at traffic lights and crosswalks)
Over-the-counter drug use
Inadequate surveillance
Driver fatigue
If you are unsure of what caused your truck accident in Denver, a law firm can send investigators back to the scene of the crash, hire accident reconstruction experts and take other steps to determine the cause of the wreck. Then, your lawyer can go up against the at-fault party or parties to pursue fair financial compensation on your behalf.
Common Truck Accident Injuries
Truck accidents are often catastrophic in terms of the damage they inflict on victims. Commercial trucks can weigh 80,000 pounds or more, while the average passenger car weighs just 3,000 to 4,000 pounds. In an accident, it is easy to see why smaller cars often get crushed or obliterated. This can lead to life-altering injuries for survivors, such as:
Broken bones and compound fractures
Soft-tissue injuries, such as muscle and ligament damage
Internal injuries, internal bleeding and organ damage
Skull trauma and traumatic brain injuries
Neck, back and spinal cord injuries, including paralysis
Cuts, scrapes and severe lacerations
Third-degree burn injuries
Crush injuries and amputations
Loss of sight or hearing
Permanent scarring or disfigurement
The emotional toll of a truck accident can also impact a victim long after a crash. These collisions are often highly traumatic for survivors. If you were diagnosed with any type of injury from a commercial truck accident in Denver, you may be eligible for financial compensation. Even a minor injury can result in thousands of dollars in necessary medical care and the right to file a personal injury claim. However, it is especially important to protect your rights if you or a loved one has suffered a catastrophic injury.
Fatal Truck Accidents
Sadly, many truck accidents are fatal and a victim passes away from his or her injuries. Every year, thousands of people die in fatal large truck accidents in the U.S. If you tragically lost someone you love in a deadly truck accident in Denver, your family may have the right to file a wrongful death claim against the trucking company or another negligent party. While nothing can undo the grief and hardship that you are suffering, a successful claim could ease the financial burden on your family.

The financial compensation that you may be able to receive with a wrongful death claim includes:
Medical expenses from the date of the accident until the date of death
Reasonable funeral and burial costs
Loss of the decedent's earnings, employment benefits and inheritance
Lost household services
Loss of parental love and guidance
Loss of consortium, companionship and care
Pain, suffering, grief and mental anguish
In Colorado, the right to bring a civil action for the wrongful death of a truck accident victim is given to beneficiaries such as a surviving spouse, child or another dependent. The surviving spouse solely has the right to file in the first year after the decedent's death. In the second year, other beneficiaries may file. A wrongful death lawsuit after a fatal truck accident must be filed within two years of the date of the individual's death, according to Colorado's statute of limitations.
What to Do After a Denver Commercial Truck Accident
The first steps you take after a truck crash can have a dramatic impact on your future lawsuit or ability to sue.
Check Personal Safety
Your first priority should be your personal safety and well-being. Check yourself for injuries and leave your vehicle only if you feel well enough to do so. Check your passengers for injuries before checking on the other drivers involved in the accident. If you do not feel well enough to move, call 911 and wait for paramedics to arrive.
If you can move after the accident, do so slowly to avoid aggravating any injuries you may not have noticed. The adrenaline from the crash can dull pain sensations. You may feel completely fine until a few hours after the crash or even the next day.
Take Photos
If possible, take photos of the accident scene before the police start to clear it away. Try to take pictures of your injuries, the damage to your vehicle and the other vehicles involved, and notable landmarks near the accident site. You should also take pictures of the truck at its final resting position after the accident, skid marks and debris in the road, and any other elements that seem important. If in doubt, photograph it.
Obtain Witness Information
If other drivers or passersby witnessed the accident, be sure to obtain their contact information before leaving the scene. The police will also likely want to interview witnesses and will include their statements in the police report.
Speak with the Police
When the police ask you what happened, answer honestly and concisely. Avoid saying anything they could misconstrue as an admission of guilt. Even a seemingly innocuous phrase like "I'm sorry" could implicate you later.
Go to the Doctor
Even if you believe you only suffered minor injuries, seek medical attention. The adrenaline from the accident may make it impossible to tell how injured you really are at first. Your doctor can conduct a physical exam and check your injuries. After, a doctor can provide a medical report that lists your injuries and potential for future complications. Reports from medical treatment will be invaluable documents for a future personal injury lawsuit.
Contact a Denver Truck Accident Lawyer
Before you attempt to deal with insurance companies or any other official actions, retain the services of an experienced Denver truck accident attorney to handle your case in Colorado. Your trucking accident lawyer will help you determine your eligibility for insurance coverage and help you determine your best options for legal recovery. Do not speak with any insurance claims adjusters until you have an attorney. Your truck collision attorney will advice you on how to approach discussions with claims adjusters and the insurance company.
Finding the right Denver trucking accident attorney is a tremendous asset after an accident with a commercial truck in Colorado.
Truck Accident Statistics
The Federal Motor Carrier Safety Administration is the agency responsible for regulating the trucking industry. FMCSA reports that in 2019:
5,237 large trucks and buses were involved in fatal crashes
This is an increase by 2% over the previous year.
 In 2019, there were 84 school buses, 15 intercity buses, and 78 transit buses involved in fatal crashes.
NHTSA states that of the traffic deaths caused by large truck crashes in 2016:
17% were large truck occupants (truck drivers)
72% were occupants of other vehicles
11% were non-occupants (pedestrians and bicyclists)
In 2015, 116,000 people were hurt in crashes with large trucks in the U.S.
Our Denver personal injury lawyers at The Fang Law Firm are tough advocates for truck accident victims injured through the negligent actions of others. 
Call our office today to schedule a free accident injury case evaluation with our experienced truck accident lawyers. Our legal team is proud to provide legal services to various areas throughout Colorado, including Denver, Boulder, Aurora, Fort Collins, Lakewood, and Parker.