Denver Neck Injury Attorney
According to the Cleveland Clinic, trauma is the most common type of neck injury. Trauma to the neck can occur in a variety of accidents, including motor vehicle accidents and falls. If your neck has been injured in an accident that was someone else's fault, contact The Fang Law Firm right away. After a consultation, our Denver neck injury attorneys can tell you if you have a case and what damages you may be entitled to claim.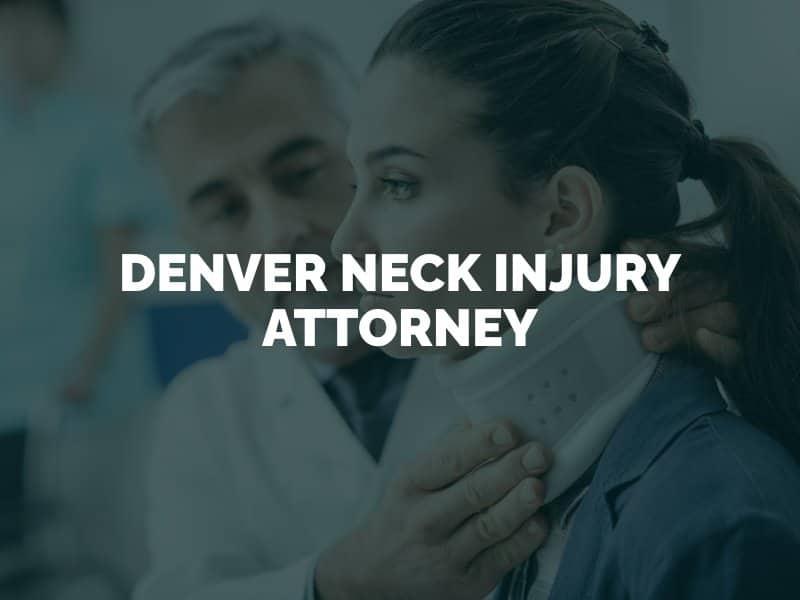 Why Choose Us for Your Lawyers?
Our Denver neck injury lawyers are dedicated to helping our clients by tailoring each case to the individual client's needs.
We get results that are proven with a 98% success rate.
We operate on a contingency-fee basis, which means you pay us no legal fees until we recover compensation for you.
Our Denver personal injury attorneys have more than 10 years of experience litigating 10,000 combined cases.
Types of Neck Injuries
A variety of accidents can cause damage to the neck. Common types of neck injuries suffered in accidents include:
Whiplash: This injury, common in rear-end collisions, is named for the whip-like motion of the head and neck when a vehicle is hit from behind. Whiplash involves damage to the soft tissues of the neck, including nerves, muscles, and ligaments. It can cause a range of symptoms, including neck pain and stiffness, headache, dizziness, and tingling, numbness, or weakness in the neck and arms.
Sprains and strains: Certain types of injuries, including motor vehicle accidents and falls, can strain the muscles and sprain the ligaments in the neck. Pain caused by this type of injury is aggravated by activity.
Nerve pinch injury: A nerve in the neck that is pinched or compromised can send sharp, shooting sensations through the neck and arms. Nerve pinch injuries are also known as "stingers" or "burners."
Disk injury: When a vertebral disk is damaged, the nerves in the neck can become irritated, causing pain that travels from the neck into the legs.
Vertebral fracture: A motor vehicle crash, slip and fall, or another type of accident can fracture a vertebra in the neck. This is a medical emergency, as fractured vertebrae can damage the spinal cord, causing paralysis or death.
Spinal cord damage: An accident serious enough to disrupt the vertebrae designed to protect the spinal cord can cause spinal cord injury in the cervical spine. Car accidents and motorcycle accidents are the leading cause of spinal cord injuries.
Common Causes of Neck Injuries
The neck is a vital and vulnerable part of the body. Damage to the neck may be caused by various accidents and activities. Common causes of neck injuries include:
Car accidents
Motorcycle accidents
Bicycle accidents
Pedestrian accidents
Truck accidents
Slip and fall accidents
Falling objects
Sports and diving accidents
Who Is Liable for Neck Injuries?
Liability for neck injuries will depend on what caused the accident and the surrounding circumstances. If your neck was injured in a traffic crash caused by another driver who was distracted, alcohol-impaired, or negligent in some way, you may have a claim against the at-fault driver. You may have a premises liability claim against the property owner if your neck injuries were caused by a falling object or a slip and fall accident.
Contact Us Today
If you have suffered neck injuries caused by someone else's negligence, our Denver neck injury attorneys can help. Contact The Fang Law Firm as soon as possible to schedule your free consultation. We can review the facts of your case and advise you of your legal options.