People with potential personal injury cases typically need a lawyer immediately, and nowhere is this truer than in slip and fall accidents. Here, readers can learn when they should hire legal representation for their injury claims.
Fall accidents are tough cases that require a skilled Denver slip and fall attorney to handle. The attorneys at The Fang Law Firm have tried slip and fall cases in front of a jury and have settled cases across Colorado.
Navigate This Page
Why Choose Us?
We understand premises liability law. Our attorneys can answer any questions you may have about a slip and fall case in Denver. We have years of related practice area experience.
We redefine the client experience. Our attorneys focus 100% of their energy on the client. We genuinely care about you and what will happen to you in the future. Our lawyers go the extra mile to pursue positive results.
We do not charge unless we win. Our slip and fall attorneys in Denver operate on a contingency fee basis. They do not make clients pay unless they succeed in obtaining compensation.
When is it Necessary to Hire a Denver Slip and Fall Attorney?
Some injury cases, such as worker's compensation claims, do not generally require a Denver slip and fall lawyer's assistance. However, if the victim's injuries are serious, they should hire a Denver slip and fall attorney as soon as possible. In minor cases, the defendant's fault is typically clear. By comparison, it is sometimes difficult to prove fault in premises liability cases. Insurers seldom acknowledge liability if the victim is unrepresented.
If a plaintiff has a slip and fall case and does not have an attorney, they generally do not have much success. Denver slip and fall lawyers can help in multiple ways, even in small cases. All personal injury claims come down to documenting damages and liability, and lawyers can recognize all factors relevant to a case.
What Kind of Damages Are Available in a Slip and Fall Case?
The main reason most plaintiffs bring slip and fall claims in Colorado is to recover financial compensation. The courts refer to this compensation as damages. Recovering damages takes establishing the four main elements of liability. A successful slip and fall injury claim in Colorado could lead to a settlement or verdict award that replaces many different expenses and losses for the victim.
Current and Future Medical Expenses
All health care bills and hospital costs connected to your slip and fall injuries. These may include hospital stays, doctor's appointments, x-rays, medical tests, specialists, surgeries, treatments, medical devices, medications and therapies.
Lost Income
If your slip and fall accident injury took you out of work temporarily or permanently, you could recover the full value of your past lost wages as well as the future lost capacity to earn. This value will change depending on how long your injury will interfere with your ability to work.
Pain and Suffering
A compensatory award to make up for the noneconomic aspects of your accident, including physical pain, chronic pain, discomfort, emotional distress, humiliation, mental anguish, grief, trauma, lost quality of life, lost enjoyment of life and loss of consortium.
Disability Expenses
A disabling injury from a slip and fall accident can be significantly damaging physically, emotionally and financially. You may be able to recover compensation for your past and future disability accommodations, home or vehicle modifications, health care needs, live-in care, special education, rehabilitation, and more for a fall-related disability.
Out-of-Pocket Costs
Your injuries and the subsequent legal process could cost you thousands of dollars in out-of-pocket expenses, including travel costs, attorney's fees, court costs and the price of hiring an expert. The defendant might owe you compensation for these losses and more.
If you are wondering what your Denver slip and fall accident claim might be worth, contact The Fang Law Firm for a free consultation. A free case review could calculate all your damages and the total fair value of your case. If we believe you have grounds for a lawsuit, we can help you negotiate for maximum compensation from the at-fault property owner or another party. Hiring slip and fall accident lawyer could help you maximize your final payout.
What to Do After a Slip and Fall Accident
The decisions you make immediately after a slip and fall accident – and in the following several days – could have a major impact on your premises liability claim in Colorado. Take the right steps to protect your rights as a fall victim in Denver. These include contacting a personal injury lawyer near you as soon as possible. Taking the right actions after a slip and fall accident could position you for a strong claim to damages.
Report the fall. Whether you are at work, grocery shopping or a friend's house, tell someone about the accident right away. File an official accident report with a supervisor, if possible.
Document evidence from the scene. While still at the property where your fall occurred, take photographs of the defect, write down how your accident happened, and obtain the names and numbers of eyewitnesses.
Seek medical attention without delay. Waiting to request medical care for your fall-related injuries could give the property owner's insurer a reason to deny your claim. Seek immediate medical attention to protect yourself and your legal rights.
Contact a lawyer. Call a slip and fall accident attorney at The Fang Law Firm in Denver to discuss your injuries and your rights. A lawyer can give you advice as to how to protect yourself during the upcoming insurance claims process.
Report the fall to the correct insurance company. Your lawyer can help you identify the at-fault party, such as the business or property owner. Then, your lawyer can file a claim with the defendant's insurance provider for your damages.
Negotiate a settlement. You and your lawyer can negotiate with the insurance company for fair compensation. You can participate in negotiations as much or as little as you want after you hire a lawyer. Most slip and fall claims end in insurance settlements.
Go to trial. If the carrier denies your claim or does not offer a high enough award, your lawyer may need to take your slip and fall claim to trial in Denver County. Hiring the right lawyer can make an important difference during your case, as he or she will know when it is wise to take a case to trial.
Contact our lawyers early in the process, if desired, for advice you can trust about what to do next. From the beginning, a lawyer can help you gather evidence, build a claim against a property owner and take all the correct steps toward a healthy recovery. Your lawyer can take care of all the legwork connected to your premises liability lawsuit while you focus on recovering from your slip and fall injuries.
What Are the Causes of Slip and Fall Accidents?
Each year in the US, over one million people go to emergency rooms for injuries related to slip and fall accidents. Most of these accidents are preventable. They happen when a property owner, staff member, maintenance person or another party is negligent in the proper care and maintenance of a property. Preventing slip and fall accidents often takes regular inspections, periodic floor sweeps, prompt response times to spills, and protocols in place for keeping a premises reasonably safe for guests. Many different property hazards could cause a slip and fall accident in Denver, including:
Spilled liquids
Greasy floors
Waxed or freshly mopped floors
Rainwater tracked indoors
Water leak/flooding
A collection of moisture
Improperly discarded food debris
Snow and ice in a parking lot or driveway
Floor defects/uneven surfaces
Torn carpets or rugs
Unsafe staircases
Inadequate lighting
Lack of warning signs on a property
These are common defects and hazards property owners should be reasonably aware of while preparing their properties for visitors. A landowner or store manager should check for any issues that could lead to slip or trip accidents before welcoming guests. Failure to inspect a property, repair known slip and fall hazards, and warn visitors of potential defects could be negligence depending on the status of the visitor. These are the general duties of care a landowner will owe an invitee. For a licensee, a property owner typically does not have to check for unknown hazards.

Colorado Premises Liability Laws for Slip and Fall
The legal doctrine of premises liability in Colorado states that all property owners have a responsibility to ensure the reasonable safety of their properties before welcoming guests. The neglect to fulfill this duty of care could result in liability on the property owner for a related guest slip and fall accident. The owner might be liable for the victim's damages if another reasonable and prudent property owner would have noticed and remedied the slip hazard sooner.
Invitee
The level of responsibility a property owner has in Colorado depends on the reason the guest has for visiting. Someone who visits for the landowner's benefit, such as a customer at a store, demands the highest standards of care as an invitee. Someone who visits for his or her own purposes but has the landowner's permission to enter (e.g. a handyman, contractor or salesperson) comes with a lesser duty of care than a licensee. However, a landowner must still repair known hazards and warn of risks.
Trespassers
The only type of property visitor that owners in Colorado do not owe duties of care to are trespassers. Trespassers do not have the landowner's permission to enter or stay on the property. A landowner does not have a duty to prevent slip and fall accidents to trespassers. The owner must only refrain from causing the trespasser an intentional injury. If the trespasser is a child under the age of 18, the landowner must take steps to make the property safe. This might include covering up a well on the property, for example, to prevent a wandering child from falling in.
To have a valid claim to damages for a slip and fall accident in Colorado, you or your lawyer will need to prove liability. In general, this requires establishing a duty of care owed to you as a lawful property visitor, a breach of this duty of care by the property owner, causation for your slip and fall accident, and specific damages sustained due to the slip and fall. A lawyer from The Fang Law Firm may be able to help you prove the necessary elements for a valid slip and fall accident claim in Denver.
Colorado Stand Your Ground Law
When discussing property owner duties of care to trespassers, the question of a Colorado Stand Your Ground Law often arises. Stand Your Ground is a self-defense law that permits property owners to use deadly force when they have a good-faith belief they are in imminent danger. These laws generally oppose the duty to retreat – a property owner's legal duty to retreat from a threat as much as possible before resorting to deadly force for self-defense. A Stand Your Ground Law dismisses the duty of retreat and instead encourages affirmative defense.
In Colorado, a property owner has the right to stand his or her ground in certain circumstances. Colorado Criminal Code 18-1-704 states that someone may lawfully use physical force to defend him/herself or others against unlawful physical force by another person. In this situation, the property owner may use the degree of force he or she believes is reasonably necessary for self-defense or the defense of others. If a property owner injures a trespasser in Colorado, therefore, that person may not face any criminal charges or civil liability for the trespasser's injuries. The property owner would have to prove, however, that he or she acted reasonably under the good faith belief that the trespasser was a threat.
If someone shot, attacked or otherwise injured you while you were on that person's property without permission, work with a premises liability lawyer to understand your rights. The property owner may be liable for your injuries if you were not posing a threat of imminent harm to him or her. If the property owner used an unreasonable degree of force, this could also lead to liability for your injuries. However, Colorado's Stand Your Ground Law may interfere with your ability to recover compensation from a property owner as an injured trespasser. Work with a lawyer for better odds of going up against a property owner in a case involving trespassing.
How do I Document Liability for a Slip and Fall Case?
To get a case ready for trial or settlement, the plaintiff must prove liability. This means the client and Denver slip and fall attorney must prove the defendant was likely negligent, and the negligence caused the injury. Proving negligence is often simple in auto accident cases, but difficult in slip and fall claims. The plaintiff must confirm how the injury occurred, which can be tricky.
A competent Denver slip and fall lawyer will evaluate the fall accident scene, discuss possible reasons for the fall, and help the client determine how and why the accident happened. From there, the attorney will review the relevant local, state, and federal laws to find out if the premises' condition was in violation. If necessary, the slip and fall attorney will hire industry witnesses to testify to determine fault.
What are Common Slip and Fall Injuries?
Slip and fall accidents can lead to various injuries, ranging from mild to severe. Slip and falls are some of the most common reasons for debilitating and fatal workplace injuries. They are especially dangerous for senior citizens. A bad fall could cause many different injuries to all parts of the body. Common fall injuries can include:
Broken bones
Fractured bones
Head injuries
Neck injuries
Spinal damage
Muscle sprains, herniated disks, concussions and hip fractures are all common injuries in slip and fall accidents in Denver. In more extreme cases, a slip and fall can lead to death. If you have lost a loved one due to wrongful death, speak with our wrongful death attorneys in Denver during a free consultation.
How Long Do You Have to File a Claim?
If you slipped and fell and have a related personal injury, you must act quickly if you plan on bringing a liability claim against a property owner. The State of Colorado has a strict statute of limitations that controls how long a plaintiff has to file a claim. State law holds that you must bring your cause of action for a slip and fall (and most other personal injury accidents) within two years of the accident. In some cases, the clock might not start ticking until the date of the discovery of the slip and fall injury rather than the date of the accident.
Rare exceptions to the two-year rule exist. A case against a government agency for an accident, for example, requires a written claim submitted within 182 days. Ask a slip and fall accident attorney in Denver about your specific deadline to file immediately following a slip or trip and fall accident. It is critical to meet your time limit if you wish to have a valid claim to damages. The courts will generally refuse to hear a case brought after the expiration of the statute of limitations. Contact The Fang Law Firm as soon as possible to protect your right to recover compensation.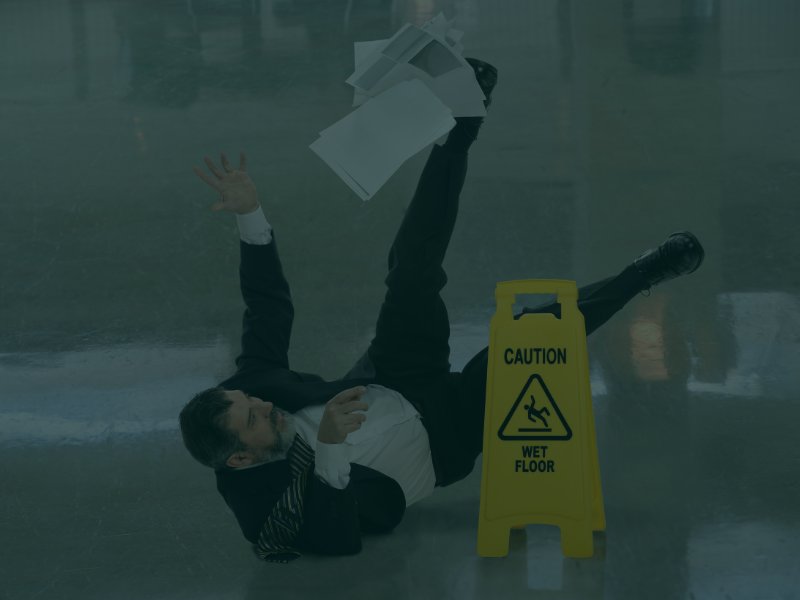 Hiring a Denver slip and fall attorney can help you secure the financial compensation you deserve for your fall accident. An attorney will be able to help hold negligent property owners responsible for your injuries. An attorney can also recover maximum compensation for you under Colorado law. Call for a free case evaluation.