Denver Wrongful Death Attorney
Our Denver wrongful death attorneys at The Fang Law Firm are dedicated advocates for wrongful death victims and their families. Call us today to schedule a consultation. Our lawyers operate on a contingency fee basis; this means you pay us no legal fees until we recover compensation for you.
If you have lost a loved one through someone's negligence or wrongdoing, no settlement or award can ever compensate you for your loss. A wrongful death lawsuit is a legal option to seek justice for your loved one, hold responsible parties accountable, and recover monetary compensation for your family's future.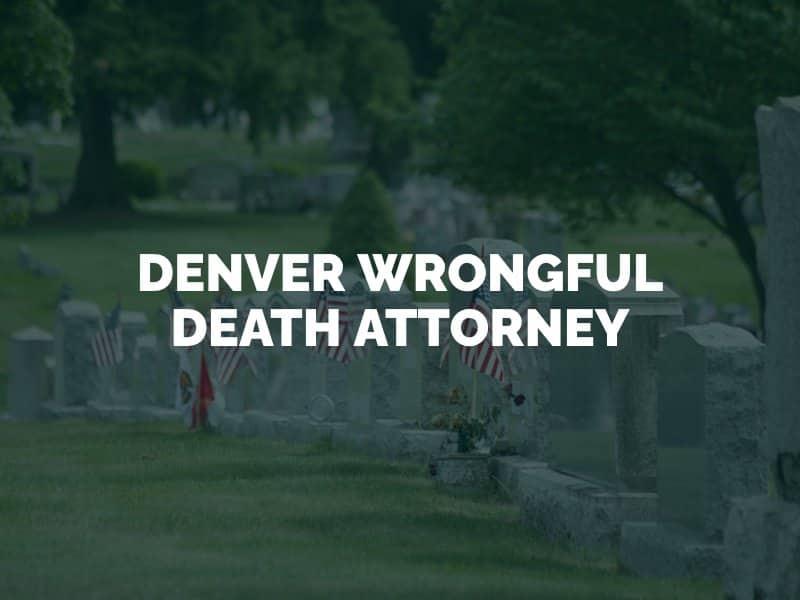 Why Choose Us?
At The Fang Law Firm, we believe in hands-on personal injury case management. All our cases are handled directly by an experienced Denver personal injury attorney, not a legal assistant or paralegal.
Our Denver trial lawyers have more than 10 years of experience litigating over 10,000 combined cases.
We have a proven track record, with a success rate of 98%.
Navigate This Page
How Can a Denver Wrongful Death Lawyer Help?
Wrongful deaths occur as the result of a variety of actions, some criminal. As a result, a wide range of laws apply to the pursuit of a wrongful death lawsuit. Criminal charges may also apply to the defendant. Understanding the various Colorado laws related to the case is difficult. An experienced Denver wrongful death lawyer has the knowledge needed to begin the case in a timely manner and preserve all evidence.

In many cases, the defendant likely procured a lawyer prepared to handle the serious implications of a wrongful death suit. In particular, any insurance companies involved employ a team of lawyers whose sole focus is to decrease their financial liability and pay the lowest amount possible against the claim. Plaintiffs should have a lawyer on their side with knowledge in navigating the insurance and legal issues regarding a wrongful death suit to level the playing field and provide the best opportunity to win the case.

Determining the potential wrongful death damages often proves complicated. Determining damages can be difficult when it comes to the task of assigning financial value to each of the damages. While it is fairly straightforward to calculate medical bills and funeral expenses, damages such as pain and suffering, and loss of companionship prove much more difficult to quantify. Experienced Denver wrongful death lawyers can assist plaintiffs in determining the valuation of the civil lawsuit.
What is a Wrongful Death Lawsuit?
Wrongful death occurs when a person dies due to the negligence or wrongdoing of another. A wrongful death claim is a civil action for the benefit of surviving family members of the deceased, filed against the party responsible for the wrongful death. It is similar to a personal injury claim the victim would have been entitled to pursue if he or she had lived.
What Damages are Available When Filing a Colorado Wrongful Death Lawsuit?
Monetary damages for wrongful death are determined by the jury or the judge. Under Colorado law, plaintiffs can recover economic and non-economic damages. The specific amount of damages awarded will depend on the facts of the case. 
Economic Damages
Economic damages include costs associated with the deceased person's injury or death and can be recovered through a wrongful death claim. Recoverable damages include:
Medical expenses related to the final illness or injury of the deceased
Funeral and burial costs
Work wages and future earnings the deceased would have been likely to earn if he or she had lived
Financial benefits lost as a result of the death
Non-Economic Damages
Non-economic damages include compensation for emotional burdens, including:
Loss of love, companionship, assistance, protection, comfort, care, and affection of the deceased
Emotional stress
Punitive Damages
In certain cases, family members may be able to seek punitive damages for a defendant's wanton conduct. Punitive damages, also called exemplary damages, are not based on compensation for losses suffered. They are designed to punish the defendant for extreme wrongdoing, negligence, or recklessness, and to deter similar actions in the future. An example of wanton conduct may be an accident caused by an extremely drunk driver or a truck driver that was negligent by driving with unsecured cargo. 
It is important to consult with a wrongful death lawyer to calculate the proper amount of damages experienced. Typically, insurance companies drastically reduce the amounts of damages offered in a settlement in the hopes of persuading plaintiffs to accept a lower amount. However, if the plaintiff is unaware of the potential damages, he or she may not receive enough compensation to cover the costs of medical and funeral expenses.
Alternatively, the plaintiff may remain unaware of all the potential types of damages typical in a wrongful death case. For most case types, Colorado law caps the amount of damages available for wrongful death claims. Currently, the cap for most wrongful death cases rests at just over $430,000. However, certain circumstances bring higher damage awards. For example, Colorado does not cap damages from a death resulting from a felony, such as manslaughter or murder.
Who Can Legally File a Wrongful Death Lawsuit in Colorado?
There is an order of priority for filing wrongful death claims in Colorado:
In the first year following death, only a surviving spouse may file.
In the second year following death, the surviving spouse or any surviving children may file a wrongful death claim. If there is no surviving spouse and no surviving children, parents of the deceased are eligible to file.
In addition to surviving family members, the personal representative of the deceased may file a "survival action" to recover damages for certain losses in the estate.
Proving a Wrongful Death Claim in Colorado
Colorado's wrongful death statute lists the cause of a wrongful death as a "wrongful act, neglect or default of another person", according to Statute 13-21-202. Thus, to prove wrongful death is to prove that another person's error or intent caused a death which otherwise would not occur.
To receive compensation for a Colorado wrongful death lawsuit, the Denver wrongful death attorney must prove the defendant negligently or intentionally caused the death. Each of the three main elements of negligence must exist:
Duty of Care
First, the attorney must prove that the defendant owed the deceased a duty of care. Simply put, the defendant should act in a way that prevents injury from occurring to others and must act reasonably to show care for others. For example, employees such as doctors and nurses owe patients a certain standard of care. Drivers must act reasonably and follow the rules of the road to prevent an accident.
Breach of the Duty of Care
The plaintiff's attorney then must prove that the defendant failed to take reasonable care and acted negligently. For example, doctors failing to act in a reasonable manner according to the standard of care and drivers refusing to follow the rules of the road fail to meet their duty of care.
Breach of the Duty of Care that Caused Death
Finally, the plaintiff's attorney must prove that the defendant's failure to act reasonably led directly to the death of the deceased person and caused damages to the deceased, the family, and the estate.
Cases where the defendant broke a law show breach of duty of care quite easily. Similarly, cases where the defendant acted in a way that shows he or she intended to cause harm or death to the deceased show a breach of duty. Though the burden of proof is on the plaintiff, a lawyer is there to find evidence proving all three elements of negligence and wrongful death. 

How to File a Wrongful Death Claim in Colorado
The most important step in filing a wrongful death claim in Colorado is to begin the process as soon as possible. Even if the plaintiff is unsure there is potential for a wrongful death case, speaking with an experienced lawyer about the options can help determine whether the case is valid under Colorado law. The lawyer will gather evidence to aid in the decision. If your wrongful death claim was denied, contact our firm to explore your legal options. 
Determining If You Have a Case
Consult with a qualified wrongful death attorney at your earliest convenience to determine:
Eligibility. First, the lawyer must determine if the individual wishing to file a suit is eligible to file it. As mentioned, in the first year, only a surviving spouse may file. Subsequent years allow other family members to file suit. Determining eligibility with a lawyer ensures that ineligible individuals do not waste the time and resources of the court system pursuing useless cases.
Negligence or deliberate wrongful act. Then, the lawyer must determine whether negligence or a deliberate wrongful act took place in the case. In order to file a wrongful death suit, a lawyer must determine that the defendant meant to cause harm or acted recklessly, causing the injury and eventual death.
Usual Procedures for a Colorado Wrongful Death Case
If the case is valid, the lawyer proceeds with the case, following the usual procedures:
Submitting a notice to the defendant. This action notifies the plaintiff of the impending legal action. During this phase, the lawyer's investigation and information gathering continue. This step also includes obtaining insurance information from the defendant.
Negotiation. Once the defendant receives notification, he or she can request mediation or negotiation. Sometimes, the defendant and plaintiff reach an agreement during negotiation, avoiding the necessity to take the case to court. Negotiation is much less expensive than the cost of taking the case to court.
Discovery and pre-trial. If negotiation is unsuccessful, the lawyer begins litigation, starting with filing the official notice to the courts. During the discovery phase the two parties request information and evidence from the other, find witnesses and documentation, and generally prepare for court. The pre-trial phase involves informing the judge about the case, and gives the judge the opportunity to determine whether all elements of a wrongful death case are present. Plaintiffs must take care to retain all evidence and documentation related to the case. Ensuring that all necessary medical records, witness testimony, surveillance footage, and other forms of evidence remain accessible throughout the case is essential to providing proper proof that a wrongful death occurred. For this reason, cases filed as soon as possible after a death maintain the best success rate.
Trial. During the trial, lawyers present all related information and evidence. Dependent on the evidence, a judge or jury makes the decision regarding whether the defendant caused a wrongful death.
Settlement. Settlement discussions can take place at any time during the case. Some cases settle during negotiations, some during the trial itself, and some while the jury reaches a decision. Once the two parties reach a settlement, either on their own or via a jury decision, the plaintiff receives compensation for damages as determined by the court.
Causes of Wrongful Death
Families of people killed by the negligent, reckless, or willful acts of others may seek monetary compensation in a wrongful death lawsuit. Common causes include:
Criminal acts
Dangerous drugs
Fall accidents
Medical malpractice or medical negligence
Nursing home abuse
Workplace accidents
Wrongful Death Statistics
While not every fatal accident was caused by negligence, the NCHS Vital Statistics System has accidental death data available: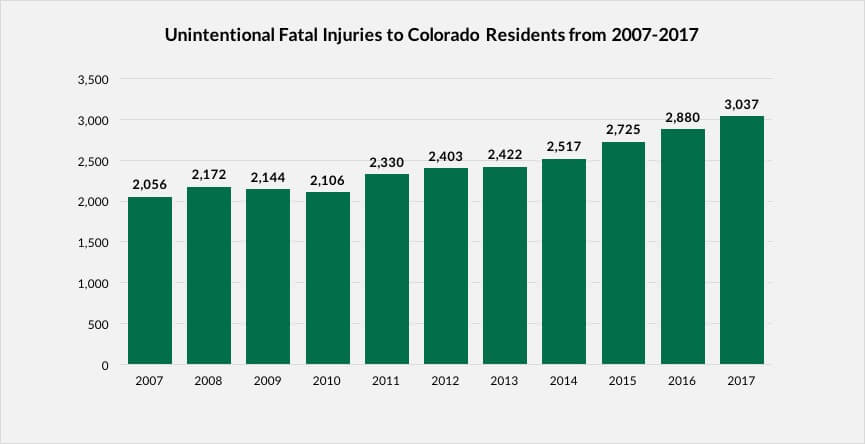 Source: NCHS Vital Statistics System
The Fang Law Firm was founded on the guiding principle that people deserve personal representation and communication throughout their claim. If you have lost a loved one through the negligence or wrongdoing of another, contact our office as soon as possible. We offer free case evaluations to help you explore your legal options under Colorado's wrongful death law. Our Denver wrongful death attorneys have the experience to help you seek justice after your loved one was killed due to negligence. 
We proudly serve the communities of Colorado, including Denver, Boulder, Aurora, Colorado Springs, and Littleton. Call now to schedule a free consultation. 
---
"I was satisfied beyond my expectations with the legal service provided by Mr. Fang. He was always easy to reach on the phone in a reasonable amount of time and he was great at answering all of my questions. I give my highest recommendation!" – Lori