Lakewood Wrongful Death Lawyer
Wrongful death is a terrible tragedy that will change your life forever. At The Fang Law Firm, our Lakewood wrongful death lawyers understand what you're going through during this difficult time. We are here not only as legal advocates but to provide everything that your family needs – advice, answers, legal knowledge or just an ear to listen. Our attorneys are passionate about helping others and will not rest until we achieve justice on your loved one's behalf.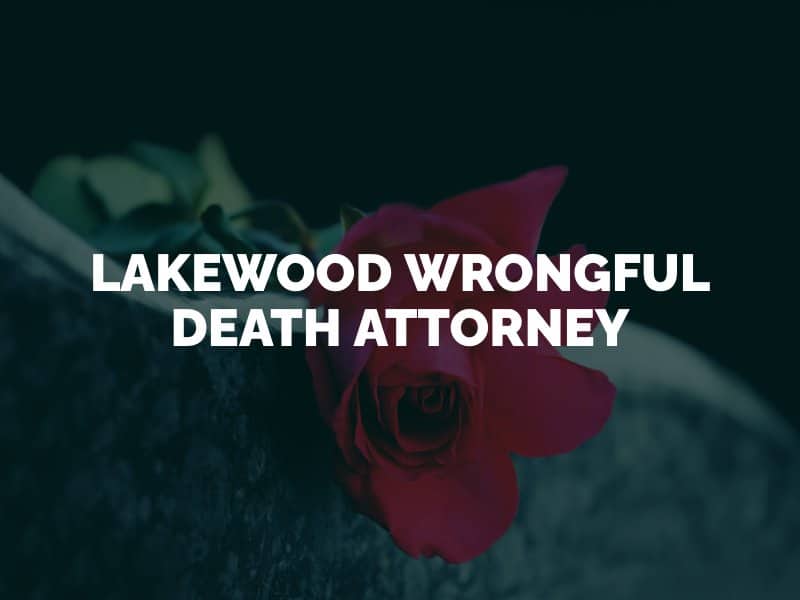 Why Choose The Fang Law Firm for Your Lakewood Wrongful Death Claim?
You will receive the undivided attention of your attorney during your wrongful death claim – not a paralegal or legal assistant. We will support you and your family every step of the way.
We can help you and your family seek justice and fair financial compensation from any defendant, big or small. We can also go to trial on your behalf, if necessary.
Our lawyers have more than a decade of experience in wrongful death law and have litigated more than 10,000 cases combined. We have a 98 percent success rate.
What Is Wrongful Death?
Wrongful death, according to Colorado Revised Statute Section 13-21-201, is when any person dies from an injury arising from another person or party's negligence, unskillfulness or criminal intent. If a person, company, employer or another entity caused the death of your loved one through a wrongful or careless act or omission, that party may be financially responsible (liable). This means that party may owe your family or the decedent's estate compensation to cover related losses.
Wrongful death in Colorado can arise from many different types of preventable accidents or incidents in Lakewood. Any time someone fails to use an appropriate amount of care or knowingly attempts to injure someone, the outcome could be a victim's avoidable death. Common circumstances that result in wrongful death claims are motor vehicle accidents, falls, premises accidents, workplace accidents, defective products, medical malpractice, acts of violence and crimes.
Who Can File a Wrongful Death Claim?
According to Colorado law, the parties that can lawfully file a wrongful death claim with the courts change according to how much time has passed from the date of death. In the first year following the death, only the surviving spouse can file a lawsuit unless he or she elects in writing to allow an adult child to file the claim instead.
In the second year, the decedent's surviving spouse, children, or other eligible designated beneficiaries may file. These parties can file in the first year if the decedent was not married at the time of death. If none of these parties exist, the decedent's parents may file the wrongful death action instead.
What Damages Can I Recover in a Wrongful Death Case?
One of the main differences between a wrongful death lawsuit and a criminal case is that the former can result in a payout for surviving family members or the estate. While a criminal case against a defendant can result in jail time or other sentences, a wrongful death claim can lead to civil liability. A successful lawsuit could result in financial compensation for the following losses for eligible beneficiaries:
Funeral and burial expenses
Lost wages and employment benefits
Life insurance or inheritance
Family members' grief and mental anguish
Loss of the decedent's care and companionship
At The Fang Law Firm, our Lakewood wrongful death lawyers know that retrieving financial compensation is not the only reason families bring wrongful death claims in Colorado. Coming forward with a civil lawsuit can also deliver justice to the wrongfully killed and provide closure to grieving loved ones. Holding one or more parties accountable for a preventable loss of life can be a critical step in the coping process.
Speak With an Experienced Lakewood Wrongful Death Attorney Today
The Lakewood wrongful death attorneys at The Fang Law Firm are trusted legal advocates in our community. We have years of experience handling these delicate cases and are passionate about pursuing justice for our clients. Please contact us today to find out how we can assist your family with this type of claim during a free case review. Our attorneys will go above and beyond to meet your legal needs. We are here to help.