Lakewood Hit and Run Accident Lawyer
The Lakewood hit and run accident attorneys at The Fang Law Firm can help you work through the legal process after this type of disaster. Discuss your rights in detail during a free, no-obligation consultation with our local Lakewood lawyers today.
When a driver strikes a moving or parked car and flees the scene without stopping or exchanging information, they have committed the crime of hit-and-run. If you get in a hit-and-run accident, the consequences can be severe, as there may be delays in getting medical care. It can also be more difficult to obtain the financial compensation that you deserve.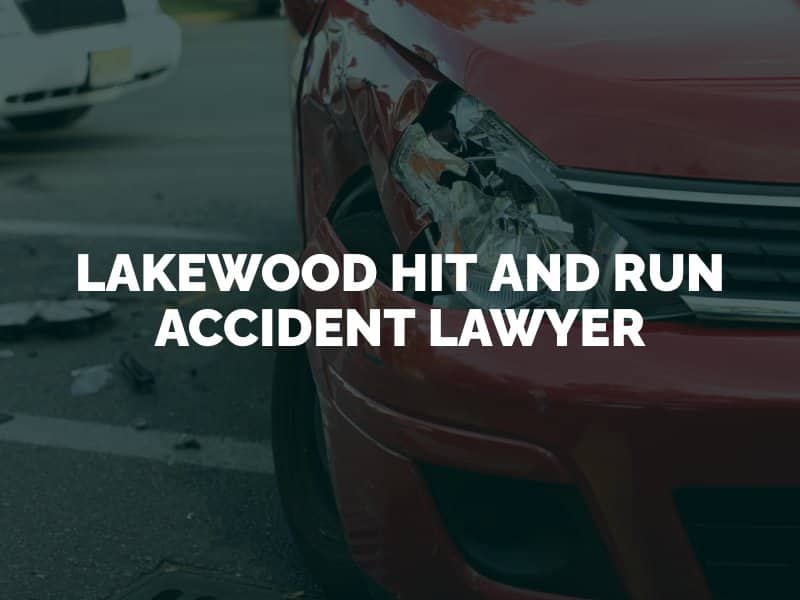 How a Lakewood Hit and Run Accident Attorney Could Help
Hiring an attorney to represent you during a hit-and-run accident case can provide many benefits during and after the legal process. During a car accident claim, a lawyer can handle legal legwork for you, such as crash investigation, conferring with police officers, gathering accident reports and other sources of evidence, evaluating your losses, and negotiating for maximum compensation. A Lakewood hit and run accident lawyer can also improve the final outcome of your injury claim, helping you and your family get the results that you need to move on.
What Damages Can I Recover for the Accident?
You may not have to pay for your own vehicle repairs and medical expenses after a hit-and-run accident. Even without identifying the at-fault driver, you may be entitled to financial reimbursement from your own insurance company or a third party, such as the state or local government for a dangerous roadway. The police may also be able to catch the driver who hit you, allowing you to bring a lawsuit with the help of a Lakewood personal injury lawyer.
A successful insurance claim or personal injury case in Colorado for a hit-and-run car accident could result in damages, or financial compensation, for the following:
Hospital bills
Vehicle repairs/replacement
Losses of income
Lost future capacity to earn
Disability or disfigurement
Pain and suffering
Loss of consortium
Wrongful death
If you're wondering how much your case is worth, ask a Lakewood accident attorney at The Fang Law Firm for a case evaluation. The value of your personal injury claim will depend on factors such as the gravity of your injuries, whether you have a permanent disability, if the police locate the driver and the insurance policies available. In some personal injury cases, you may be able to recover punitive damages.
Colorado Hit-and-Run Laws
It is against the law not to stop at the accident scene. All drivers in Colorado have a legal obligation to pull over, render aid to those who are injured, exchange information and report the accident to the police. Even if a driver strikes an unattended parked vehicle, they must leave a note. The penalties for breaking these laws can include fines and jail time. The driver can also face points on his or her driving record, a revoked driver's license, and civil liability for a victim's losses.
What to Do After a Hit-and-Run Accident
Pull over and get to a safe location.
Stay calm and check yourself for injuries.
Call 911 to report the car accident immediately.
Don't move until paramedics arrive if you think you have a back injury.
Talk to eyewitnesses and write down their contact information.
Document everything you remember, including partial plate numbers.
Take pictures and videos while you're still at the accident scene.
See a doctor without delay.
Collect copies of your accident report and medical documents.
Consult with a Lakewood hit and run car accident attorney for assistance.
Contact a Lakewood Hit-and-Run Accident Lawyer Today
You don't have to handle the legal process on your own after getting injured in a hit-and-run accident. Our Lakewood hit-and-run accident lawyers at The Fang Law Firm can help you understand your rights and pick up the pieces after a harmful vehicle collision. If you were injured or a loved one was killed in a recent hit-and-run crash, please contact us at (303) 993-4323 to request a free case consultation. Our attorneys work on a contingency fee basis and are passionate about helping injury victims recover compensation for their serious injuries.