Lakewood Pedestrian Accident Attorney
When a motor vehicle strikes a pedestrian, the results can be disastrous. A victim may never be the same after a pedestrian accident in Lakewood, Colorado. At The Fang Law Firm, our Lakewood pedestrian accident attorneys are committed to seeking justice and fair financial compensation for injured pedestrians. We know how much these accidents can impact victims and their families. We will be there for you when you need legal advice, aggressive advocacy and a helping hand during the recovery process.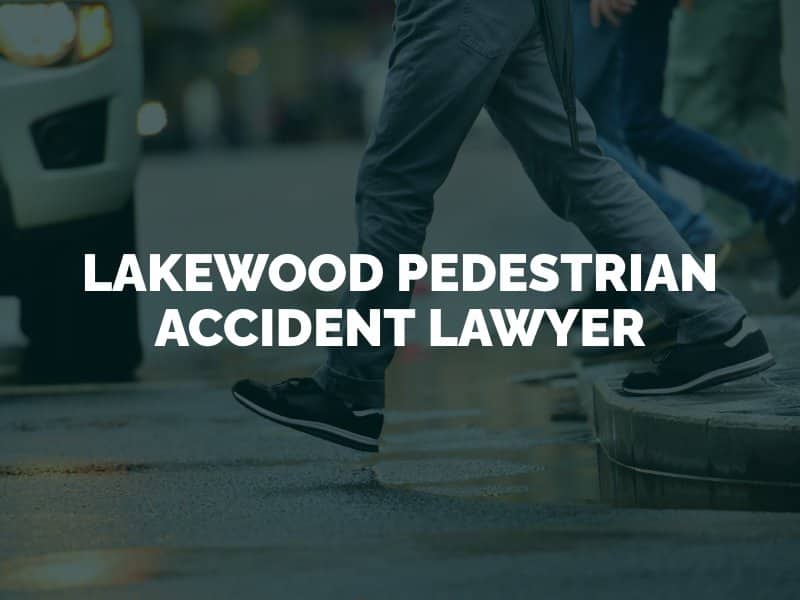 Why Choose Us
Our legal team genuinely care about clients and their futures. Your Lakewood personal injury lawyer will be personally dedicated to pursuing maximum financial compensation on your behalf.
We have the power to go up against any entity or organization in a pedestrian accident case, even if that means going to court. We don't back down from a fight.
You won't have to pay your Lakewood pedestrian accident lawyer unless he or she secures financial compensation for your losses. We don't charge any fees upfront for our services.
How The Fang Law Firm Can Help Your Pedestrian Accident Claim
At The Fang Law Firm, our clients are our number one priority. When we accept a case, we give our undivided attention to it to achieve the best possible results. We will start your pedestrian accident claim with a comprehensive investigation of the crash. We can interview witnesses and hire crash reconstruction experts, as necessary. Then, our Lakewood pedestrian accident attorneys will take care of the complex filing process and legal paperwork on your behalf.
We will use our years of legal experience to negotiate with an insurance company for maximum financial compensation for you. We can protect you from tactics insurance companies might use to take advantage of you. Most importantly, we will answer your questions, give you the legal advocacy that you deserve and provide the mental peace that you need to focus on healing.
What Damages Can I Recover for a Pedestrian Accident?
During a pedestrian accident case in Colorado, you may be entitled to financial compensation (damages) for many economic and noneconomic losses, including
Your immediate medical expenses and emergency care
Future medical bills for any necessary treatments, medications, physical therapy or rehabilitation
The costs of repairing any property that was damaged in the accident
Other economic losses, such as out-of-pocket costs
The physical pain and suffering connected to the accident
Your related emotional distress, mental anguish or psychological trauma
Wrongful death damages, if applicable
Understanding the value of your personal injury claim is something that our Lakewood pedestrian accident lawyers can help you with. You can trust our evaluation to be fair and honest – unlike an insurance company, we wish to maximize your payout, not minimize it.
Causes of Pedestrian Accidents
Most pedestrian collisions in Lakewood are preventable. They take place most often when a motor vehicle driver fails to pay attention or obey Colorado's traffic laws. Common examples include:
Distracted driving
Alcohol and drug use
Drowsy driving
Speeding
Speeding in school zones
Passing school buses
Illegal passing or turns
Violating rights-of-way
Running through intersections
Your pedestrian accident may have instead been caused by an unsafe road or a crosswalk. In this case, the state or city could be held accountable rather than a driver. Our Lakewood accident lawyers will thoroughly investigate your case to determine fault. Then, we will help you bring a personal injury claim against one or more parties.
Pedestrian Accident Statistics
According to the Colorado Department of Transportation, 92 pedestrians lost their lives in 2017 (the most recent year data is available). A new analysis from the AAA Foundation for Traffic Safety and AAA Colorado found an increase in pedestrian deaths in Colorado in 2018, up 89% when compared to 2008.
Contact a Lakewood Pedestrian Accident Lawyer Today
You have already been through enough as the victim of a pedestrian accident. Give yourself the ability to rest, relax and focus on recovery by hiring an experienced Lakewood pedestrian accident attorney from The Fang Law Firm. We will explore all of your legal options, choose the best one for your situation and guide you seamlessly through the legal process as our client. Tell an attorney your story today during a free, no-obligation consultation. Call us or contact us online.