Lakewood Pedestrian Accident Attorney
When a motor vehicle strikes a pedestrian, the results can be disastrous. A victim may never be the same after a pedestrian accident in Lakewood, Colorado. At The Fang Law Firm, our Lakewood pedestrian accident attorneys are committed to seeking justice and fair financial compensation for injured pedestrians. We know how much these accidents can impact victims and their families. We will be there for you when you need legal advice, aggressive advocacy and a helping hand during the recovery process.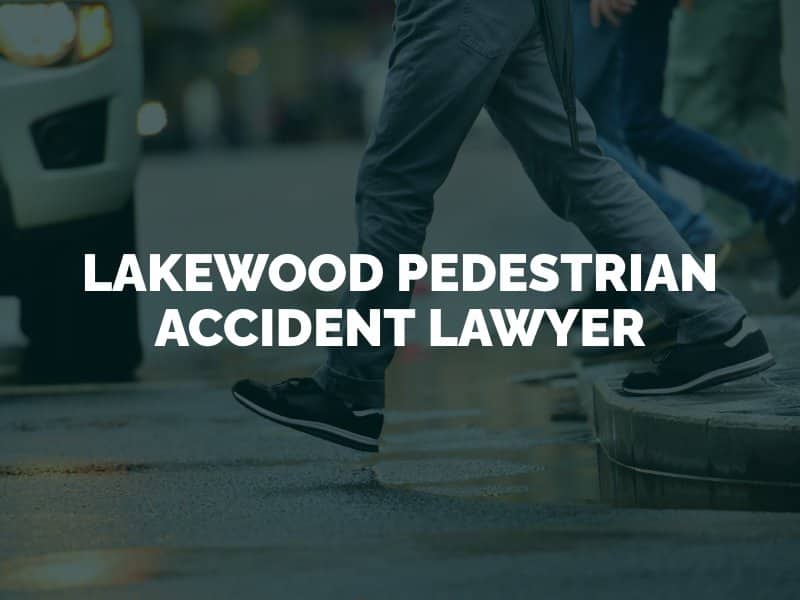 Navigate This Page
Why Choose Us
Our legal team genuinely care about clients and their futures. Your Lakewood personal injury lawyer will be personally dedicated to pursuing maximum financial compensation on your behalf.
We have the power to go up against any entity or organization in a pedestrian accident case, even if that means going to court. We don't back down from a fight.
You won't have to pay your Lakewood pedestrian accident lawyer unless he or she secures financial compensation for your losses. We don't charge any fees upfront for our services.
How The Fang Law Firm Can Help Your Pedestrian Accident Claim
At The Fang Law Firm, our clients are our number one priority. When we accept a case, we give our undivided attention to it to achieve the best possible results. We will start your pedestrian accident claim with a comprehensive investigation of the crash. We can interview witnesses and hire crash reconstruction experts, as necessary. Then, our Lakewood pedestrian accident attorneys will take care of the complex filing process and legal paperwork on your behalf.
We will use our years of legal experience to negotiate with an insurance company for maximum financial compensation for you. We can protect you from tactics insurance companies might use to take advantage of you. Most importantly, we will answer your questions, give you the legal advocacy that you deserve and provide the mental peace that you need to focus on healing.
Do You Need to Hire a Pedestrian Accident Attorney?
If you suffered serious injuries from being hit by a car in Lakewood, it is important to hire an attorney to represent you during insurance settlement negotiations. The insurer may try to devalue your injuries or losses and offer less than your case is worth in an effort to protect its profits. A lawyer can fight for fair and full compensation on your behalf. It is also important to hire a lawyer if your case has complications, such as a liability dispute or more than one defendant.
What Damages Can I Recover for a Pedestrian Accident?
During a pedestrian accident case in Colorado, you may be entitled to financial compensation (damages) for many economic and noneconomic losses, including
Your immediate medical expenses and emergency care
Future medical bills for any necessary treatments, medications, physical therapy or rehabilitation
The costs of repairing any property that was damaged in the accident
Other economic losses, such as out-of-pocket costs
The physical pain and suffering connected to the accident
Your related emotional distress, mental anguish or psychological trauma
Wrongful death damages, if applicable
Understanding the value of your personal injury claim is something that our Lakewood pedestrian accident lawyers can help you with. You can trust our evaluation to be fair and honest – unlike an insurance company, we wish to maximize your payout, not minimize it.
Who Can Be Held Liable for a Pedestrian Accident?
If you wish to obtain financial compensation for your pedestrian accident in Colorado, you or your lawyer will need to prove that someone else is liable, or legally and financially responsible, for the crash. This is how Colorado's fault-based insurance system works. After a motor vehicle accident, all affected parties seek financial benefits from the insurance provider of the person or party most responsible for causing the crash. The at-fault party will pay through his or her automobile insurance company using bodily injury liability coverage.
A pedestrian accident case often names a motor vehicle driver as the liable party. A driver may be liable for your accident for any number of driver errors. An investigation may also place liability on a third party. For example, if a driver was working at the time of the collision, you may be able to hold the employer vicariously liable. If you were hit by a city employee, such as a bus driver, the government in Lakewood could be liable for your injuries.
As a plaintiff, or the filing party, in a pedestrian accident claim, the burden of proof is yours. This means that you or your lawyer must establish fault based on a preponderance of the evidence to hold someone liable for your losses. This evidentiary standard is proof that a defendant is responsible for your accident with at least a 50% certainty. Proving fault requires clear and convincing evidence, such as photographs, videos, eyewitnesses, police reports and crash reconstruction. A lawyer can help you determine and prove liability in your pedestrian accident case.
Causes of Pedestrian Accidents
Most pedestrian collisions in Lakewood are preventable. They take place most often when a motor vehicle driver fails to pay attention or obey Colorado's traffic laws. In Colorado, it is necessary to determine the cause of your pedestrian accident before filing an insurance claim. Although every case is unique, certain issues tend to cause pedestrian accidents more than others in Lakewood. This includes driver errors. Common examples include:
Distracted driving
Alcohol and drug use
Drowsy driving
Speeding
Speeding in school zones
Passing school buses
Illegal passing or turns
Violating rights-of-way
Running through intersections
When a pedestrian accident is caused by a careless or reckless driver in Colorado, the driver must pay for the victim's bills using his or her car insurance. Your pedestrian accident may have instead been caused by an unsafe road or a crosswalk. In this case, the state or city could be held accountable rather than a driver. Our Lakewood accident lawyers will thoroughly investigate your case to determine fault. Then, we will help you bring a personal injury claim against one or more parties.
Pedestrian Injuries
When a pedestrian is hit by a car, the physical harm inflicted can be severe. At The Fang Law Firm, we've represented clients with many different types of serious injuries connected to vehicle-pedestrian accidents. We understand the most common injuries associated with these accidents, as well as how best to help our clients achieve fair financial compensation for them. Common pedestrian injuries include:
Broken bones
Rib fractures
Musculoskeletal injuries
Soft-tissue injuries
Strains and sprains
Road rash and lacerations
Leg and knee injuries
Traumatic brain injuries
Neck injuries
Spinal cord injuries
Catastrophic injuries
Long-term disabilities
If you or a loved one suffered any type of injury from being hit by a car while walking or jogging in Lakewood, our attorneys can help. We will connect you to the best doctors in the city and make sure that you have what you need to heal. We have years of experience handling serious injury cases and know how to obtain the best possible results for our clients. If someone close to you tragically lost his or her life in a pedestrian collision, we can also help you with a wrongful death lawsuit.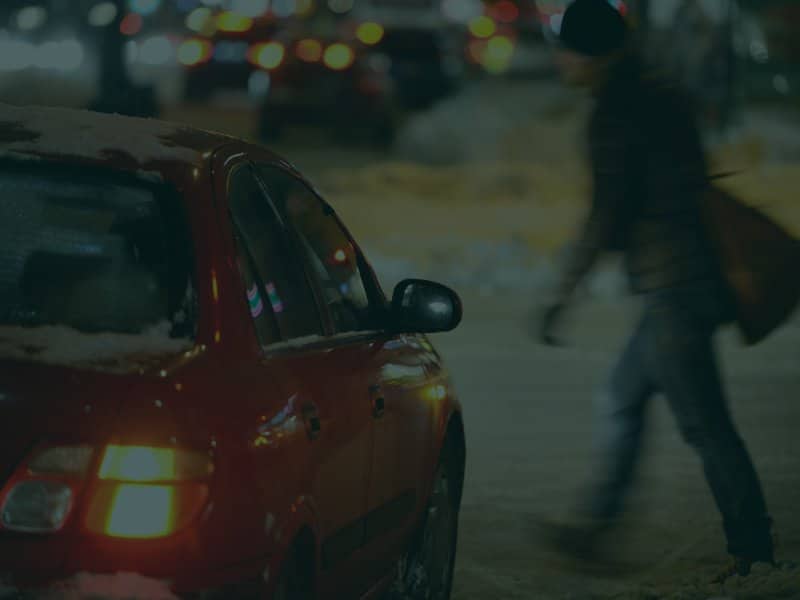 How Long Will a Pedestrian Accident Case Take to Resolve?
Case timelines can vary considerably based on the facts and issues involved. If you have serious injuries, for example, you must wait until you reach the point of maximum medical improvement. This is the only way to understand how much your injuries will cost you and your family over time. Your claim timeline can also depend on whether your case settles or goes to trial.
Settlements are faster than full-blown court trials with judges and juries. Most injured pedestrians reach settlements with car insurance companies within three to six months of an accident. Note, however, that a settlement timeline can be longer if an insurance company needs additional time to investigate. If the parties involved cannot reach a settlement, a personal injury trial may delay case resolution by a year or more, depending on the schedule at the courthouse.
A pedestrian accident case in Colorado is a complicated legal matter that may take several months to a year or longer to resolve. While you may be anxious to end your personal injury claim as soon as possible, it's important not to jump at the first settlement offered to you by an insurance company. Initial offers are often low on purpose. Instead, take your time and work with an attorney to negotiate a fair and full settlement with an insurance company. It is worth the wait to achieve the compensation that you deserve.
What Is the Time Limit on Filing a Colorado Pedestrian Accident Case?
In Colorado, a law known as the statute of limitations limits your right to bring a personal injury or wrongful death claim after a pedestrian accident. This law gives you three years from the date of injury (or the date of death) to file a car accident case. For injuries not related to motor vehicle accidents, the statute of limitations is two years. You have significantly less time if you wish to bring a lawsuit against the city, county or state government. In this scenario, Colorado law gives you just 180 days to file.
In general, if you miss the statute of limitations, you will be unable to pursue financial compensation in the courts. Even if the courts agree to hear your case, the defense attorney will most likely file a motion for case dismissal based on the broken regulation. This is why it is important to talk to a pedestrian accident lawyer as soon as possible. Your lawyer will file a claim within the deadline and help you obey all other state laws that apply.
What Should I Do After a Pedestrian Accident?
The moments immediately following a pedestrian accident in Lakewood are chaotic and confusing. Everything moves quickly in the aftermath of a crash. You may have suffered a substantial injury that makes it difficult to focus on anything else. If you can, however, remember to remain calm and take the following steps to protect your safety, health and legal rights as an injured pedestrian:
Remain where you are. Resist the urge to jump to your feet after being hit by a car – stay where you are and check yourself for injuries before making any major movements that could exacerbate an injury. Do not leave the scene of an accident until the police say that it is okay to do so.
Don't admit fault. When speaking to the driver who hit you (as well as the police and an insurance agent), don't admit to causing or contributing to the pedestrian accident. Admitting fault can affect your ability to recover compensation.
Call the police. Call 911 from the scene of the crash. Calling the police is only legally necessary in Colorado if it causes injuries, deaths or property damage. It is generally in your best interest to report a crash to the police even if it is minor, however.
Get the driver's information. Exchange names and contact information with the driver who hit you. This includes addresses, phone numbers and insurance information. If the driver speeds off (a hit-and-run), try to write down as much about the driver and vehicle as you can.
Take photographs. If you have a smartphone or camera with you, take photos of the scene of the accident before you depart. Videos and photographs can serve as strong evidence during an injury claim.
Speak to eyewitnesses. After you give your version of events to a police officer, get the names and phone numbers of anyone who witnessed the accident happen. The police can help you gather eyewitness statements, as well.
Go to a hospital in Lakewood. Seek medical care for your pedestrian accident injuries without delay. Seeing a doctor can help you heal and show an insurer that you did your part to mitigate your injuries.
Follow the doctor's orders. Follow your doctor's medical treatment plan exactly. Don't miss any appointments. Straying from a health regime can give an insurance company a reason to reduce or reject your benefits.
Document everything. Document the pedestrian accident in detail while the memory is still fresh in your mind. Create an injury journal to record how you are feeling. Obtain copies of important records, such as a police report and certified medical records.
Submit a claim with the driver's insurance company. Call the driver's car insurance company to report the accident and begin the claims process. Always submit a car insurance claim right away to meet the insurer's deadline.
Hire a pedestrian accident lawyer in Lakewood. Before you accept a settlement from an insurance company, consult with an attorney about your case and legal rights. You may deserve more compensation than what an insurance company is offering you.
From the moment you contact a pedestrian accident lawyer, you can rest and focus on rebuilding your life. An experienced and knowledgeable attorney will take over the complicated legal process for you by investigating the collision, gathering evidence and handling claims filing processes. You don't have to handle a pedestrian accident claim alone.
Pedestrian Accident Statistics
Pedestrian accidents occur often in Colorado. They are especially frequent in urban areas where pedestrian and motor vehicle traffic intersects the most. Reviewing the latest pedestrian accident statistics can help you be more aware of this risk and help you avoid becoming a victim. Here are a few facts and figures:
According to the Colorado Department of Transportation, 92 pedestrians lost their lives in 2017 (the most recent year data is available). Pedestrian deaths accounted for 14 percent of all traffic accident fatalities that year.
The top five most dangerous counties for pedestrians in 2017 based on the number of fatal pedestrian collisions were Adams, El Paso, Denver, Arapahoe and Jefferson. Jefferson County reported seven pedestrian deaths.
The age group most at risk of being involved in fatal pedestrian accidents in Colorado is 21 to 54 years old. Pedestrian accidents involve males more often than females.
Children and the elderly are most at risk of suffering fatal injuries in pedestrian-vehicle accidents nationwide. Seniors ages 65 and older accounted for 20% of all pedestrian deaths in 2017.
The Centers for Disease Control and Prevention states that 5,977 pedestrians were killed nationwide in 2017 (about one death every 88 minutes). In addition, 137,000 pedestrians were treated in emergency rooms for nonfatal injuries.
Nationwide, 17% of fatal pedestrian accidents in 2017 involved a drunk driver (a driver with a blood alcohol concentration level of at least 0.08%).
Sadly, the number of pedestrian accidents in Colorado is increasing. A new analysis from the AAA Foundation for Traffic Safety and AAA Colorado found an increase in pedestrian deaths in Colorado in 2018, up 89% when compared to 2008. The DOT had similar findings in the five-year period from 2013 to 2017, where the percentage of pedestrian fatalities in Colorado increased by 84%. This uptick in the number of pedestrian deaths may be connected to an increase in distracted drivers and cell phone use behind the wheel.
You have already been through enough as the victim of a pedestrian accident. Give yourself the ability to rest, relax and focus on recovery by hiring an experienced Lakewood pedestrian accident attorney from The Fang Law Firm. We will explore all of your legal options, choose the best one for your situation and guide you seamlessly through the legal process as our client. Tell an attorney your story today during a free, no-obligation consultation. Call us or contact us online.