Lakewood Bicycle Accident Lawyer
With help from an experienced Lakewood bicycle accident lawyer at The Fang Law Firm, you can protect yourself and get your life back on track after a serious bike accident. We know exactly what you need to get through this difficult time.
Getting into a bicycle accident can leave you distraught, with painful injuries, expensive medical bills and lost income. It can be difficult to know what to do after a bicycle accident to defend your rights and get the financial compensation that you need to move forward.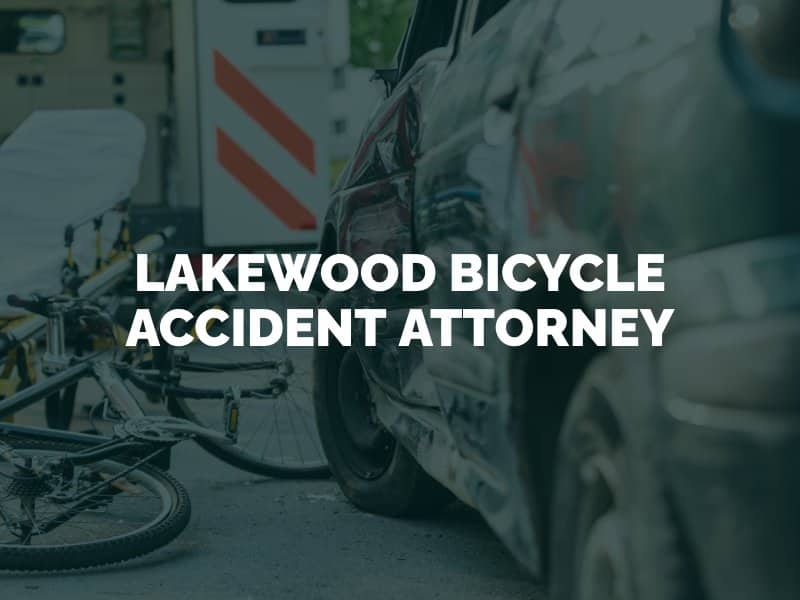 Why Choose Our Lakewood Bicycle Accident Lawyers?
We can connect you to top doctors, crash experts, investigators and others who can help you recover and rebuild after a bicycle accident.
Our Lakewood personal injury attorneys have resolved over 10,000 cases between them while maintaining a 98 percent success rate for settlements. We have years of bicycle accident claim experience.
Our law firm offers free initial consultations and does not charge for any legal services unless we win the case. This is what is known as working on a contingency fee basis.
How a Bicycle Accident Attorney Can Help
A vehicle-bicycle collision or a crash with a fixed object can lead to physical, emotional and financial challenges. You can get professional help with these challenges by hiring an attorney. A Lakewood bicycle accident lawyer is required by law to advocate for your best interests. Even without this obligation, your lawyer will pursue optimal results out of a genuine desire to help you and your family move forward after a devastating accident. Your Lakewood bicycle accident attorney can investigate your collision, collect evidence to support your claim, connect you with crash experts to testify and take many other steps to achieve a positive case outcome on your behalf – all while you focus on healing and recuperating.
Causes of Bicycle Accidents
According to the latest available statistics from the Colorado Department of Transportation, 16 cyclists lost their lives in motor vehicle accidents in a single year. The number of deadly bicycle accidents in Colorado has increased by 33 percent over the past 5 years. Bicycle accidents are often preventable. In many cases, they arise because of careless or reckless actions and behaviors by motor vehicle drivers. Common examples include:
Distracted driving
Driving while intoxicated
Drowsy driving
Reckless driving
Speeding
Passing at a crosswalk
Following or passing too closely
Failing to check blind spots
Driving or parking in a bike lane
Backing out without checking for cyclists
Failing to yield the right-of-way
Dooring cyclists
Environmental conditions can also increase the risk of bicycle accidents. For example, rain, snow, sleet and fog can increase the chances of a motor vehicle driver failing to see a cyclist. Roadway defects such as potholes and missing guardrails can also contribute to accidents. Determining the cause of your bicycle accident is one of the first steps in seeking financial compensation.
Who Is Responsible for a Bicycle Accident in Lakewood, Colorado?
Colorado is a fault insurance state. This means that, after a bicycle accident, you will file a damage claim with the at-fault party's insurance company. If you believe that a motor vehicle driver caused your wreck, you will call his or her insurer to file a claim. In a no-fault state, on the other hand, you would file a claim with your own insurance provider, even if you didn't cause the accident. You or your Lakewood accident lawyer will need to prove that the policyholder is at fault for your bicycle accident, as well as negotiate for fair financial compensation. You may be able to hold multiple parties responsible for your crash, depending on the circumstances.
Contact a Lakewood Bicycle Accident Lawyer Today
You deserve answers after being injured in a bicycle accident in Lakewood, Colorado. At The Fang Law Firm, we will listen to your story and give you information and advice that you can trust. If we believe your case has merit, our Lakewood bike accident attorneys can help you with the claims filing process and compensation negotiations. We will do what it takes to achieve justice on your behalf. Please contact us online or call (303) 993-4323 today to request a free consultation.