Lakewood Motorcycle Accident Attorney
If you or someone you love has been injured in a motorcycle crash that was caused by another person's negligence, turn to The Fang Law Firm for help. Our Lakewood motorcycle accident attorneys will get to work investigating your crash so we can secure the compensation you deserve.
Motorcyclists are more vulnerable than regular vehicle passengers when they are on the roadway. Victims of motorcycle crashes are often left with serious injuries and major medical expenses.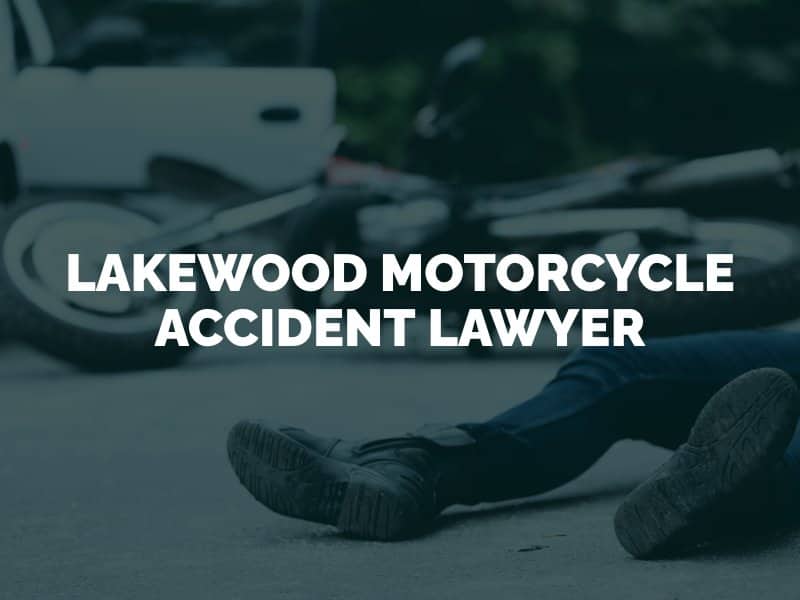 Navigate This Page
Why Choose The Fang Law Firm?
In the aftermath of a serious motorcycle accident, you need a firm you can trust. At The Fang Law Firm:
You can count on having a direct line of communication with an injury attorney in Lakewood. Our phone call guarantee policy means we will return your call within 24 hours. We will keep you fully informed about the progress of your case.
We have a success rate of 98% concerning incidents involving motor vehicles.
Our cases are taken on a contingency fee basis. This means that you will not have to worry about paying a dime until we are successful in obtaining the compensation you deserve.
How Will A Lakewood Motorcycle Accident Attorney Help This Case?
A motorcycle accident case can become complex. If you are a cyclist struck by another driver, it can still be difficult to prove the other side's liability. Often, insurance companies are quick to blame the motorcyclist for a crash. Your attorney will counter this by gathering all of the evidence necessary to prove the other party's fault. They will gather all of the evidence from the scene of the crash, including eyewitness statements, video surveillance, photos, accident reports, and more.
Your Lakewood motorcycle accident lawyer will obtain your medical records and ensure your total damages are properly calculated. If necessary, your attorney will file a personal injury lawsuit against the at-fault party to recover the compensation you deserve.
How Much Is My Motorcycle Claim Worth?
The value of your motorcycle accident case will depend on its unique factors. No two cases are exactly alike. In fact, motorcycle accident case results vary so much that there is no average settlement amount. However, there are two main types of recoverable damages:
Economic. Calculating your economic damages takes adding up the bills, receipts and out-of-pocket costs associated with your crash. These may include medical bills, property repairs and losses of income.
Noneconomic. Also known as pain and suffering damages, this damage award is determined by the courts after analyzing your case. It can be calculated based on any equation or none at all. In general, the greater your injuries are and their related impact, the greater your noneconomic damages will be.
It is important to understand the true and complete value of your motorcycle accident claim before you accept a settlement offered by an insurance company. This is because insurance companies are notorious for offering inadequate settlements to save money on payouts – especially when a victim suffers serious or catastrophic injuries.
Liability in a Motorcycle Accident Case
You or your Lakewood motorcycle accident attorney will need to determine the cause of your motorcycle accident in Colorado before you can file an insurance claim. This is because Colorado is a tort-based state, meaning the person or party at fault for the crash is financially responsible. All drivers in Colorado must carry at least the minimum required amounts of liability insurance. In general, you can use this insurance to pay for your medical bills and motorcycle repairs if another driver causes your crash. You may also be able to hold a third party responsible, such as the government or a part manufacturer, depending on the circumstances. An experienced attorney can help you determine liability in your specific case.
Common Motorcycle Accident Injuries
Motorcycle riders face serious risks on the roadway. Motorcyclists have a much higher chance of sustaining a serious injury in the event a crash occurs. Even when they are wearing a helmet, a rider has little protection from the force of a vehicle slamming into it.
It is not uncommon for our Lakewood motorcycle accident attorneys to help clients with the following injuries after a crash:
Broken and dislocated bones
Severe lacerations
Internal organ damage
Internal bleeding
Spinal cord injuries
Whiplash injuries
Concussions
The Insurance Information Institute tells us that there were 5,286 total motorcyclist fatalities during the latest reporting year in the US. Those who survive a motorcycle crash are often left with major medical expenses as well as significant pain and suffering.
Causes of Motorcycle Accidents
Most motorcycle wrecks in Lakewood are caused by driver errors. Drivers often make careless and reckless mistakes that endanger vulnerable motorcyclists. These mistakes include:
Distracted driving/driver inattention
Cell phone use behind the wheel
Driving while tired
Speeding or driving recklessly
Driving under the influence of drugs or alcohol
Unsafe or illegal turns
Unsafe lane changes
Red-light running
Following or passing too closely
Breaking other traffic laws
Other common causes of motorcycle accidents in Colorado are dangerous road conditions, such as potholes or defects, and motorcycle part failures.
What to Do After a Motorcycle Accident in Lakewood, CO
If you get injured in a motorcycle crash in Lakewood, Colorado, you must take certain steps to ensure the protection of your rights. Knowing what to do ahead of time can help you stay more prepared if you get into an accident. The following are general post-accident steps that can help you recover and move forward:
Call the police. Don't let the other driver convince you to keep the crash from law enforcement or insurance companies. Always report a motorcycle accident to the police, big or small.
Gather information. This includes the other driver's information, as well as the general facts of the case, such as the date, time and location of the collision. Get eyewitnesses' information, as well.
Take pictures. If you can, take photographs of the motorcycle collision before you leave the scene. This can provide evidence for your injury claim later.
Go to the hospital. Always get professional medical care after a motorcycle accident. Even if you feel fine at first, your adrenaline might be masking a serious injury.
File an insurance claim. Call the other driver's insurance company to file a crash claim. Do not admit fault or give the insurer a recorded statement.
For assistance with the claims process, contact a motorcycle accident attorney in Lakewood. Hiring an attorney can make the recovery process easier after a motorcycle crash, as your attorney can take over legal requirements and insurance settlement negotiations on your behalf. A lawyer can also make sure an insurance company does not take advantage of you.
If you or someone you love has been injured in a motorcycle accident that was caused by the negligence of another person, you should seek legal assistance today. At The Fang Law Firm, our Lakewood accident attorneys are ready to help you through this. Let us investigate your case so we can secure the compensation you need, including:
Coverage of medical expenses related to the crash
Recovery of lost wages if you cannot work
Pain and suffering damages
Loss of enjoyment of life damages
Possible punitive damages against the negligent party
If you need a Lakewood motorcycle accident attorney, you can contact the Fang Law Firm for a free consultation by clicking here.