Lakewood Bus Accident Attorney
If you or a loved one has suffered an injury in a recent bus accident, our Lakewood bus accident attorneys at The Fang Law Firm can help you move forward. We will carefully analyze your accident and let you know if your case has merit. Then, we can provide dedicated advocacy as your bus accident lawyers during the recovery process.
A bus accident might be the last thing you expect to happen as a passenger on a Lakewood city bus, RTD bus, school bus, charter bus or party bus. Careless bus drivers and faulty bus equipment, however, can lead to a bus accident that changes your life.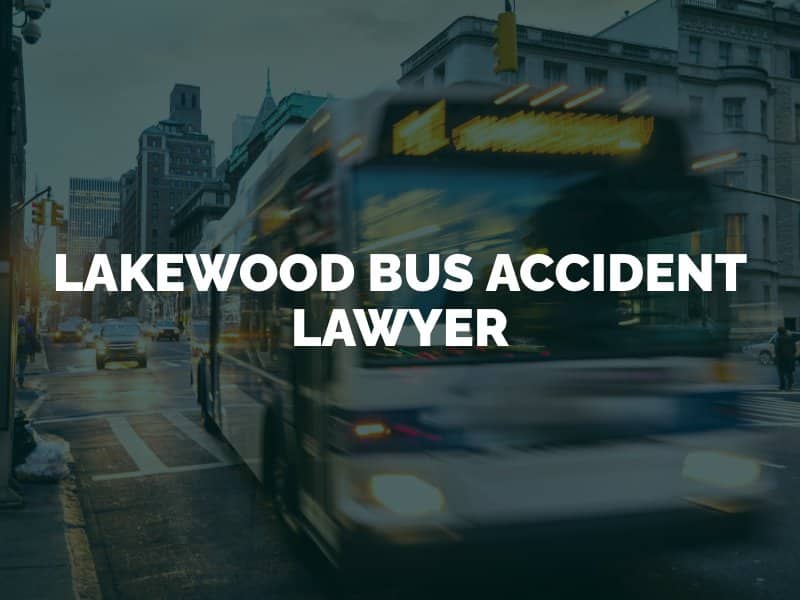 Navigate This Page
How a Lakewood Bus Accident Attorney Can Help
Although it is not a legal requirement, it can be critical to immediately contact an experienced Lakewood bus accident attorney after this type of disaster. An attorney can explain your rights and guide you through the legal process from the start. A legal advocate can help you understand what paperwork and evidence you need to submit for an insurance claim, whether or not you have grounds to file a personal injury lawsuit after a public bus or school bus accident, and the true value of your case. Rather than pushing you to accept the very first settlement offer, your personal injury lawyer will negotiate with an insurer for maximum financial compensation for your current and future losses.
Recovering Damages in a Bus Accident Claim
Bus accident injuries can be life-changing or even fatal, taking a significant toll on a victim financially, physically and emotionally. At The Fang Law Firm, we recognize that no amount of money is enough to make up for a bus accident victim's serious losses, in many cases. However, we have also seen firsthand how a fair and full compensatory award can allow a victim to pay for necessary medical care and move forward with greater peace of mind. You may be eligible for compensation for all of the following types of damages after a bus accident in Lakewood:
Medical and hospital bills
Ongoing necessary medical care
Disability-related expenses
Vehicle repairs or lost property
Lost wages, income and capacity to earn in the future
Physical pain and suffering
Mental, emotional and psychological damage
Other miscellaneous costs
Death benefits, if you lost a loved one
Punitive damage
How much you are able to receive in the form of a settlement or jury verdict will depend on your case. Our Lakewood car accident attorneys can fight for maximum financial compensation on your behalf, making sure that your claim is not devalued by the bus company or an insurance corporation. We will accurately evaluate how much your case is worth based on factors such as the gravity of your injuries, how long you will be affected by them, how long you were out of work and how much insurance coverage is available. Then, we will pursue the maximum value of your case based on our assessment of how your injuries will impact your life.
Common Bus Accident Injuries
Bus accidents have the capacity to cause severe to catastrophic injuries. Most buses do not come with seat belts for passengers, creating the risk of bus occupants being tossed or thrown around the bus in a collision. For those outside of the bus, a bus presents a large and heavy motor vehicle that can inflict life-threatening injuries – especially if the victim is a vulnerable road user, such as a bicyclist or pedestrian. Sadly, many bus accident victims do not survive their injuries. Common injuries suffered are:
Broken bones and fractures
Soft-tissue damage
Musculoskeletal injuries
Head injuries
Neck and back injuries
Whiplash
Herniated or slipped disks
Third-degree burns
Severe lacerations
Internal injuries
Catastrophic or permanent injuries
If you sustained any type of injury from a bus accident in Lakewood, you may be entitled to financial compensation. The bus accident lawyers at The Fang Law Firm have the compassion for injured victims and legal experience to help you during this difficult time. We know how serious injuries impact clients and what they need to rebuild their lives. We will be there for you and your family every step of the way, helping you fight for the results that you deserve for the level and type of injury suffered.
Causes of Bus Accidents in Lakewood, CO
Identifying the cause of your bus accident is necessary before you can recover financial compensation, as Colorado is a tort-based insurance state. This means that you will pursue financial compensation from the insurance provider of the at-fault party. In the 12 states that use the no-fault rule, on the other hand, injured crash victims must seek compensation from their own insurers, regardless of fault. The tradeoff for being able to hold someone else accountable is that you or your Lakewood bus accident attorney must prove fault.
Some of the most common causes of bus and RTD accidents in Colorado are:
Poor bus driver training
Texting and driving
Driving too fast for conditions
Failing to properly control the bus
Tailgating other motorists or reckless driving
Violating traffic laws or roadway rules
Ignoring rights-of-way
Faulty equipment or bus malfunctions
Bus driver errors and part breakdowns are two of the most common causes of bus accidents in Lakewood, Colorado. These types of collisions are generally avoidable with the use of proper care by the parties involved, including the bus company, the bus driver, school district, and the government, if the crash involves a city bus, RTD bus or public-school bus. If one or more parties reasonably could have prevented your bus accident in Lakewood, an attorney can help you fight for financial compensation – also known as damages – from their insurance providers.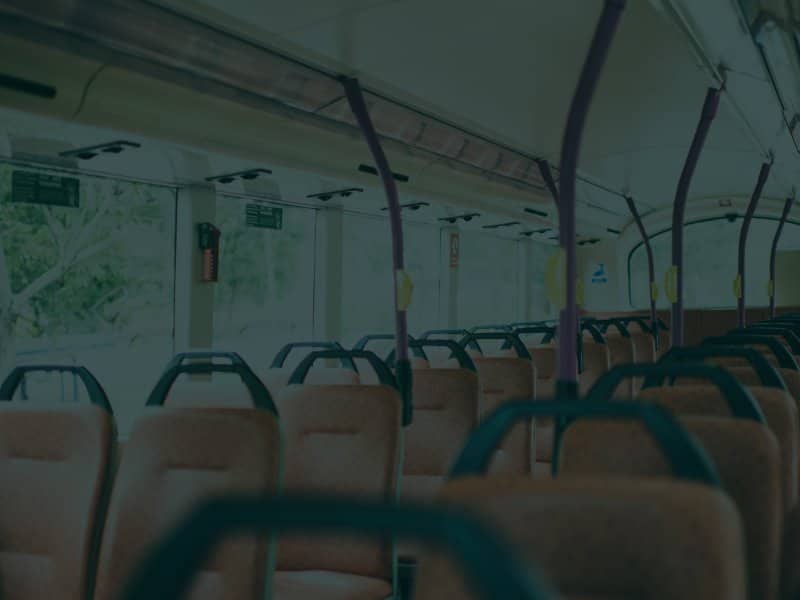 Who Is Liable for a Bus Accident?
Determining liability, or who is financially responsible, for a bus accident can be difficult without assistance from an attorney. These collisions are often complex and involve unique elements that are not present in other car accident cases. You may need a lawyer to carefully investigate your bus accident for you to determine the at-fault party or parties. Then, your attorney can help you build a case against the defendant(s) by searching for relevant evidence. Common examples of liable parties in bus accident cases in Colorado are:
The bus company. If your accident involved a privately owned bus, you may be able to hold the company responsible. This might be an option if one of the company's employees was negligent – including the bus driver – or if the company itself made a mistake that contributed to the collision.
The government. A bus accident involving a city bus or public school bus can name the government as the defendant, as this is the agency responsible for public buses. This could be the city government, state government or a school district. It is important to hire an attorney for these cases, as claims against the government in Colorado come with unique requirements.
Bus or vehicle part manufacturers. If your bus accident was caused by a defective vehicle part, such as bad brakes or a tire blowout, you may be able to file a product liability claim against the manufacturer or distributor.
Other drivers. A driver outside of the bus could be responsible for a bus accident if he or she made a mistake that forced the bus to crash, such as running a red light. If this driver was working for someone else at the time, such as a trucking company or delivery company, his or her employer could be vicariously liable, instead.
Some bus accident claims name more than one defendant. If your lawyer can prove that multiple parties contributed to your bus accident, this can improve your recovery options, as it will mean greater insurance coverage available. Hiring a lawyer to investigate your Lakewood bus accident can help you by exploring all available outlets for financial benefits. Your lawyer won't overlook any potential sources of financial compensation.
What to Do After a Bus Accident
If you get injured in a bus accident in Lakewood, it is important to take the following steps to protect your rights:
Check yourself and others involved in the accident for injuries. If you are in another vehicle, don't leave the scene until you've spoken to the police.
Call 911 to request first responders to come to the scene. Always report a bus accident, whether or not someone has been injured. A police report can serve as evidence.
Take photographs and gather evidence. Take pictures while still at the scene. Write down the bus's information and the names of all eyewitnesses and passengers.
Go to a hospital in Lakewood. Don't delay in seeking medical attention for your injuries, as this could hurt your insurance claim.
Document everything that you can. This includes writing down a description of events, requesting your medical records, getting a copy of the police report and keeping an injury journal as you heal.
File an insurance claim. File your initial claim with the bus company or defendant's insurer, but do not sign anything sent to you by the insurance company until speaking to a bus collision lawyer.
Don't give a statement. Avoid making any conclusions about your injuries or fault for the bus accident when speaking to an insurance claims adjuster until you've spoken to an attorney.
Contact a lawyer. Before proceeding with the insurance claims process, contact a bus accident lawyer in Lakewood for advice about pursuing financial compensation.
Print out or screenshot this list of things to do to have it handy in the event that you get involved in a bus accident in Colorado and need to make a legal claim.
How Is a Bus Accident Different From a Car Accident Claim?
A bus accident case is more complicated and difficult than a claim involving standard passenger cars for many reasons. Rather than taking legal action against another driver, you may have to go up against a bus company or the government. This can make your case more difficult to win and add various complexities, such as more powerful insurance corporations and liability disputes. Your bus accident case may involve several unique elements, such as:
The Colorado Governmental Immunity Act
If you are going up against a government entity, you must obey the rules and regulations of the Colorado Governmental Immunity Act. This includes a reduced statute of limitations on injury claims. Most of these cases require a "Notice of Claim" filed within 30 days of the accident.
Unique State and Federal Laws
Several unique laws only apply to buses and other carriers that transport passengers. There are laws that govern how buses must operate at railroad crossings, for example, and when other drivers must stop for school buses.
Multiple Defendants
Many bus accident cases involve more than one defendant, such as the individual bus driver as well as the overarching bus company. Naming more than one defendant can make each joint or severally liable for the full amount of your damages and potentially result in greater financial compensation awarded.
Special Types of Evidence
Bus accidents can come with different evidence compared to a traditional car accident case. This may include a black box or electronic data recorder, bus company records, the driver's medical and driving records, the school district's safety records, bus maintenance logs, and federal compliance documents.
Catastrophic Injuries
Many bus accidents are catastrophic, meaning they inflict life-altering injuries on victims, such as traumatic brain injuries, paralysis and amputations. This can make it more important to hire an attorney to help you recover fair compensation – not only for existing medical bills but latent medical care, as well.
No matter what types of obstacles you encounter during a bus accident injury claim, a skilled and experienced lawyer in Lakewood can defend your legal rights. Hiring an attorney to help you navigate a bus accident claim can make it easier to handle any issues or complications that come your way. You can focus on healing from your injuries while an experienced attorney expertly navigates your complex case for you.
If you or a loved one has been injured in a bus accident in Lakewood, Colorado or the surrounding area, don't hesitate to contact The Fang Law Firm for a free legal consultation. We will listen to your story, answer your questions and give you tailored advice for what to do next. We can handle conversations with your insurance company while you focus on healing from your serious injuries.
We are highly experienced and compassionate bus crash lawyers who have successfully resolved bus accident cases in the past. Find out how we can help you during a free case evaluation at our local law office. Call (720) 379-6363 today.