Lakewood Bus Accident Attorney
If you or a loved one has suffered an injury in a recent bus accident, our Lakewood bus accident attorneys at The Fang Law Firm can help you move forward. We will carefully analyze your accident and let you know if your case has merit. Then, we can provide dedicated advocacy as your bus accident lawyers during the recovery process.
A bus accident might be the last thing you expect to happen as a passenger on a Lakewood city bus, RTD bus, school bus, charter bus or party bus. Careless bus drivers and faulty bus equipment, however, can lead to a bus accident that changes your life.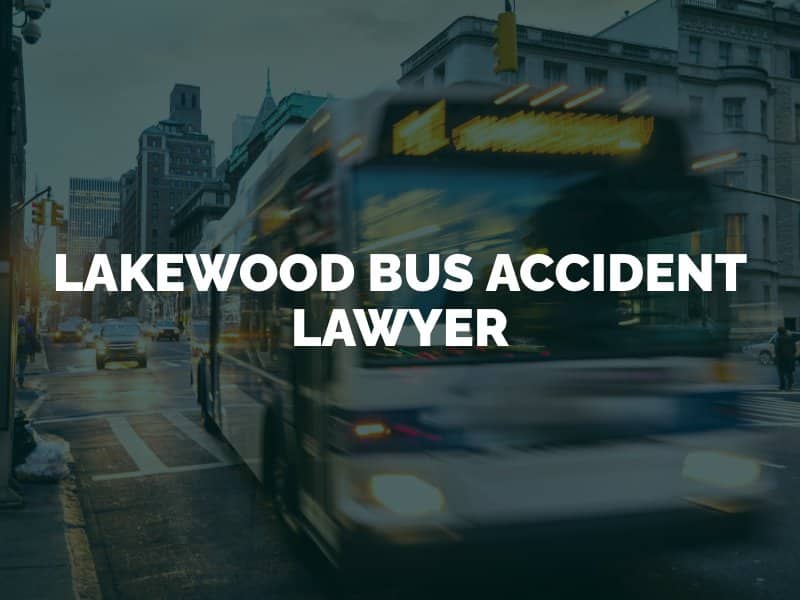 How a Lakewood Bus Accident Attorney Can Help
Although it is not a legal requirement, it can be critical to immediately contact an experienced Lakewood bus accident attorney after this type of disaster. An attorney can explain your rights and guide you through the legal process from the start. A legal advocate can help you understand what paperwork and evidence you need to submit for an insurance claim, whether or not you have grounds to file a personal injury lawsuit after a public bus or school bus accident, and the true value of your case. Rather than pushing you to accept the very first settlement offer, your personal injury lawyer will negotiate with an insurer for maximum financial compensation for your current and future losses.
Causes of Bus Accidents in Lakewood, CO
Identifying the cause of your bus accident is necessary before you can recover financial compensation, as Colorado is a tort-based insurance state. This means that you will pursue financial compensation from the insurance provider of the at-fault party. In the 12 states that use the no-fault rule, on the other hand, injured crash victims must seek compensation from their own insurers, regardless of fault. The tradeoff for being able to hold someone else accountable is that you or your Lakewood bus accident lawyer must prove fault.
Some of the most common causes of bus and RTD accidents in Colorado are:
Poor bus driver training
Distracted bus drivers
Texting and driving
Driving under the influence
Driving too fast for conditions
Failing to properly control the bus
Tailgating other motorists or reckless driving
Violating traffic laws or roadway rules
Ignoring rights-of-way
Faulty equipment or bus malfunctions
Bus driver errors and part breakdowns are two of the most common causes of bus accidents in Lakewood, Colorado. These types of collisions are generally avoidable with the use of proper care by the parties involved, including the bus company, the bus driver, school district, and the government, if the crash involves a city bus, RTD bus or public-school bus. If one or more parties reasonably could have prevented your bus accident in Lakewood, an attorney can help you fight for financial compensation – also known as damages – from their insurance providers.
Recovering Damages in a Bus Accident Claim
At The Fang Law Firm, we recognize that no amount of money is enough to make up for a bus accident victim's serious losses, in many cases. However, we have also seen firsthand how a fair and full compensatory award can allow a victim to pay for necessary medical care and move forward with greater peace of mind. Our Lakewood car accident attorneys can fight for maximum financial compensation on your behalf, including damages for your medical bills, lost wages, property damage, pain and suffering, out-of-pocket expenses, and more. We will pursue the maximum value of your case based on our assessment of how your injuries will impact your life.
Contact a Lakewood Bus Accident Lawyer Today
If you or a loved one has been injured in a bus accident in Lakewood, Colorado or the surrounding area, don't hesitate to contact The Fang Law Firm for a free legal consultation. We will listen to your story, answer your questions and give you tailored advice for what to do next. We can handle conversations with your insurance company while you focus on healing from your serious injuries.
We are highly experienced and compassionate bus crash lawyers who have successfully resolved bus accident cases in the past. Find out how we can help you during a free case evaluation at our local law office. Call (303) 993-4323 today.