Lakewood Drunk Driving Accident Lawyer
If you or a loved one is a victim of a drunk driving accident in Lakewood, contact a Lakewood drunk driving accident attorney at The Fang Law Firm who can help you demand justice. Drunk driving causes unspeakable tragedies for families in Colorado. Hundreds of people die each year in accidents caused by drunk drivers – and thousands of others are seriously injured. Drunk drivers recklessly endanger the lives of everyone around them when they choose to operate motor vehicles while inebriated.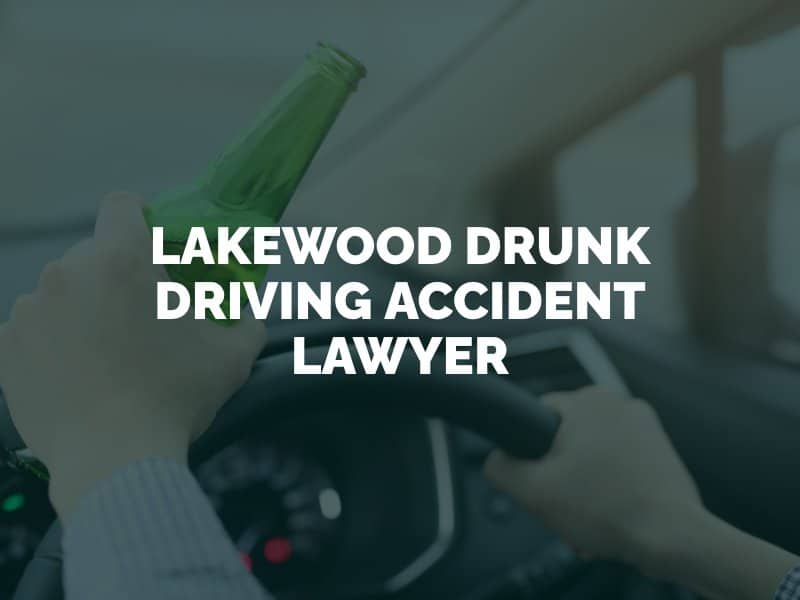 How a Lakewood Drunk Driving Accident Lawyer Can Help
A drunk driving accident lawyer can help you build a compelling claim to damages with services such as crash investigation and the hiring of accident reconstruction experts. Then, your lawyer can negotiate with the drunk driver's insurance provider for fair financial compensation. A lawyer can also help you explore your other legal options, such as filing a dram shop liability claim against the establishment that furnished the drunk driver with alcohol for greater insurance coverage.
Recoverable Damages After a Drunk Driving Accident
If you or someone you love gets injured in a drunk driving car accident in Colorado, you may be eligible to recover financial compensation, also known as damages, for many past and future losses. A car accident claim in Colorado can result in payment for a victim's medical bills, lost wages, vehicle repairs, pain and suffering, and more. The best way to estimate how much your drunk driving accident case is worth is by consulting with an experienced Lakewood accident attorney.
Common Injuries in a Drunk Driving Accident
Drunk driving accidents are often catastrophic, meaning they inflict severe, life-changing injuries on victims. This is because drunk drivers are often guilty of reckless driving behaviors, such as excessive speeding, red-light running and wrong-way driving. A drunk driver may collide with another vehicle, bicyclist or pedestrian without touching the brakes. This can result in serious injuries, such as:
Muscle and soft-tissue injuries
Bone fractures
Whiplash
Neck and back injuries
Paralysis
Lacerations and scarring
Severe burns
Crush injuries
Amputations
You may be eligible for financial compensation from a drunk driver's insurance company with any type of injury diagnosis after a car crash in Colorado. If you or a loved one has a serious or catastrophic injury, however, it is especially important to contact a drunk driving accident attorney in Lakewood. You may deserve greater compensation than what an insurer initially offers.
Colorado Drunk Driving Laws
Colorado has the same legal blood alcohol content (BAC) limit as most other states: 0.08 percent for typical drivers, 0.04 percent for commercial drivers and 0.02 percent for drivers under the age of 21. If a motor vehicle driver's breathalyzer test reads a BAC above the legal limit, the driver is legally intoxicated. It is against the law to operate a motor vehicle in this condition. The criminal penalties include fines, jail time and a mandatory ignition interlock device.
If a drunk driver causes a car accident, he or she will also have to pay for the damage caused. Colorado is an at-fault car insurance state, meaning the party at fault for a collision has to pay for it through his or her automobile insurance policy. Holding a drunk driver responsible for your crash requires evidence of his or her fault, such as a BAC test result or police report. You may need an attorney to help you prove a drunk driving accident claim.
Speak With an Experienced Lakewood Drunk Driving Accident Attorney
With our Lakewood drunk driving accident lawyers by your side, you can fight for the justice and compensation that you deserve. We will stop at nothing to make sure that your rights are represented and that your voice is heard in the justice system. For more information about your legal rights after a harmful drunk driving crash in Lakewood, Colorado, contact our local Lakewood injury lawyers.