Denver Bicycle Accident Lawyer
Bicyclists are unprotected and vulnerable to serious injuries in a crash. If you have been hurt in a bicycle accident caused by someone else's negligence, contact the Denver bike accident lawyers at The Fang Law Firm right away. Our Denver personal injury attorneys are dedicated advocates for injured bicyclists.
According to the National Highway Traffic Safety Administration (NHTSA) statistics, 16 bicyclists were killed in Colorado traffic crashes in 2016. Bicyclists accounted for 2.6% of all traffic fatalities.

Why Choose Us for Your Lawyers?
Our Denver bicycle accident attorneys have more than a decade of experience litigating over 10,000 combined cases.
With a success rate of 98%, we get proven results.
We handle all our cases on a contingency fee basis.
You pay us no legal fees until we settle or win your case.
Why You Need a Bicycle Accident Attorney in Denver
After a serious bike accident caused by someone else's negligence, you may be able to recover compensation for damages that may include past and future medical expenses, lost wages, loss of earning potential, pain and suffering, emotional distress, and loss of enjoyment of life. It is in your best interests to have an experienced Denver bicycle accident lawyer investigate your accident, obtain and preserve evidence, determine liability, and aggressively pursue full compensation for your injuries.
Bicycle Accident Statistics
NHTSA provides data and statistics regarding bicycle accidents in the U.S. in 2016:
840 bicyclists were killed in motor vehicle traffic crashes, accounting for 2.2% of all traffic fatalities.
Bicyclist fatalities increased by 1.3% from the previous year.
The average age of bicyclists killed in traffic accidents was 46.
84% of bicyclists killed in traffic crashes were male.
35% of fatal bicycle accidents involved alcohol consumption by the driver or the bicyclist or both.
In 11% of fatal bicycle accidents, the motor vehicle driver involved in the crash had blood alcohol concentration (BAC) of .08 or greater.
Causes of Bicycle Accidents
As stated by NHTSA, 95% of bicycle fatalities in 2016 were caused by a collision with a single motor vehicle. Bicyclists were struck by:
Front of the vehicle in 78% of fatal crashes
Right side of the vehicle – 9.3%
Left side of the vehicle – 2.8%
Rear of the vehicle – 1.5%
Unknown – 8.4%
Based on the 2016 Bicycle Crash Analysis provided by the City and County of Denver, the most common driver factors contributing to bicycle accidents are failing to yield the right-of-way and careless driving. The bicyclist was traveling straight, and the driver was making a left or right-hand turn in the majority of crashes at intersections. In too many cases, the driver simply fails to register the bicycle in the roadway and turns directly into the bicyclist's path.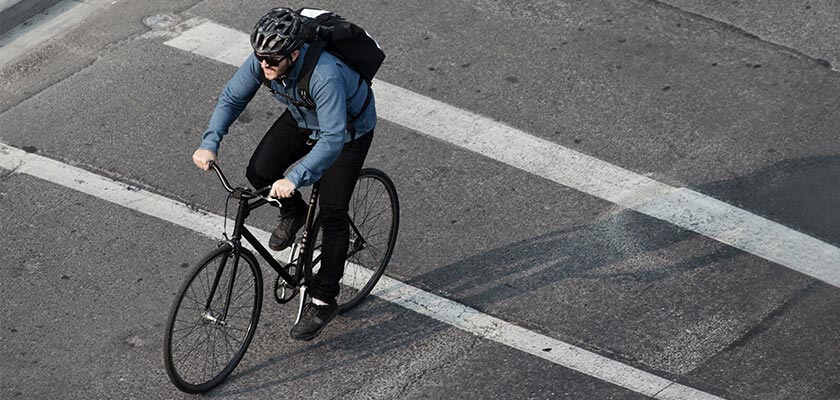 Who Is Liable for a Bike Collision?
A collision between a bicyclist and a motor vehicle can cause serious injuries or death for the bicyclist. Traffic laws in Colorado and the U.S. have been put into place to reduce the risk of accidents involving bicycles and motor vehicles. Drivers have a duty to exercise reasonable care on the roadways. A negligent driver may be held liable for resulting injuries from a bicycle accident.
Contact our Firm
At The Fang Law Firm in Denver, we have focused our practice exclusively on injury matters. Our experienced trial lawyers have the knowledge skills, and resources to effectively pursue compensation for our clients. Call us as soon as possible to schedule a consultation with a Denver bike accident lawyer if you have been injured in a bicycle accident.