Going to a water park might seem like the ideal way to have some family fun this summer, but it could be more dangerous than you think. Water parks around the country have a long and tragic history of causing serious guest injuries and deaths. If a water park is not adequately built, maintained or operated, children and guests can suffer severe and even fatal injuries.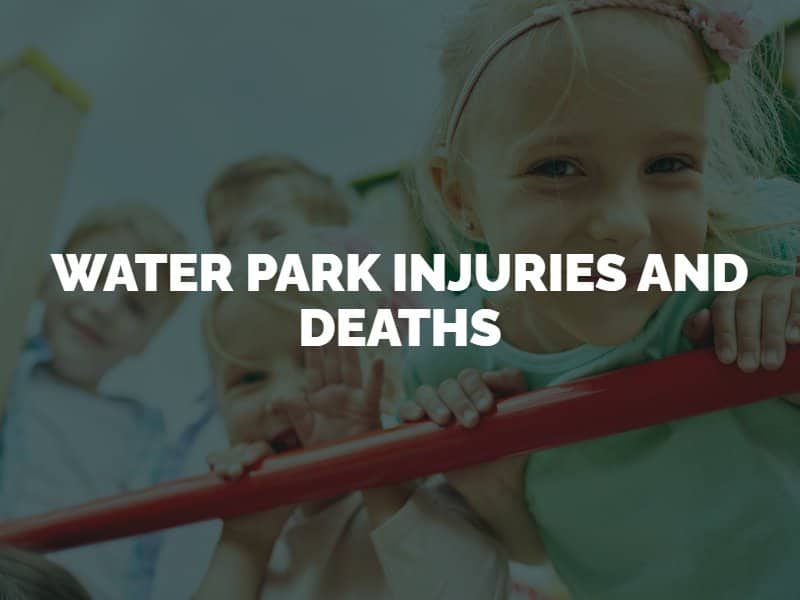 Potential Water Park Accidents and Injuries in Denver, Colorado
Water parks can have dangerous slides, chutes, rides, roller coasters, floats, boats and pools. Water parks have many unique elements that put guests at risk of serious injuries and illnesses. For example, a brain-eating amoeba called Naegleria fowleri took at least one life after water park goers in North Carolina were exposed to it in unsanitary waters. In addition, some slides and rides are not designed properly, putting riders at risk of terrible injuries or falls to their deaths.
Potential accidents and injuries associated with water parks include:
Accidental drowning
Brain hypoxia (lack of oxygen)
Scrapes and deeper lacerations
Electrocutions from unsafe wiring
Skin burns from friction
Falls from extreme rides
Back and spinal cord injuries
Neck injuries or whiplash
Injuries from foreign objects on slides or in pools
Infections and viruses from contaminated waters
A water park accident can happen anywhere, including parks local to the Denver, Colorado area such as Water World, Pirates Cove, Great Wolf Lodge, Island Kingdom, Elitch Garden, Lakeside Amusement Park, The Splash at Fossil Trace and Bay Aquatic Park. If a child or guest is injured in any type of water park catastrophe, he or she may have grounds to file a lawsuit against the park for negligence.
Are Water Parks Regulated in Colorado?
Yes. Water parks in Colorado are subject to statewide regulations under the Amusement Rides and Devices Program. This program requires all water parks to receive annual registration prior to operation. These registrations involve mandatory ride and device third-party inspections. Water parks must also maintain proper insurance in case of accidents and injuries.
Colorado's Amusement Rides and Devices Program has minimum standards in place for the installation, maintenance, operation and repair of rides. Unfortunately, not every water park abides by these regulations. Poorly maintained rides, dangerous premises and unsanitary waters are common hazards in water parks in Colorado. Sadly, these issues can lead to serious disasters.
Your Rights After a Water Park Injury or Death
If someone suffers an injury or dies at a water park in Denver, Colorado, the victim or his or her family may have grounds to bring a lawsuit against the facility. Most of the time, purchasing a water park ticket doubles as signing a liability waiver. Ticket purchases mean that guests assume certain risks – freeing the water park of responsibility for many accidents and injuries. However, there are exceptions; liability waivers will not protect water parks in every case.
A victim may be able to file a lawsuit against the water park if the facility or one of its employees was grossly negligent, displayed a conscious disregard for the safety of visitors or committed intentional misconduct. If the park or an employee was negligent, this could be grounds to file a lawsuit despite liability waivers. These cases can be complex, however, and may require assistance from an experienced personal injury lawyer in Denver.
A successful lawsuit for a water park injury or death could result in financial compensation given to the victim and his or her family. This may cover related medical bills, lost wages, pain and suffering, mental anguish, lost quality of life, and wrongful death damages. Bringing a lawsuit could also shed light on dangerous issues at your local water park, pushing for safety improvements on an institutional level that potentially protect others in the future.