Skiing is a sport with known injury risks. In the eyes of the law, skiing is an inherently dangerous activity where participants assume the risk of injury. However, the assumption of risk does not eliminate a ski resort or property owner's legal responsibility to keep skiers reasonably safe and prevent foreseeable accidents. Understanding who you can hold liable after a skiing accident in Colorado can help you and your family move forward.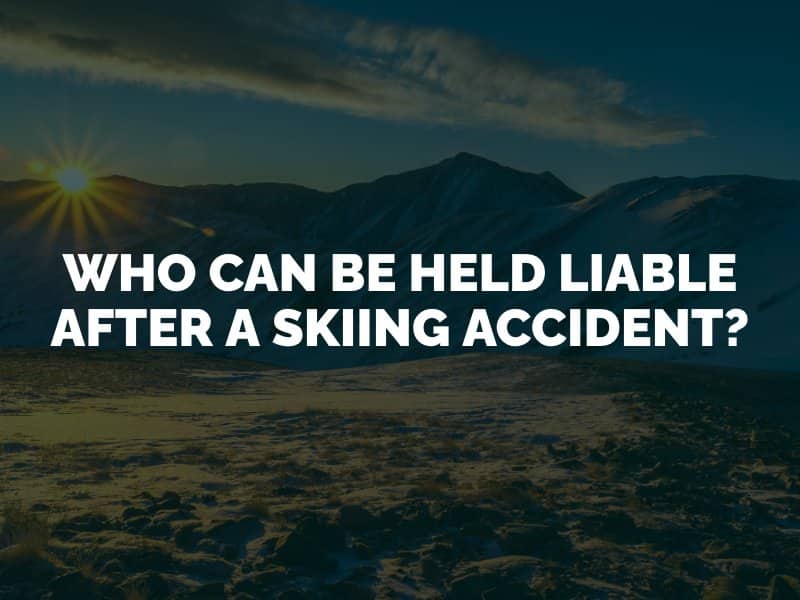 When Is a Ski Resort in Colorado Responsible for Skiing Accidents?
Although many skiing accidents stem from a mistake or error made by the skier, others are accidents the ski resort or property owner caused, substantially contributed to or could have prevented. The most common preventable skiing accidents involve:
Poor property maintenance

Negligently maintained slopes 

Dangerous property elements

Poorly maintained ski equipment

Ski lift malfunctions

Lack of necessary warning signs 

Defective equipment rented to skiers

Lack of first aid or emergency services on the property
All of these mistakes or errors in judgment can expose skiers to the risk of serious or fatal bodily injuries. Likewise, they can expose the ski resort (or owner of the property) to premises liability lawsuits for related skiing accidents. 
How Do Premises Liability Claims Work in Colorado?
Premises liability is the term for a property owner's legal responsibility for the safety of his or her property. A premises liability claim is a legal cause of action arising from an accident related to a property that contains a dangerous condition. 
In Colorado, an injured skier may have grounds for a premises liability claim after a skiing accident if the following elements are more likely to be true than not true: 
The owner or controller of the property (the defendant) knew or reasonably should have known of the dangerous condition.

The defendant failed to repair the dangerous condition within a reasonable amount of time.

The existence of the dangerous condition or property defect was what caused the skiing accident.

The plaintiff suffered specific and real damages in the skiing accident, such as physical injuries and medical bills. 
With proof of these four elements, an injured skier will have a valid premises liability lawsuit in Colorado. Whether or not the ski resort or another defendant is liable for damages, however, depends on the circumstances of the case. 
It is the injured skier's burden to prove negligence and fault based on a preponderance of the evidence. This requires gathering evidence such as photographs, eyewitnesses, medical records and expert opinions. The injured party will also have to navigate challenges, such as the assumption of risk defense. Due to the complicated process, choosing to hire an experienced Denver personal injury lawyer can help while you focus on recovering. 
How Might Assumption of Risk Affect Your Skiing Accident Lawsuit? 
Assumption of risk is a common defense used in accident cases involving inherently dangerous activities, such as downhill skiing and other snow sports. The Colorado Ski Safety Act outlines common risks inherent to downhill skiing in particular, such as changing weather conditions, dangerous terrain, collisions with other skiers, collisions with fixed objects and skiing outside of one's level of ability. 
Despite the assumption of risk involved in skiing, a ski resort still has certain responsibilities in terms of keeping skiers free from foreseeable injury risks. A ski resort must search for hidden hazards, keep ski runs groomed, repair known issues and warn skiers of hazards that might not be obvious, such as difficult terrain. If a ski resort fails in fulfilling these duties of care, the ski resort can be held liable for a skiing accident despite the assumption of risk. 
How a Lawyer Can Help
Skiing accidents involve many rules, complications and defenses that may not be present in typical premises liability lawsuits. It is critical to hire an experienced lawyer in Colorado to help you navigate your claim – especially if a skiing accident gave you or a loved one a catastrophic injury. A lawyer can help you protect your rights and obtain fair financial compensation for your injuries and losses after a serious skiing accident in Colorado.