Not all car accident cases need attorneys. While it's never a bad idea to hire a lawyer, minor car accident cases can often be resolved for fair settlements without legal representation. That being said, there are many scenarios when it is imperative to hire an attorney after a car accident – or else run the risk of settling for far less than you deserve. Find out when it is in your best interest to hire an attorney after a car accident in Colorado.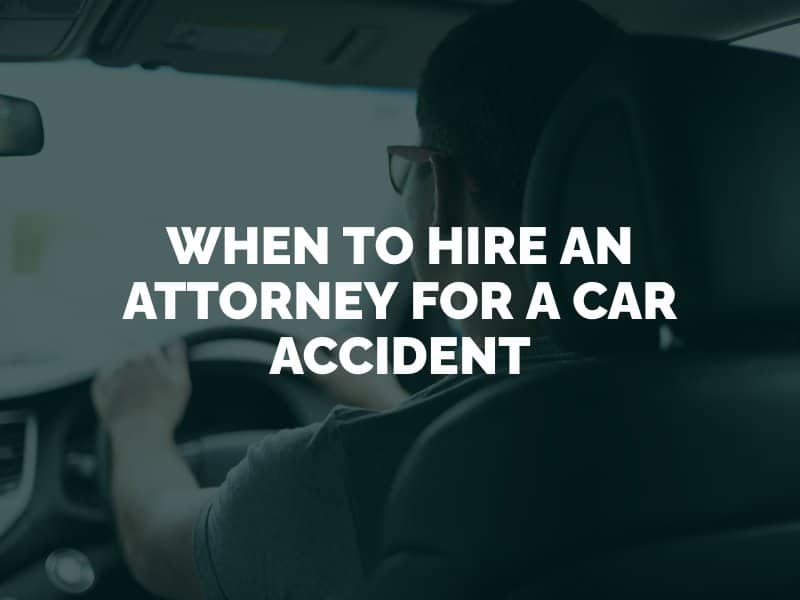 Before Your Filing Deadline
It is important to make the decision to hire a car accident attorney before the statute of limitations passes on your right to file a car accident lawsuit. If you don't take legal action within your deadline, you will most likely give up the right to demand financial compensation from the at-fault driver. In Colorado, the statute of limitations on most car accident claims is three years from the date of the crash. If you don't discover your injuries immediately, the clock won't start ticking until the date of reasonable discovery.
If You Have a High-Dollar Case
Auto insurance companies are generally reluctant to offer fair compensation to claimants. This is especially true when a victim has severe injuries or major losses from a car accident that will cost a lot to reimburse. An insurance company doesn't care what a client needs to recover from serious injuries. It is focused on its bottom line and will do whatever it can to devalue a high-dollar claim.
If you or a loved one was diagnosed with a life-changing injury after a car accident, it can be difficult to achieve just and full financial compensation from an insurer. You may need an attorney to negotiate for the best possible results on your behalf. With an attorney's assistance, you can prove your losses and recover the compensation that you need to pay for present and latent medical care.
If There Is a Liability Dispute
A liability dispute, or argument over who is legally and financially responsible for the car accident, can make it necessary to hire a lawyer. If an insurance company is denying liability for your accident, your lawyer can help you find and preserve evidence establishing that the other driver is at fault, such as an accident report or video surveillance footage. Your lawyer can also hire experts to help prove your case. A law firm will have the resources and staff members to help you resolve a liability dispute and hold the correct party or parties accountable.
If There Are Multiple Defendants
Many car accident cases in Colorado involve multiple at-fault parties, or defendants. In a multivehicle or chain-reaction crash, for example, two or more drivers could be held liable. If you have a car accident case with this type of complication, you may need a lawyer to help you hold multiple parties accountable. Your lawyer will help you seek a monetary recovery from all available outlets, as well as negotiate with more than one insurance company for fair financial compensation.
Contact an Attorney
These are just a few examples of many different complications that can arise during the average car accident case in Colorado. There may also be defense arguments such as comparative negligence or pre-existing injuries, as well as issues such as an uninsured driver or hit-and-run accident.
If you encounter any challenge or obstacle while trying to recover a reasonable amount of compensation from a car insurance company, contact a lawyer near you for legal assistance. Hiring a lawyer can take the stress off of you, allowing you to focus on healing and moving forward. Most attorneys operate on a contingency fee basis, meaning you won't have to pay your lawyer out of pocket, win or lose. Call (720) 379-6363 for a free consultation with an attorney today.