Bicyclists are at risk of getting struck by motor vehicle drivers in many circumstances. Two of the most dangerous locations for bicycle accidents, however, are parking lots and intersections. In these places, motor vehicle drivers may not notice bicyclists or respect their rights. In other cases, a biker may break the rules and be at fault for an accident. Use these safety tips to help reduce these collisions as either a driver or bicyclist in Denver, Colorado.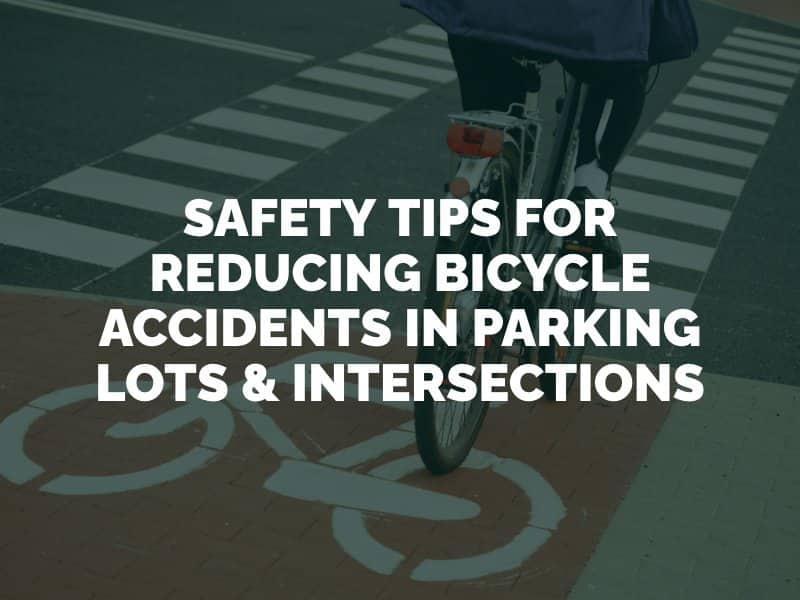 Know Your Rights and Responsibilities
There are many laws in place in Colorado to help prevent bicycle traffic and motor vehicle traffic from intersecting. One of the most important is the right-of-way. The right-of-way is the legal right to proceed, such as to cross an intersection or back out from a parking spot. In a parking lot, the driver who is backing out of a parking spot must wait, check for traffic (including bicyclists and pedestrians), and yield the right-of-way to anyone in the throughway lane. If a driver backs out and hits a bicyclist, the driver will most likely be responsible.
At an intersection, the person with the green light has the right to proceed. If it is a four-way stop with a stop sign, the person who approaches the intersection first has the right-of-way. Bicyclists have a responsibility to come to full stops at intersections, just like motor vehicle drivers. They may only proceed across the intersection when it is lawful for them to do so. Even if a cyclist has the right-of-way, he or she should use extreme caution when moving through an intersection in case a driver runs the red light or stop sign.
Obey the Law
It is important to understand the laws that apply to you as a motorist or bicyclist in a specific situation. This can allow you to act accordingly, such as to proceed across an intersection or stop and yield to someone else. If you are a motor vehicle driver trying to make a left-hand turn at an intersection, for example, you have a responsibility to yield to traffic in the oncoming lane until it is safe to turn, even with a green light. Keep in mind, however, that the other party involved may not know or obey traffic laws. This is where defensive driving techniques come into play.
Drive or Ride Defensively
Defensive driving is a technique that involves assuming those around you will put you in danger and being prepared to react accordingly. It is possible to use this technique when driving a car as well as riding a bicycle. Rather than assuming that the road users you are sharing the road with are responsible and will obey the law, assume the opposite.
Be vigilant and pay attention to your surroundings. As a biker, for example, assume that drivers who are reversing out of their parking spots or crossing intersections don't see you, are not paying attention and are not going to yield the right-of-way. As a driver, assume that bicyclists are going to break the rules and proceed when they don't have the right-of-way. Riding or driving defensively can allow you to stay on your guard and be prepared to stop at a moment's notice.
Contact an Attorney After a Bicycle Accident
Even if you follow all of Colorado's laws, you may find yourself the victim of a serious bicycle accident in a parking lot or intersection. If you get injured in a bicycle accident in Denver, contact an Denver bicycle accident lawyer at The Fang Law Firm right away for a free consultation. We can help you understand who or what caused your accident, as well as who is guilty of violating a traffic law based on the circumstances. Then, we can help you pursue justice and financial compensation for your injuries or property damage.