You may know what to do after a car accident as the driver of a motor vehicle, but what happens when you're a passenger? In general, recovering financial compensation for a car accident is easier for passengers, as they do not have to contend with allegations of liability. It is important to understand your passenger rights, however, so that you can protect them in the aftermath of a crash.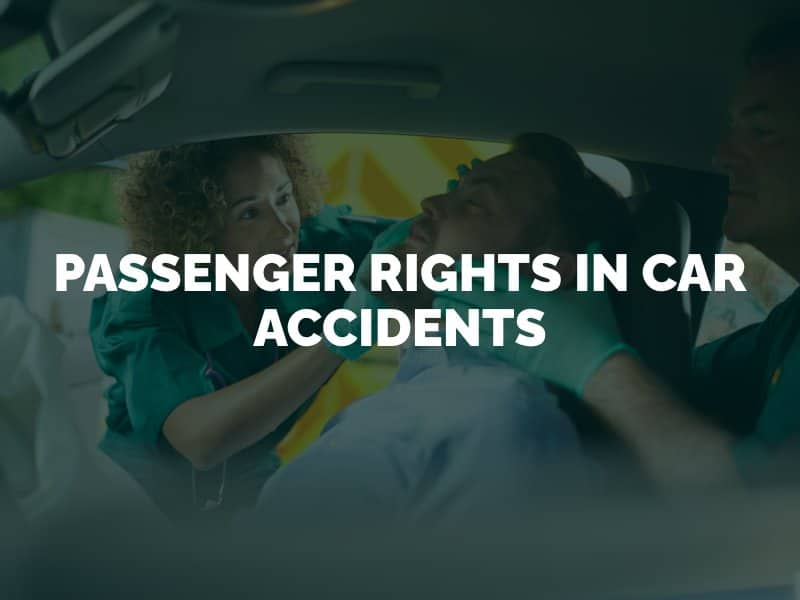 Who Pays for a Car Accident in Colorado?
Colorado is a fault state. This means that after a car accident, the person most responsible for causing the crash must pay for related bills and damage, typically through insurance. All drivers in Colorado are required to carry minimum amounts of bodily injury and property damage insurance. While you normally must prove fault to obtain insurance benefits, this is not the case as a passenger. Since you did not cause the crash, you are eligible for compensation regardless of who caused the accident.
Who Pays for Passenger Injuries?
If you get injured in a car accident as a passenger, you have the right to seek financial benefits from one or more car insurance companies. You may be able to use the automobile insurance of the driver of your vehicle, the driver of the other vehicle and/or a third party, depending on the circumstances.
Your first outlet for financial recovery is the car insurance company of the driver of your vehicle. The average car insurance policy covers all passengers who were in the car at the time of the crash unless there is specific policy exclusion (more on this below). You can generally qualify for this insurance without having to prove fault as an injured passenger.
If you believe that the other driver is to blame, you can file a claim with his or her insurance provider instead. A minimum of $50,000 in bodily injury liability insurance per accident is a legal requirement in Colorado. If there are multiple injured passengers, it may be difficult to obtain the amount that you need to pay for your medical bills, as all injured parties must share the $50,000.
If both drivers caused your crash, you can hold both responsible for your losses. This could help you pay for your losses, especially if there are multiple passengers involved in the claim. Finally, if it is discovered that a third party caused your crash – such as a trucking company, the government or a vehicle part manufacturer – you can recover compensation from the third party's insurance provider, as well.
Are There Exclusions for Family Member Passengers?
Some car insurance policies have a clause that states that coverage will not extend to family members or members of the driver's household. This is known as a "household exclusion." This means that if you were injured due to the negligence of a family member, you may not be eligible for compensation for your injuries unless the other driver is at fault for the crash. Issues such as policy exclusions are why it is important to hire a car accident lawyer in Denver as soon as possible if you get involved in a car accident as a passenger in Colorado.
Can a Passenger Be Held Liable for a Car Accident?
Yes, it is possible for a passenger to face liability for a car accident. However, this is uncommon. Unless there is evidence showing that the passenger was directly responsible for the crash – such as if the passenger took control of the wheel from the driver or blocked the driver's view of the road – one of the drivers will be held responsible as the party in control of the car.
If the auto insurance company that receives your claim tries to allege your liability for the accident (referred to as comparative fault), you may need to contact an attorney to help you protect your right to recover as a passenger. In Colorado, comparative fault will not bar you from financial recovery. However, it can reduce the amount that you are eligible to receive. A lawyer can help you get the recovery that you deserve as a passenger involved in a car accident.