It is common for an insurance company to offer an amount to settle a claim that is too low for the client's injuries and damages. Insurance companies are set up to profit from offering lowball personal injury settlements. The less they pay claimants, the more money their investors make. As an injured accident victim in Colorado, negotiating with an insurance claims adjuster can be the most difficult part of your case. It is critical to use a few tips to make sure you do not settle for less than your claim is worth.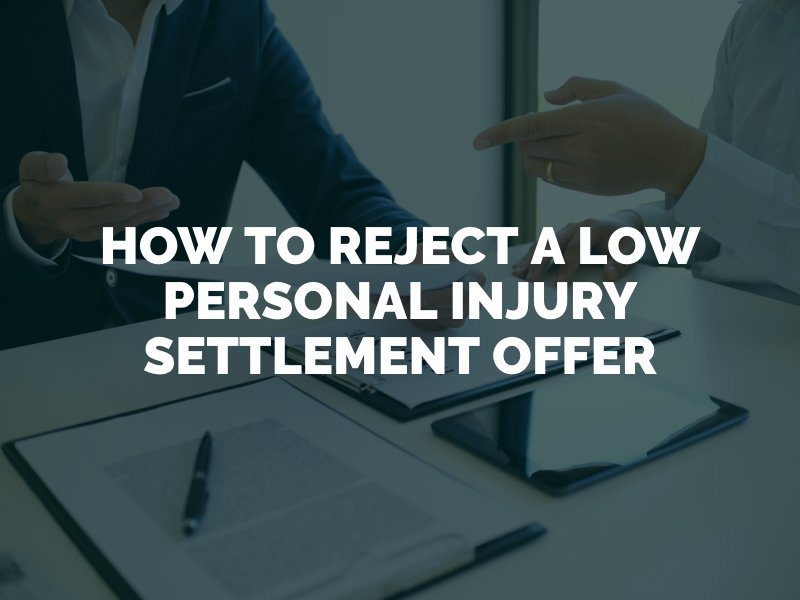 Know the Value of Your Damages
Before you reject an offer, you need to know the value of your case. That way, you can come back with a suitable counteroffer. An honest evaluation of your claim will also let you know when to accept a reasonable settlement offer from an insurance company and resolve your case. Learn what factors the insurance company will use to determine how much to offer you. Then, speak to a Denver personal injury attorney about how much your case might be worth.
Severity of your injuries
How much medical care you need
The number of days you missed work
Whether you contributed to the accident
If you delayed medical care
Whether you have pre-existing injuries or conditions
Claims adjusters make low settlement offers with the assumption that most clients do not realize how much their claims are truly worth. The average client will be eager to settle and to receive a check from the insurance company due to mounting pressure from bills – so much so that he or she will say yes to a lowball offer. Accepting a fast settlement without negotiating, however, could result in an award that does not fully cover your damages.
Reject the Offer in Writing
If you receive a low personal injury settlement offer, learn how the insurance company came to its decision. If the insurer did not explain its reasoning, ask. The insurance company might be claiming your comparative negligence for the accident reduces your recovery, for example, or that your injuries are pre-existing. You may be able to argue against or disprove the reason for the lowball offer in your counteroffer.
The counteroffer is an amount with which you will reply to the insurance company instead of accepting the first settlement offered. Put your counteroffer in writing. Do not get angry at the settlement offered or yell at the claims adjuster over the phone. The settlement is not personal; the claims adjuster is testing you to see if you will take the lowest amount possible. Claims adjusters expect some negotiation. Instead, write a letter that includes your counteroffer, along with supporting evidence as to why you believe what you are asking is a fair amount for your injury claim.
Work With a Personal Injury Lawyer
If you do not wish to negotiate with an insurance corporation in Colorado, hire an attorney to do so for you. A lawyer can accurately evaluate your claim and help you identify lowball settlement offers. A lawyer can also take charge of communications with claims adjusters, including submitting settlement counteroffers and negotiating. Your attorney can gather evidence proving the value of your claim, such as medical bills, treatment records, pay stubs, receipts and doctor's letters.
A personal injury lawyer can also help you avoid common mistakes while negotiating with insurance adjusters. Agreeing to give a recorded statement in the early stages of your claim, for example, can give the insurance company information to use against you. The law does not obligate you to give a recorded statement. Politely decline to do so and contact a lawyer for assistance with negotiations. An attorney can promptly and effectively reject the low settlement and respond with a realistic counteroffer to settle your claim as quickly and for as much money as possible. You rest assured you will achieve a fair result with help from an attorney.