Operating a motorcycle in Colorado comes with its own rules, laws and regulations. Obeying the rules that apply to you is one of your legal responsibilities as a motorcyclist. Even if you do everything right, however, an insurance company may still try to shift the blame for a motorcycle accident to you. This includes accusing you of contributing to the crash by not having or using turn signals – even though this is not a legal requirement in Colorado.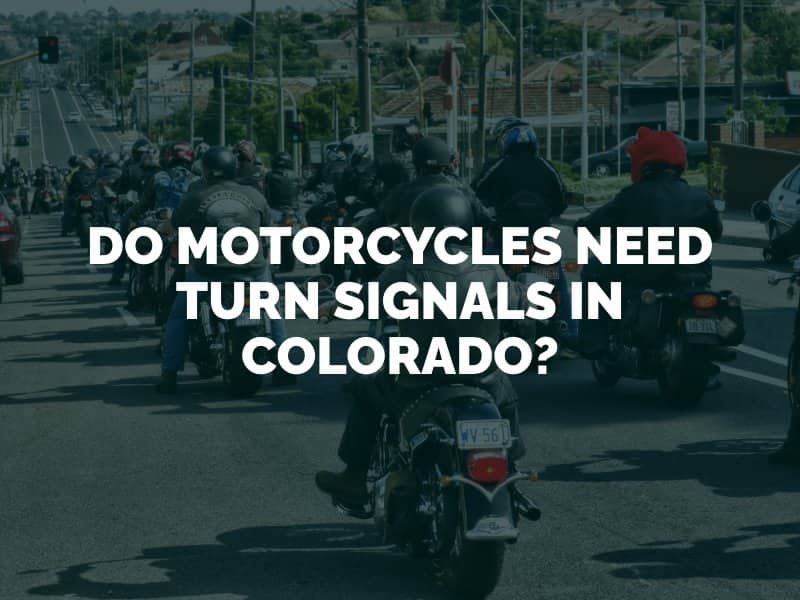 What Are Colorado's Motorcycle Equipment Requirements?
Before you set out on your motorcycle, you should always make sure that all parts and equipment are present and functioning properly. You should check your brakes, tires and fluids to avoid dangerous vehicle breakdowns. According to Colorado Revised Statute Section 42-4-208, your motorcycle must be equipped with a headlight and at least one stop lamp if it was manufactured after December 31, 1957. Motorcycles must also possess:
Seats and footrests for all passengers
Rear reflector
Brake light
Horn
Working brake for at least one wheel
Rearview mirror
Helmet for riders under the age of 18
CRS 41-4-208(3) specifically names motorcycles and low-power scooters as exceptions to the rule that requires electrical turn signals on motor vehicles. This means that while other motor vehicles and trailers are required to have turn signals, motorcycles do not need them to be deemed roadworthy under Colorado law. You will not get into legal trouble or be fined for operating a motorcycle that does not have turn signals – or failing to use your turn signals when turning or changing lanes – in Colorado.
The Safety Benefits of Having Turn Signals on Your Motorcycle
While they may not be a legal requirement, having turn signals on your motorcycle can help you avoid an accident. Turn signals are for the benefit of other motorists, not yourself. Since motorcycles are naturally more difficult to see on the road, flashing turn signals can help improve your visibility and reduce the risk of an accident.
Turn signals can let surrounding drivers know your intentions, making your movements more predictable. This can reduce the risk of merge, sideswipe and lane-change accidents. At an intersection, the use of a turn signal can also prevent a motor vehicle driver from ignoring your right-of-way and causing a T-bone collision. Other ways to decrease your accident risk are wearing reflective or bright clothing, obeying traffic laws, and riding in pairs when possible.
What to Do if You Are Blamed for a Motorcycle Accident Due to a Missing Turn Signal
It is not a usable defense in Colorado to say that a motorcyclist is at fault for an accident because he or she failed to use a turn signal. Since motorcycles legally do not need turn signals, a defendant or insurance company cannot use this as an explanation for denying liability. You are within your legal rights not to use or even possess turn signals on your motorcycle under state law. Unfortunately, this will not stop an insurer from attempting to use a lack of turn signals against you during a motorcycle accident claim.
If you have trouble recovering fair financial compensation for a motorcycle accident due to an argument of comparative negligence (your own allocation of fault for contributing to the accident), contact a motorcycle accident lawyer in Denver right away. While partial fault will not bar you from financial recovery, it can reduce the amount that you collect for your losses. If an insurer is arguing that you are at fault for failing to use a turn signal, your lawyer can combat this tactic using proof that you were not legally required to do so by state law.
An attorney will review your case and strengthen your claim to compensation in as many ways as possible. For more information about a recent motorcycle crash and your legal rights as an injured victim, contact The Fang Law Firm for a free consultation.