Many people suffer mental stress related to their jobs. If the stress or psychological harm is due to exacerbating workplace conditions – including harassment, discrimination, hostility or abuse – the worker could recover benefits through a workers' compensation claim in Colorado. If something connected to your job leaves you with severe anxiety or depression (long-term damage to your mental health), you may qualify for benefits. These claims can be difficult to navigate, however.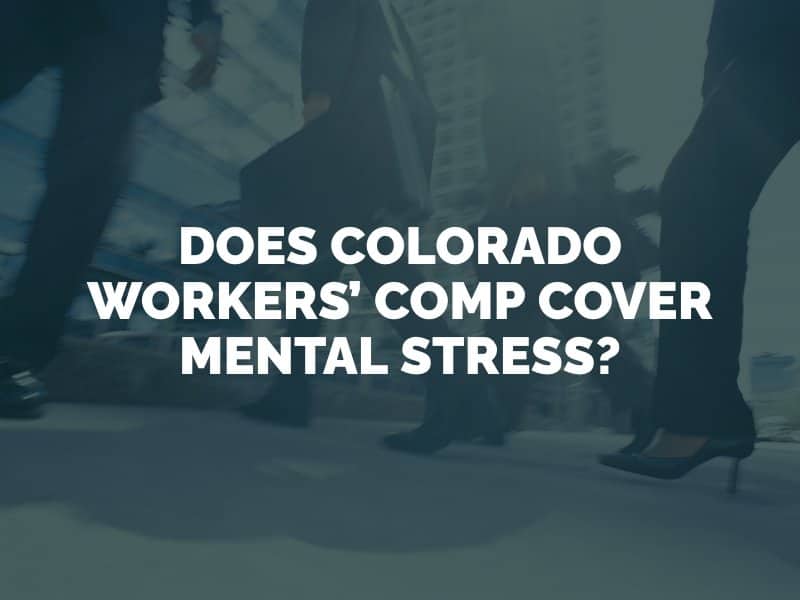 Qualifications for Workers' Comp for Mental Stress
The law in Colorado allows employees who are covered by workers' compensation to file claims for mental stress, in some circumstances. Situations that could lead to workers' comp claims for mental, emotional or psychological stress include witnessing a death, repeatedly witnessing serious bodily injuries, unreasonable travel demands or sales quotas, and harassment or discrimination. The basic guidelines for mental stress workers' comp claims (Colorado Revised Statutes Section 8-41-301) are as follows:
General requirements. The claim cannot be based on circumstances that are common to all fields of employment. It must also be severe enough to render the employee temporary or permanently unable to work or to require medical or psychological treatment.
Stand-alone mental injury. A psychologically traumatic event that is not standard to the worker's typical experience and would cause significant mental stress or emotional distress in the average worker under similar circumstances.
Mental injury with physical injury. A claim for mental stress connected to a bodily injury or illness is typically easier to win. However, it is still necessary to prove that the worker suffers long-term or permanent mental impairment arising primarily from the workplace incident.
If you believe you qualify for workers' compensation benefits for mental stress, permanent mental impairment or a mental health condition, report your condition to your employer as soon as possible. See a psychiatrist or psychologist to document your condition. Then, tell your employer that you wish to file a workers' comp claim. Your employer will help you fill out Form WC15, the Worker's Claim for Compensation, and submit it to the Colorado Division of Workers' Compensation by the deadline.
How to Prove a Mental Stress Workers' Comp Claim
If you wish to recover workers' compensation in Colorado for a nonphysical injury, you will need evidence to support your claim. Just as you must provide medical evidence from a physician for a physical injury claim, you must provide the testimony of a licensed psychiatrist or psychologist to prove a mental impairment. Go to a licensed therapist or psychiatrist for your work-related mental stress to receive an official diagnosis. This can serve as evidence for your workers' comp claim.
You must also prove that the mental stress or impairment you are claiming arose out of and in the course of employment. Your job must be the primary reason for the mental stress that you are claiming. In general, it must also have stemmed from something that is not standard to your job or a typical day at work. Note that Colorado law also does not allow a claim for mental stress that arises out of a disciplinary action, demotion, termination, work evaluation, job transfer or other employment actions taken in good faith by an employer.
What Benefits Are Available for Mental Stress?
If the Colorado Division of Workers' Compensation accepts your claim for mental stress, you could receive up to 12 weeks of medical impairment benefits, with a maximum of 50 percent of Colorado's average weekly wage at the time of your claim. This limit does not apply to victims of crimes, violence, or occupational injuries or diseases that cause neurological brain damage. You could also recover up to two-thirds of your lost wages from an inability to work. Consult with a Denver workers' compensation attorney for more information or assistance filing a claim for mental stress.