The State of Colorado takes the safety of its commercial trucking industry seriously. State lawmakers have enacted multiple rules, restrictions and requirements to help improve truck safety and decrease the risk of accidents. In addition to Colorado's trucking regulations, truckers and truck companies must also obey national rules under the Federal Motor Carrier Safety Administration.
Breaking any state or federal trucking regulations, resulting in a serious truck accident, could require the trucking company to pay for victims' damages. If you were a victim of an accident due to a negligent truck driver or trucking company, contact us. A Denver truck accident lawyer from our firm may be able to help you explore your legal options in Colorado during a free consultation.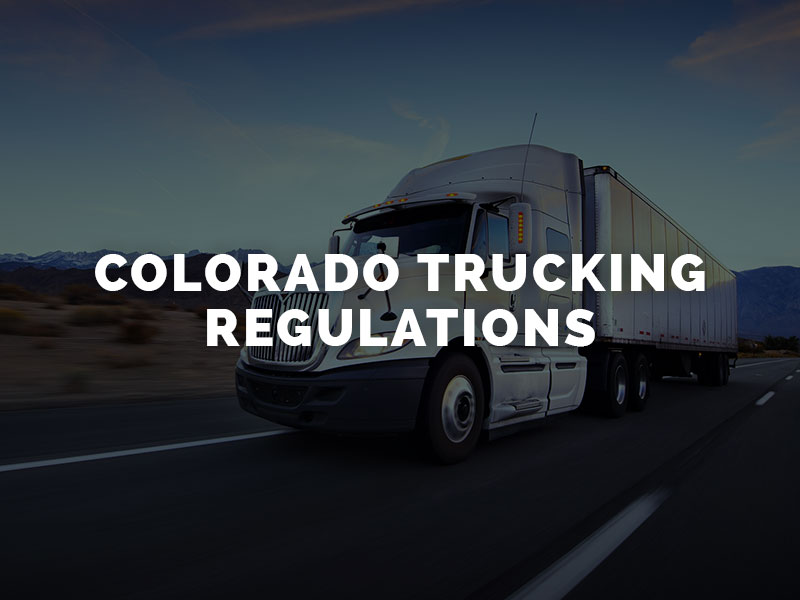 Colorado Chain Law
From September 1st to May 31st each year, all commercial vehicles traveling on a certain strip of roadway in Colorado must comply with the state's tire chain requirements. The Colorado Department of Transportation (CODOT) requires chains on commercial vehicles using Interstate 70 from mile markers 133 to 259.
Any vehicle exceeding 26,000 pounds must install metal chains on its tires.  These chains will better enable the heavy commercial truck to climb the steep hills and mountains native to Colorado's terrain in snow, ice or rain. They can help prevent accidents, disabled vehicles and related traffic delays and road closures.
Failure to obey Colorado's chain requirement could result in $67 in fines and surcharges for a commercial driver. If a statewide chain requirement is in place for smaller vehicles, the fines and charges increase to $579 for a breach. If a commercial vehicle without the required chains blocks the highway, the total fine is $1,157.
Oversized Truck Permits
If a commercial truck exceeds the federal height or weight maximum (an extra-legal vehicle), it must retrieve the proper oversize/overweight permit to operate in Colorado. Extra-legal vehicles must obtain permits before operating on state roads. Even with a permit, the truck driver must obey restrictions on when, where and how the truck can drive. The truck will only be able to drive unescorted from sunrise to sunset if it exceeds 12 feet wide, for example. Extra-legal vehicles also require Oversize Load signs, flags and lights.
Drunk Driving Laws
As is the case in all states, Colorado prohibits drivers from operating vehicles under the influence of drugs and/or alcohol. Colorado's drunk driving laws place the legal alcohol limit at 0.08% blood alcohol concentration (BAC) for a normal driver and 0.04% for a commercial driver. Typically, the police will test a driver's BAC through a breath test or other means at the time of the alleged offense.
For commercial drivers, the legal BAC limit in Colorado is half the amount of a noncommercial driver. A truck driver could receive a drunk driving charge and conviction for a BAC of 0.04% (just two alcoholic drinks for the average male truck driver). Commercial drivers also cannot operate their trucks within four hours of drinking alcohol.
In Colorado, a trucking company may require its drivers to submit to random drug and alcohol screenings. It may also require drivers to comply with blood or breath tests for intoxication after at-fault truck accidents. Reasonable suspicion of intoxication and pre-employment screenings are also situations in which a trucking company may order drug or alcohol tests. A commercial drunk driving conviction could lead to a suspended or revoked commercial driver's license in Colorado.
Special Hazmat Laws
The CDOT also has requirements in place when transporting hazardous materials (hazmat). The Colorado Revised Statutes Title 42, Article 20 states that different entities may designate a route as a hazmat route if it fulfills the requirements. This includes a route that is practicable, feasible, continuous, safe and that will not interfere with the transportation of hazardous materials.
A hazmat route is reasonably safe if it does not have higher crash and fatality rates than what is average for the area and population. Registering a road in Colorado as a national hazmat route means drivers transporting hazardous materials may have to use the designated route instead of other roads. It is important to obey all Colorado trucking regulations to help prevent serious accidents in the state.