Slip and fall hazards are everywhere; at your local grocery store, shopping mall or where you go to work. If you get injured in a slip and fall accident, you will need to navigate Colorado's related laws to have a valid claim to damages, or financial compensation. While the best way to protect your rights is having a slip and fall accident lawyer handle the legal process for you, reviewing some of Colorado's most prominent slip and fall laws here can help you know what to expect.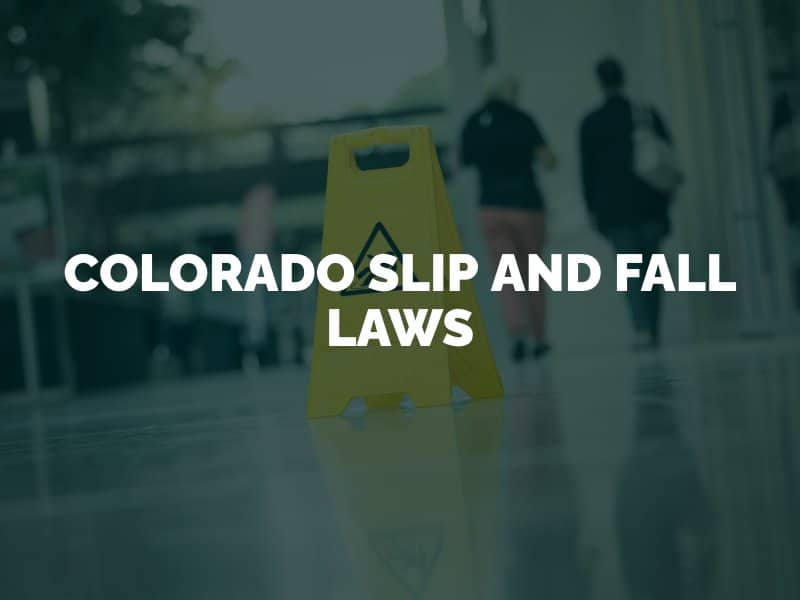 The Basics of a Premises Liability Lawsuit
A slip and fall accident lawsuit falls under the umbrella of premises liability law. Premises liability law encompasses all accidents caused by property hazards and defects – more specifically, negligence in the care, ownership or maintenance of a property. Negligence is the failure to properly control or maintain a property, resulting in hazards that can injure visitors. Other types of incidents that can lead to premises liability lawsuits include:
Elevator and escalator accidents
Playground injuries
Staircase accidents
Criminal attacks
To have grounds to file a premises liability lawsuit for a slip and fall accident in Colorado, you must have clear and convincing evidence of the property owner or controller's negligence in connection to your injury. If a prudent property owner would have done more to prevent your slip and fall accident, you may have grounds for a premises liability suit.
Colorado's Statute of Limitations on a Slip and Fall Claim
Even if you have a valid reason to file a slip and fall injury claim, the courts will deny your lawsuit if it is filed too late. Colorado has a law known as a statute of limitations that places a strict deadline on your right to file. Colorado Revised Statutes Section 13-80-102 gives you no more than two years from the date of your accident – or the date that you discovered your injury – to file a personal injury claim.
If a loved one died due to complications from a slip and fall injury, such as a fatal hip fracture, you will have two years from his or her date of death to bring a wrongful death lawsuit, instead. Note that you will have significantly less time (180 days) if you wish to file a lawsuit against the government for a slip and fall accident on public property. Although there are some exceptions to the rule, if you miss your deadline to file, you will most likely forfeit the right to recover financial compensation for your slip and fall accident.
Slip and Fall Accidents and the Comparative Negligence Rule
One of the most common defenses brought against slip and fall accident liability is the comparative negligence defense. This defense argues that the defendant's liability should be reduced or eliminated based on the fact that the claimant contributed to his or her own injuries. If a defendant succeeds in proving that you caused or contributed to your slip and fall accident – such as by failing to pay attention to where you were walking – this could reduce your financial recovery.
Colorado uses a modified comparative negligence law, meaning that while your own negligence may not bar you from financial compensation entirely, it can reduce the amount that you receive by an amount that is equivalent to your percentage of fault. For example, if you are found to be 25 percent responsible for your slip and fall accident, you will receive 25 percent less in financial compensation from a defendant.
Colorado's comparative negligence rule caps a plaintiff's ability to recover compensation at 50 percent. This means if the courts determine that you are responsible for the majority share of the fault for the slip and fall – 50 percent or more – you will not be eligible for any financial compensation. It is important to work with a personal injury attorney who can help you combat this defense and negotiate for maximum financial compensation. A lawyer can help you navigate all of Colorado's slip and fall laws.