Filing a personal injury claim against an individual or business is difficult, but pursuing compensation from a government entity can be even more complicated. For example, the statute of limitations is often much shorter if you file against the government. This means you need to work hard to gather evidence and file your claim immediately if the government is at fault for your injuries.
In Colorado, you have approximately a quarter of the normal amount of time to file a personal injury claim when the defendant is a state, city, or local government entity. This limits many plaintiffs severely, but that does not mean you will not be able to file. To start the process of filing a lawsuit against the Colorado government, speak to a personal injury lawyer from The Fang Law Firm today.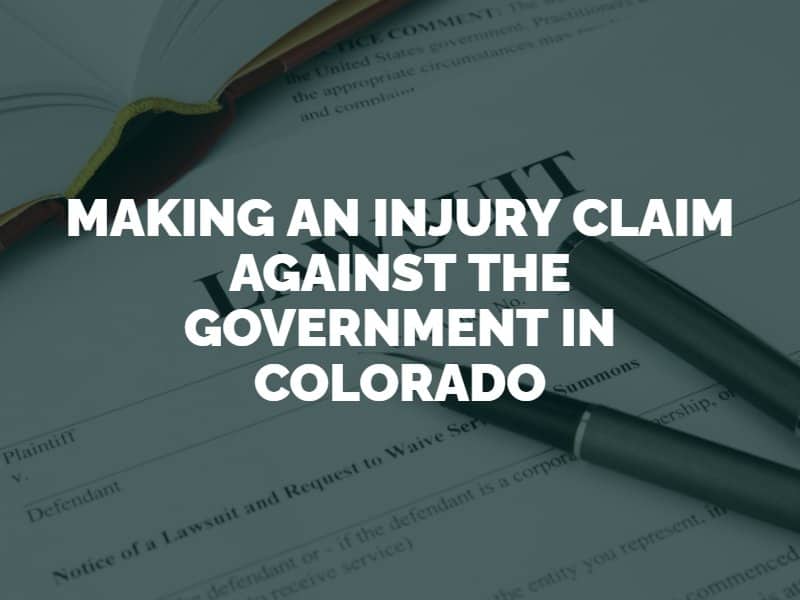 What is the Statute of Limitations?
The statute of limitations is a maximum amount of time following an incident wherein it is possible to file a claim against the party that caused the incident. You will likely be unsuccessful if you attempt to file a legal claim after this period has expired. Depending on the type of claim you hope to file, you may have more or less time to submit your claim.
Colorado's Statute of Limitations on Personal Injury Claims
Colorado offers a different statute of limitations for auto accident claims, other personal injury claims, and personal injury claims involving the state, city, or local government. How long you have to file depends entirely on what type of personal injury claim you wish to pursue.
Here is more about the statute of limitations for each circumstance:
Auto Accidents
If you were involved in an auto accident in Colorado, you have three years to file a claim against the at-fault party. This includes most passenger vehicle accidents that involve cars, trucks, and motorcycles. Though, if the vehicle you were hit by was operated by a government entity, your claim may have a much shorter statute of limitations that you must abide by.
Other Personal Injuries
Although auto accidents are personal injury incidents, they fall into a different category than other personal injury incidents. If you are filing a general personal injury claim, your case likely involves incidents like dog bites, slip and fall accidents, or a falling object. When pursuing compensation for a general personal injury, you have two years from the date of the discovery of the injuries to file.
Government Claims
When the government is to blame for your injuries, you have significantly less time to file. In fact, you have only a fraction of the time to submit your claim. In Colorado, the statute of limitations for government-related claims is a mere 180 days. If you are unable to file within this time, the government may get away with causing your injuries.
Colorado Governmental Immunity Act
Under the Colorado Governmental Immunity Act, certain government employees and government entities are protected from personal injury lawsuits. While some situations do allow for the breach of this immunity, the entities on the following list are often immune to personal injury claims.
A public entity's officers, employees, or servants;
Authorized volunteer workers at a public entity
Health care providers associated with a public entity
The state of Colorado
Colorado counties
Colorado municipalities
School districts in Colorado
Public higher education institutions
It is possible to file suit against these organizations, but doing so is difficult. A lawyer can help you find out if the government entity you wish to file a claim against has immunity.
Get Help With Your Case Against Colorado's Government
Do not let the government of Colorado get away with allowing you to be injured. Instead, take the steps that are necessary to recover the compensation you deserve. The Fang Law Firm can help. Contact us today to get in touch with us.