Living through or witnessing a traumatic accident, such as a motor vehicle collision, can lead to a medical condition known as shock. Being in a state of shock does not just mean psychological trauma; it is also a physical condition that causes tangible symptoms and requires professional medical care. Delayed shock symptoms are common after traumatic accidents.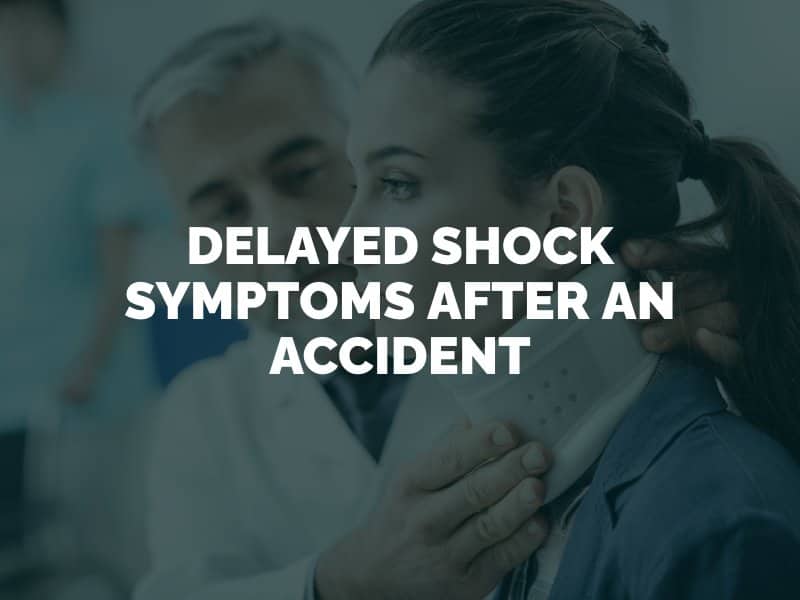 What Are Shock Symptoms?
Traumatic shock is a medical condition where a sudden drop in blood flow throughout the body, caused by a source of trauma, causes a loss of oxygen and blood to the organs. If left untreated, shock can be a critical condition that causes permanent organ damage or even death. Common symptoms of shock include:
Dizziness or lightheadedness
Nausea or vomiting
Clammy or cold skin
Pale skin, with blueish or gray lips or fingernails
Irregular heartbeat or chest pain
Quickened or weak pulse
Dilated pupils
Rapid breathing
Weakness or fatigue
Anxiety or agitation
Confusion or disorientation
Loss of consciousness
It is important to call 911 if you suspect you or someone else is in shock. Elevate the victim's legs and feet slightly, if possible, and do not move the victim unless it is necessary. Cover the victim with a blanket to keep him or her warm and do not give the victim food or drink. Wait for paramedics to arrive and administer professional medical care.
Why Might Shock Symptoms Be Delayed After an Accident?
Delayed shock can occur if the victim does not process what he or she experienced right away. The brain's way of protecting the victim is to initially block out a traumatic event. Post-traumatic stress disorder (PTSD), for example, is a type of psychological shock with symptoms that can arise days after an accident. A victim may also be caught in a fight-or-flight response, which can push feelings of shock back until the victim is out of danger.
Can You Recover Compensation for Shock?
Yes, it is possible to recover financial compensation for shock during a personal injury case in Colorado. You can seek compensation for both physical and emotional shock. If these are injuries inflicted upon you by a careless or reckless party, that party may be financially responsible for your medical bills, psychological therapy, lost wages, physical pain, emotional distress and all other losses related to the accident.
It is important to go to a hospital right away for a shock diagnosis if you wish to add it to your injury claim. Without an official diagnosis, the insurance company may deny your claim. Follow your doctor's treatment plan and request copies of your medical records to use as evidence. Keep an injury journal, as well, to write down your thoughts and feelings during recovery.
What If You Initially Said You Weren't Injured?
The best way to protect your legal rights in the aftermath of a car crash is to wait to talk to an insurance company until you have seen a doctor. Do not tell investigators, a police officer or the other driver's insurance company that you don't have any injuries until you've been to a hospital. You may have injuries with delayed symptoms.
Before answering questions about your injuries, see a doctor or go to an emergency room. Explain that you are not sure whether or not you were injured, and state that you will give the insurer more information about your physical and psychological state after you have seen a physician. This can help you protect your legal rights.
How a Lawyer Can Help
If you were injured in a car accident, including if it sent you into shock, contact a car accident lawyer to ensure the protection of your rights. Your lawyer can connect you to top doctors in your area and help you prove shock to an insurance corporation. Then, your lawyer can negotiate with an insurance claims adjuster to maximize your financial recovery. For more information about how a car accident lawyer can help, contact The Fang Law Firm today.