Colorado Springs Pedestrian Accident Lawyer
When pedestrian accidents occur, automobile occupants typically suffer minor injuries while pedestrians often suffer severe and sometimes fatal injuries. There is no competition of size and force between automobiles and pedestrians, which is why drivers are required to exercise caution around pedestrians and yield to their right of way.
The Colorado Springs pedestrian accident lawyers at The Fang Law Firm know that even though drivers should exercise due care when pedestrians are present, they often don't. Our legal team can help after you've suffered serious injuries in a pedestrian accident.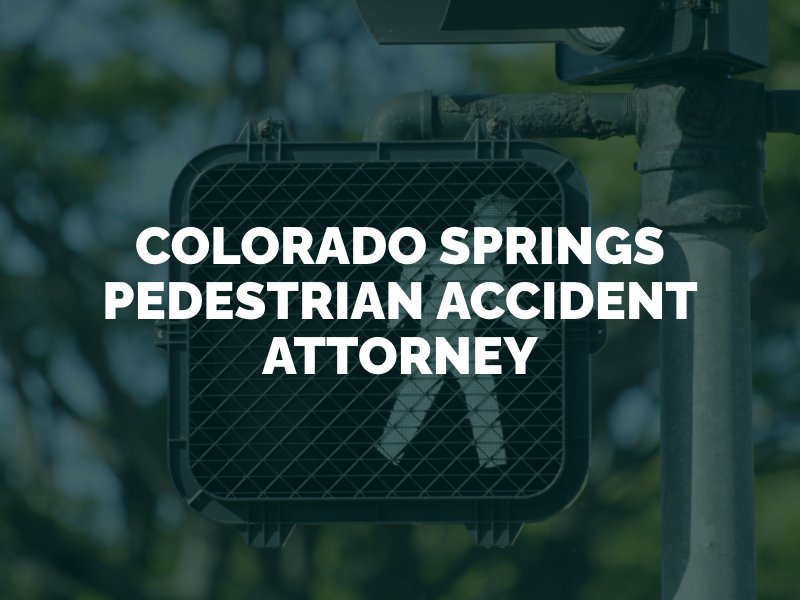 How We Help Pedestrian Accident Victims in Colorado Springs, CO
Our pedestrian accident attorneys represent people who have been injured in pedestrian accidents, as well as surviving family members who have lost loved ones in pedestrian accidents. The injuries and damages resulting from these accidents are often catastrophic, and our attorneys pursue maximum compensation for all of our clients.
We know that you and your family may have many questions about your potential compensation, the legal process, and additional concerns. Our Colorado Springs pedestrian accident attorneys believe in clear communication and personalized legal representation. They will go over all of your questions and concerns, and they will return every call within 24 hours.
A Colorado Springs injury lawyer will handle all settlement negotiations and communication with insurance companies. We know that you and your family need to focus on coping and healing from your pedestrian accident losses. Our compassionate attorneys will treat you and your family with care and respect while pursuing your claim.
How Is Liability Determined in a Traffic Accident Involving a Pedestrian?
One or more parties may be responsible for pedestrian accidents. Negligent motor vehicle drivers are often held accountable for pedestrian injuries and damages, but other parties may also be liable. For example, municipalities have a responsibility to keep their citizens safe. If poorly marked crosswalks on a road, a lack of pedestrian safety measures, or a government vehicle caused or contributed to your accident, a government entity may also be responsible.
If you were struck by a commercial vehicle, the driver and his or her employer may be liable for your serious injuries. Pedestrian accidents that involve commercial vehicles can be complicated due to applicable regulations and requirements mandated by state and federal laws. For example, commercial drivers are limited in the number of hours they are permitted to drive in a day and in consecutive days. There are also regulations related to driver training, vehicle weight, and vehicle maintenance. Evidence of regulation violations can be used to support your negligence claim.
Pedestrian Accidents And Insurance Companies
One or more insurance companies will inevitably be involved in your pedestrian accident claim. You should be extremely cautious about speaking with them if they contact you to discuss the accident and injuries. They can use anything that you say against you in an attempt to reduce their liability and the value of your claim. It is in your best interests to avoid answering questions or giving statements to insurance representatives until after you have consulted with a pedestrian accident lawyer in Colorado Springs.
Common Causes of Pedestrian Accidents
Common elements of pedestrian accident cases include distracted driving, impatience, speeding, and inattention. When pedestrians are struck by automobiles, drivers often report that they just did not see the injury victim.
Contact a Colorado Springs Pedestrian Accident Lawyer
If you or a loved one has been injured in a pedestrian accident, attorneys at The Fang Law Firm can help. Our consultations to explore your legal rights are always free, and our attorneys do not charge legal fees until they have helped you secure compensation in a settlement agreement or trial award. We want to help you recover for your medical bills, lost wages, and other expenses. Contact us to schedule your free consultation about your personal injury case today.