Fort Collins Car Accident Attorney
If someone else's careless actions caused your car accident in Fort Collins, Colorado, The Fang Law Firm can help. Contact our Fort Collins car accident lawyers to find out how we can help you recover compensation and move on.
A car accident can have a significant impact on your life. It can inflict serious injuries that require expensive treatments and time off of work. You may also experience substantial pain, suffering and emotional distress from the car accident.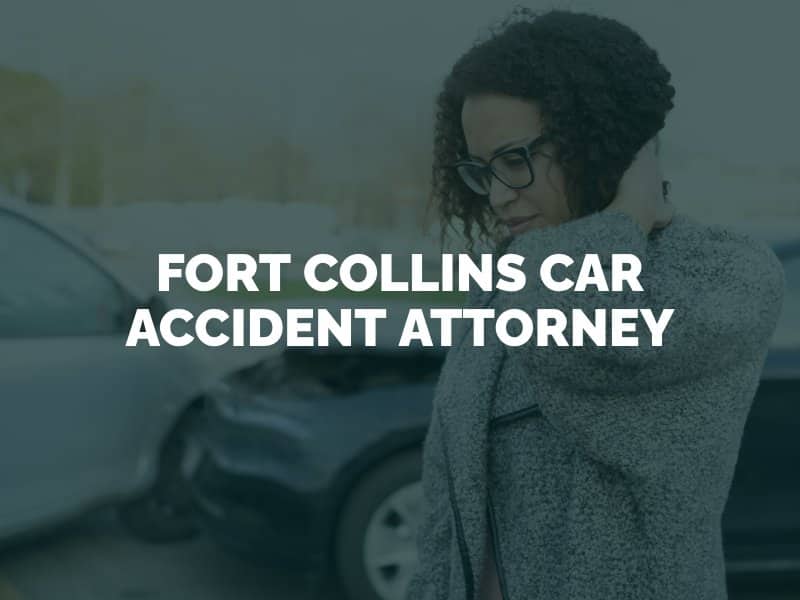 Why Choose Us
Your Fort Collins car accident attorney will genuinely care about you, your family and your future. Our lawyers are in this business for the people. 

The Fang Law Firm is personally dedicated to pursuing maximum compensation for every client who comes to us for representation.

Our law firm provides a superior client experience. We accept a limited number of cases to provide personalized services to each client.  
How Do Car Accident Claims Work in Colorado?
If you get injured in a car accident in Fort Collins, you will need to use Colorado's tort-based insurance system to pursue financial compensation. A tort-based, or fault-based, car insurance system means you will seek reimbursement for your injuries and financial damages through the insurance policy of the driver who caused the car accident.
To recover compensation from an insurance provider, you will need to file a claim and fulfill any requests the insurer makes for documents, forms and supporting evidence. The insurance company will investigate the crash to determine if its policyholder was to blame. It may request evidence of fault from you, such as photographs or eyewitness statements. Then, the insurance company will make its decision to either accept or reject your claim. 
If an insurance company accepts your car accident claim, it will offer a settlement to cover your losses, such as medical bills and vehicle repairs. You have the right to hire a Fort Collins personal injury lawyer to negotiate with the insurance company on your behalf. If a settlement cannot be made, your lawyer can represent you during a car accident injury trial instead. 
What Causes Most Car Accidents in Fort Collins?
Identifying the cause of your car accident is the only way to determine which driver is financially responsible. Most car accident cases revolve around the legal theory of negligence. Negligence is a person's failure to provide a reasonable level of care, resulting in injuries or property losses. If you can prove that a driver was negligent and caused the wreck, that driver will be responsible for your losses. Many types of driver negligence can cause car accidents in Fort Collins. Some examples include: 
Reckless driver behaviors

Speeding

Driving under the influence 

Driving drowsy 

Distracted driving 

Road rage or tailgating 

Breaking traffic rules

Making unsafe lane changes 

Failing to yield
Some car accidents are caused by roadway defects instead of driver errors. Roadway defects include potholes, loose gravel, uneven shoulders and missing traffic signs. If you were injured in a car accident involving a roadway defect, the city or state government may be responsible. This could be the case if the government should have repaired the defect but failed to do so quickly enough.
Do You Need a Fort Collins Car Accident Attorney?
Insurance companies make money by charging premiums every month and minimizing payouts when policyholders seek benefits from their insurance policies. After you file a car accident claim in Colorado, hire an attorney to help you negotiate with the insurance claims adjuster. Otherwise, the insurance company may try to take advantage of you by offering less than you deserve. A Fort Collins auto accident attorney will fully investigate your case, protect your rights, properly assess the value of your claim and combat an insurance company's tactics to lower the value of your claim.
Speak to a Lawyer for Free Today
If you or a loved one has been injured in a car accident, please contact our Fort Collins car accident attorneys for a free consultation. We can help you and your family pick up the pieces and put them back together after a serious car accident.