Aurora Wrongful Death Lawyer
If you have lost a loved one in an accident in Colorado, please contact the Aurora wrongful death attorneys at The Fang Law Firm. We can help you through this confusing and emotional time by offering trustworthy legal advice and representation. Our lawyers truly care about telling your loved one's story and seeking justice on your family's behalf.
Wrongful death is the worst possible outcome of someone else's negligence. No family should ever have to deal with the tragic and preventable death of a loved one. Unfortunately, careless mistakes and acts of recklessness cause fatal injuries in Colorado every day.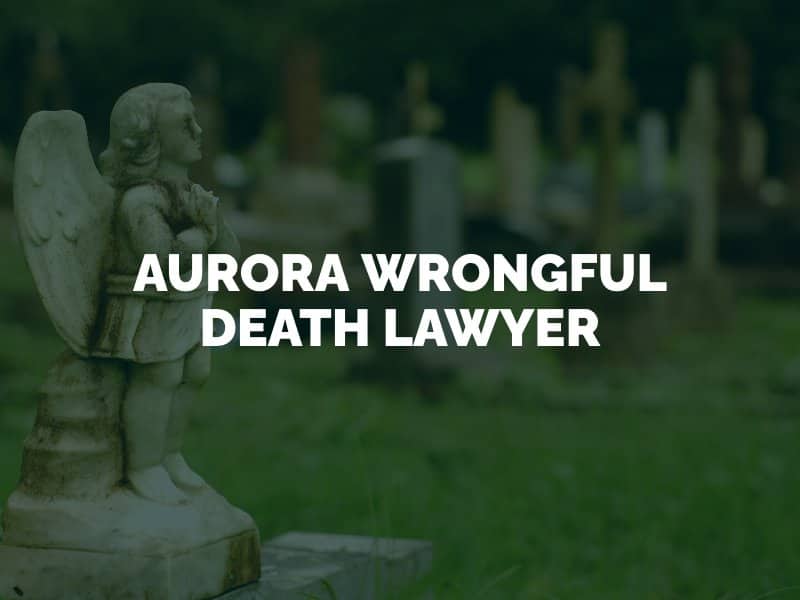 Why Choose Our Aurora Wrongful Death Lawyers
We accept a limited number of cases at a time, allowing us to provide personalized legal services to each client. 

Our wrongful death attorneys are committed and compassionate, always doing what is best for the individuals and families they represent. 

Our legal team has successfully handled more than 10,000 cases combined while maintaining a 98 percent success rate. 

We have experience litigating wrongful death cases involving car accidents, workplace incidents, defective products and more.
How Can an Aurora Wrongful Death Attorney Help?
Hiring a wrongful death attorney to represent you and your family during a civil claim in Aurora can make the entire legal process more stress-free. Your lawyer can take care of complicated matters for you while you grieve your loved one and spend time with family. Some of these tasks include:
Investigating the fatal accident

Naming the correct defendant

Collecting available evidence

Negotiating for maximum financial compensation 

Preparing your case for trial, if necessary
Most importantly, an Aurora wrongful death lawyer can give you answers, updates and help you find closure after the traumatic loss of a loved one. You don't have to do this alone; an Aurora wrongful death attorney is available to help you with each phase of a claim as you pursue justice.
What Damages Can I Recover in a Wrongful Death Case?
If you lost a loved one due to the negligence of another party, you're likely eligible to recover monetary compensation. This can be done through negotiating a settlement or litigating the case at trial. In wrongful death cases in Colorado, there are two main types of damages that can be recovered, economic and non-economic.
Economic Damages
Economic damages refer to expenses that the survivor can recover for expenses they incurred related to their loved one's death. Common examples of economic damages that can be recovered include lost wages that the decedent would have likely earned in the future, benefits that were lost because of the death, such as health insurance and retirement accounts, and funeral and burial expenses.
Non-Economic Damages
Non-economic damages are those that are intended to compensate the survivor for intangible losses they will incur as a result of their loved one's death. Common examples include pain and suffering, grief, loss of companionship, and emotional distress.
Punitive Damages
In rare cases, a wrongful death claim can produce punitive damages for the survivor. Punitive damages are not awarded to compensate the survivor, rather they are awarded as a way to punish the defendant and deter them and others from engaging in similar behavior in the future. Punitive damages are typically only paid out if the defendant's behavior was particularly egregious.
How Long Do I Have to File a Wrongful Death Claim?
In the state of Colorado, you must file a wrongful death claim within two years of the death. If you fail to file your wrongful death claim within that period, you will be barred from pursuing a lawsuit, and you won't recover any monetary compensation even if you otherwise would have been entitled to it. While this may sound like a long time, it can pass quickly. The longer you wait to contact a wrongful death attorney, the more difficult it will be for them to properly investigate your case and preserve and obtain necessary evidence.
Who Can File a Wrongful Death Claim?
Colorado has laws in place that determine who is permitted to file a wrongful death claim. In the first year after the death, the surviving spouse can file a wrongful death claim. In the second year after the death, both the surviving spouse and the decedent's children are able to file a wrongful death claim.
If the decedent doesn't have a surviving spouse or children, the parents of the decedent are permitted to file a wrongful death claim in the second year after the death.
If the decedent had no surviving spouse, children, or parents, the heirs or personal representative of the estate can file a survival action, which is similar to a wrongful death claim.
Who Can Be Held Liable?
In the state of Colorado, there are several parties that can be held liable in a wrongful death claim. Who can be held responsible is determined by the type of accident or situation that caused the death. Below are some of the most common situations and potential responsible parties:
At-fault Drivers
If your loved one was killed in a car accident, it's common for the driver who caused the accident to be held liable for the death if they were negligent in any way. Negligence in driving-related accidents typically refers to speeding, drunk driving, texting while driving, failing to follow other road laws, playing games on a cell phone, and scrolling through social media.
If your loved one was in an accident with a truck driver who is employed by a company, the responsibility can shift or be divided in many cases. If the employee of the trucking company causes the death of your loved one through their negligence, it's possible that their employer can be sued in a wrongful death suit through a doctrine known as respondeat superior. To determine if the employer is responsible, Colorado courts typically look at the amount of control and power the employer has over the driver. This will be a situation that is very fact-specific, so consulting with an experienced wrongful death lawyer in Aurora is always helpful.
Additionally, if the negligence was on the part of the trucking company as opposed to the driver, the company can be held liable. For example, if the truck was overloaded, the truck wasn't properly serviced or maintained, the driver was not properly licensed to operate the vehicle, the driver was negligently hired or trained, or the employer encouraged the driver to continue his route despite knowing that he was violating hour and sleep restrictions.
Medical Providers
Most of us see healthcare professionals and assume that they will help make us better, or at the very least, not cause us serious injury or death. If, as a result of a medical professional's negligence, a death occurs, they can be held liable in court.
Defective Product Manufacturers
If someone is killed while using a product that was defective, the manufacturer of the product can be held liable. This could happen in many situations, such as a doctor using a medical tool that is defective or an individual driving a car with defective brakes. This is the legal area of product liability. These cases will be based either in negligence or strict liability, depending on the circumstances.
Property Owners
If your loved one's death was a result of an accident on someone else's property, such as a slip and fall, the property owner can be held liable for their death if the owner was negligent and that negligence caused the death. A property owner always has a responsibility under the law to take steps to keep visitors safe on the property, whether this is by warning of dangerous conditions or by maintaining the area and ensuring that the property is safe.
What Are Colorado's Wrongful Death Laws?
Wrongful death feels incredibly personal for surviving loved ones. Your feelings, emotions and reactions to a loved one's death have their place in personal injury law; they can help a jury understand what the person meant to you. 
It is important, however, to look at the overall legal picture of your case from an objective standpoint for it to succeed. Start with understanding three basic wrongful death laws in Colorado:
Definition of wrongful death.

Wrongful death in Colorado is the death of one person by the negligence, recklessness or intentional misconduct of another. If your loved one could have filed a personal injury claim had he or she survived, you most likely have a wrongful death claim.

Burden of proof.

It is up to the filing party (plaintiff) to prove wrongful death based on a preponderance of the evidence – enough evidence to show that the defendant is more likely than not responsible for the fatal injury. 

Statute of limitations.

You have no more than two years from the date of your loved one's death to file a wrongful death lawsuit in Colorado. Parties with the right to file include the surviving spouse, children, and parents.
With a wrongful death lawyer by your side, you can navigate the state's wrongful death statutes correctly and efficiently. Your lawyer can answer any legal questions you have, any time of day. Your lawyer can also take care of complicated legal matters on your behalf, such as filing your claim and collecting evidence to build the strongest possible claim to damages.
Survival Action vs. Wrongful Death Claim in Colorado
A wrongful death claim, as discussed above, is the act of bringing a lawsuit against the responsible party to collect compensation for the financial and emotional burden of losing your loved one. A survival action is similar, but there are also some distinct differences. Both survival actions and wrongful death claims are pursued as a result of someone's death.
The compensation being sought in a wrongful death claim is for the losses and suffering of the surviving loved one. In a survival action, the lawsuit is filed in an attempt to recover compensation based on the decedent's pain and suffering before they died. To be successful in a survival action, you must prove that the decedent survived for a period of time before dying from an accident caused by someone else's negligence.
The only individual permitted to file a survival action claim in Colorado is the personal representative of the decedent. This person makes all decisions regarding the lawsuit, including whether to settle or take the case to trial. If the decedent never named a personal representative, one will be appointed by the probate court that handles the estate. Another key difference is that non-economic damages are not recoverable in a survival action claim. The most common types of damages awarded in a survival action include the cost of medical treatment for the decedent's injuries before death, lost wages for the period between the injury and death, funeral and burial expenses, and compensation for any property damage that occurred as a result of the decedent's death.
If compensation is recovered, it is paid to the decedent's estate. That money will then be used according to Colorado probate law. This typically includes paying outstanding debts and estate expenses. The rest of the funds are then distributed to the decedent's heirs according to the terms of their will or Colorado's intestacy law if no will existed.
Contact Our Wrongful Death Lawyers for a Free Consultation in Aurora, Colorado
If you recently lost someone close to you in an unexpected accident in Aurora, do not hesitate to contact our wrongful death attorneys at The Fang Law Firm. We have the experience, resources and compassionate team of attorneys to help you through this difficult time. Let us review your case for free today and provide you with more information on how we can help. Call (720) 379-6363 or contact us online to schedule your meeting today.