Aurora Personal Injury Attorney
At The Fang Law Firm, our Aurora personal injury attorneys don't believe injured victims should have to pay out of pocket for accidents they did not cause. Our lawyers represent those injured by the careless actions of others, helping them claim the money they need to recover and move forward. Find out how we can help with your personal injury claim today. 
If you were injured in any type of accident in Aurora, Colorado, you are likely faced with uncertainty. You and your family may have to deal with expensive medical bills, property repairs and lost wages – not to mention significant pain and suffering – all through no fault of your own.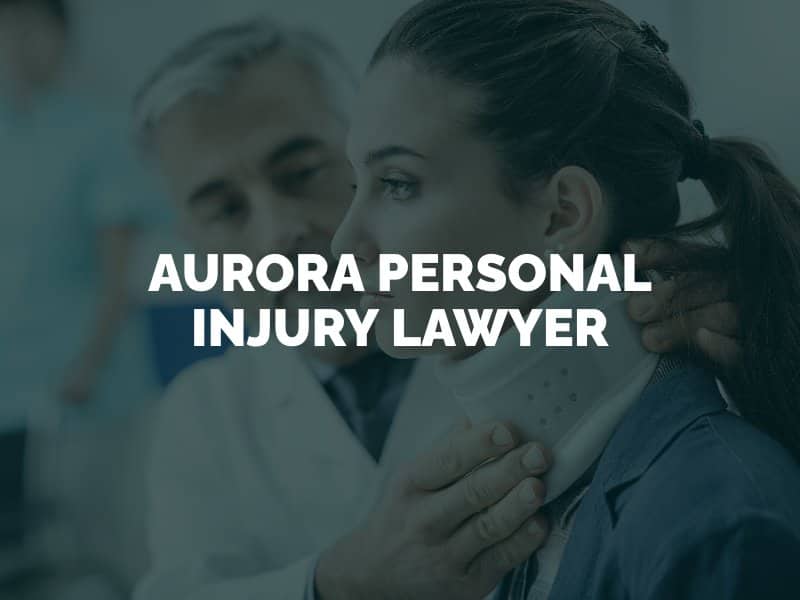 Why Choose Us?
Our personal injury law firm has compassionate and highly experienced personal injury attorneys in Aurora who have handled more than 10,000 cases between them. 

We know how important it is to achieve peace of mind after a bad accident in Aurora. We can put your mind at ease with our 98 percent success rate for settlements.

You will not have to pay your attorney a dime unless he or she wins compensation on your behalf – guaranteed.
What is Personal Injury Law?
Personal injury claims are initiated when you have suffered injuries or other losses due to someone else's behavior. Most commonly, personal injury claims are initiated because of someone else's negligence. If there is another party that is responsible, you may be entitled to monetary compensation from them or their insurance company.
Understanding the basics of personal injury claims and how a lawyer can assist you will ensure that you take the right steps if you find yourself in this situation. You don't want to leave money on the table by making mistakes in the claims process.
Do You Need a Lawyer for an Aurora Personal Injury Case?
A serious injury can substantially impact your life, both physically and financially. Recovery can leave you with significant medical bills, lost wages and, in some cases, a reduced capacity to earn income. With so much at stake, don't take the risk of representing yourself during a personal injury claim. Hiring an attorney can come with many important benefits. 
First, your Aurora injury lawyer can give you the answers you need during this difficult time. You can trust the advice you get from an attorney, as he or she will want only what is best for you. Second, your attorney can fully investigate your case and accurately evaluate your personal injury claim to ensure you receive adequate compensation for your injuries and financial damages. Third, if an insurance company does not offer a fair settlement, your attorney can negotiate for a better result or take them to trial if they refuse to treat you fairly.  
The Aurora personal injury attorneys at The Fang Law Firm have been providing legal services to injured victims in Colorado for many years. We will work tirelessly to protect your right to compensation. 
How Much Does a Personal Injury Lawyer Cost in Aurora?
Most personal injury attorneys work on a contingency fee basis. This means that you never have to pay any money up front to get your case started. If your lawyer successfully settles or wins your case, they will take a percentage of your monetary award, typically between 30 and 40 percent. While this might sound like a significant amount of money, it's important to remember that there is no risk to you whatsoever.
It's possible that a lawyer may take your case and spend hundreds of hours on it and incur significant expenses investigating and hiring expert witnesses, only to earn nothing if they aren't successful. When you hire a lawyer who works on a contingency fee basis, you can be certain that they have the same goal as you and will do whatever it takes to recover the maximum amount of compensation possible.
Compensation in a Personal Injury Claim
When you're injured due to someone else's negligence, you can file a personal injury claim against them. The purpose of this is to recover monetary compensation to help you pay for your medical expenses and other losses you incurred because of the accident and injuries you suffered. The two primary types of damages you can recover through a civil lawsuit are economic damages and non-economic damages.
Economic Damages
Economic damages refer to expenses that are easily quantifiable. They are meant to return you to the position you were in before the accident and injuries occurred. Common types of economic damages include the following:
Lost Wages: When you're injured in an accident, you're often out of work for a period of time. Therefore, you aren't earning an income and are losing out on money. You can recover the lost income through a personal injury claim. You shouldn't have to suffer and lose out on an income because of someone else's negligence.
Lost Future Earnings: In many cases, you may be out of work for a substantial period of time. When this occurs, it's important to calculate lost future earnings as well as wages you've already lost when you file your claim. This can include lost income, lost bonuses, lost commission, and any other type of income you are losing out on in the future due to the accident.
Medical Expenses: Any medical expenses you incur as a result of the injuries you suffered should be reimbursed to you through a personal injury lawsuit. This includes expenses for hospital visits, ambulance expenses, diagnostic tests, rehabilitation, medication, and anything else related to your injuries and treatment. In many cases, you won't know what your medical expenses will be going forward due to the nature of your injuries and a lack of clarity in your prognosis. If you find yourself in this situation, an experienced Aurora personal injury lawyer can help you with this calculation.
Reduced Earning Capacity: In some cases, you may never be able to go back to your old job. This can often mean you aren't able to earn as much money, reducing your earning capacity for the time being or potentially forever. You should be compensated for the difference between what you used to earn and what you are capable of earning after the accident.
Non-Economic Damages
Non-economic damages refer to the compensation you're entitled to that are not as easily quantified into monetary terms. This typically refers to emotion pain and losses. Some of the most common types of non-economic damages include the following:
Physical Pain and Suffering: Pain and suffering damages are provided to compensate you for the suffering you experienced as a result of the actual injury. To help support this aspect of the claim, you should take notes about your personal experience after the accident. How has your pain and suffering affected your life? Being able to provide concrete examples of the impact this has had can be incredibly valuable.
Emotional Pain and Suffering: Being involved in an accident can cause severe emotional distress in some circumstances. If you were in a car accident and were seriously injured, you might suffer from PTSD and be afraid to drive a car again. You could end up with anxiety, depression, or numerous other mental health issues as a result. Even though this is difficult to quantify into monetary terms, you should be compensated for this suffering.
Loss of Consortium: As part of your personal injury claim in Colorado, you can include loss of consortium in your claim. This refers to the loss of companionship the victim has with their spouse, and also typically includes loss or damage to the couple's intimacy, sexual relations, and moral support.
Punitive Damages
Punitive damages are rare, but they can be awarded. Punitive damages are not intended to compensate the victim for the injuries they suffered. Instead, punitive damages are meant to punish the defendant and deter them and anyone else from engaging in the same type of behavior in the future. In Colorado, punitive damages are only awarded if the defendant acted with malice or in a willful and wanton manner.
How Do Personal Injury Claims Work in Colorado?
Most personal injury claims revolve around the concept of negligence. In personal injury law, a person is negligent when his or her careless actions or lack of action causes injury or harm to another person. In most cases, your Aurora personal injury attorney must prove that the person or entity was negligent before you can hold them legally responsible for your injuries and damages. Negligence consists of four elements: 
The at-fault party (called the defendant in personal injury law) owed the victim a duty of care, meaning the defendant had a responsibility to reasonably ensure the victim's safety. 

The defendant breached his or her duty of care. A breach of duty can occur in many ways. It describes any act or omission that a reasonable and prudent party would have avoided in the same circumstances. 

The breach of duty caused the victim's injuries. There must be a provable link between the defendant's breach of duty of care and the injury in question. 

The victim suffered compensable losses. The victim must have suffered damages he or she can collect compensation for, such as medical bills.
Although the main concept of Colorado's personal injury system may seem straightforward, these claims can be challenging. Your Aurora injury attorney will have a full understanding of the legal process and help you protect your rights and best interests every step of the way.
Statute of Limitations in Colorado
The statute of limitations is the deadline by which a victim must file their lawsuit. If the claim isn't filed on time, the case will almost always be dismissed, and they won't be able to collect any compensation, even if they would have otherwise been entitled to. In Colorado, the statute of limitations for most personal injury claims is 2 years. If you are filing a claim related to a car accident, the statute of limitations is 3 years.
While this might sound like a long time, it's always advisable to contact an Aurora injury lawyer as soon as possible. The longer you wait to contact a lawyer and file your claim, the more difficult it can be to gather necessary evidence and succeed in court. For example, if there were witnesses to the incident, they may not be in the area months or years later. Even if they are, they might not have an accurate recollection of the incident. Additionally, if there is video footage of the accident, it is often erased after a short period of time. If you don't act right away to preserve video evidence, you could lose out on it forever, making your case significantly more difficult to prove.
Common Types of Personal Injury Claims
The most common types of personal injury claims include the following:
Slip and Falls
If you experience a slip and fall accident on another person's property, you might be entitled to monetary compensation from the property owner or another individual who is responsible for maintaining the property.
Car Accidents
Car accidents are incredibly common personal injury claims. If you were in a car accident and someone else's negligence caused that accident, you can file a personal injury claim if you aren't able to come to an agreement with the insurance company.
Medical Malpractice
Medical malpractice occurs when a medical professional negligently causes harm to a patient. One of the primary elements that needs to be proven in this type of case is that the medical professional did not meet the standard of care. The standard of care is defined as the level of care that an ordinary healthcare professional with the same training and experience would render in similar circumstances.
Product Liability
Many people are injured due to defective products. When this happens, there are many circumstances in which compensation can be awarded through a personal injury claim. For example, if a power tool has a faulty safety and this causes injuries, a product liability case can be pursued.
Wrongful Death
When a person is killed because of someone else's negligence, a claim can be brought in civil court. For example, if a person is killed in a car accident or in a construction site accident, family members can bring a wrongful death claim against the responsible party.
Contact Our Aurora Personal Injury Lawyers Today
If you have been injured in an accident in Aurora, Colorado, such as a car accident or a motorcycle accident, it is important to protect yourself during the claims process. With decades of experience in personal injury cases, we know what it takes to bring a successful claim. Our lawyers have experience litigating and negotiation, and will do whatever it takes to make sure you receive the best outcome. All our cases are handled directly by attorneys, so when you have questions and need updates, you will never be passed off to an assistant or someone who doesn't know the details of your case. When you hire The Fang Law Firm, you hire a team of attorneys who care about your case as much as you do.

Contact The Fang Law Firm to discuss your case in more detail. We can answer your questions, explain your legal options and help you take the next steps to seek justice.